Christen Press was a non-factor under Pia Sundhage, but under Tom Sermanni, she has six goals in seven games, her double in Den Haag leading the U.S. Women to an easy 3-1 victory over the Netherlands on Tuesday.
The match was never really a contest. Early intensity from the U.S. pushed the hosts onto their heels, making it nearly impossible for the Dutch to move through the middle of the field. Pressure from the likes of Press, Sydney Leroux, and Heather O'Reilly made life easier for midfielders Yael Averbuch and Julie Johnston, giving Sermanni few chances to judge the central defense pairing of Rachel Buehler and Becky Sauerbrunn. The Netherlands were only able to generate one half-chance before the match was out of reach.
For all their dominance, it look the U.S. 36 minutes to get on the board, though when they did, it was relatively simple. Leroux broke down the left side of the Netherlands defense before playing a square ball into the area for Tobin Heath. With the defense collapsing on Press, Heath had no trouble giving the U.S. a 1-0 lead.
Just before halftime, the U.S. doubled their lead when Dutch captain Daphne Koster failed to track Press's run onto a Leroux touched a ball behind the Netherland's defense. Goalkeeper Loes Geurts was left abandoned as Press was able to shoot from just inside the area, finishing another easy U.S. goal.
Fifteen minutes into the second, Press struck again – a clinical piece of finishing few in the U.S. striker pool would be able to replicate. After turning her defender with a dribble off her left foot, Press let go of a shot from just inside the right side of the area. Geurts was positioned well, but when the ball curled away from her outstretched right arm and dove toward the lower left hand corner, the Dutch keeper proved unable to defend the small far post window Press exploited for her double.
After the disappointment of giving up a 3-1 lead to Germany on Friday, Tuesday's match turned out to be a stroll. The Dutch were outshot 19-5, with the U.S. putting nine shots on frame to their hosts' two. Only a late defensive lapse allowed Manon Melis to ruin Ashlyn Harris's clean sheet.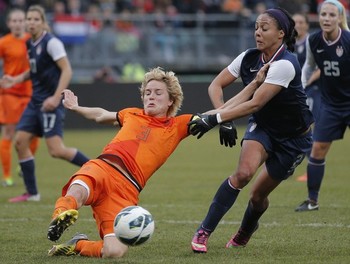 But as much as conceding late goals might be a concern, the takeaway from Tuesday's game was another illustration of the U.S.'s enviable attacking depth. Sydney Leroux (right) terrorized a Dutch defense that came nowhere close to matching her speed and physicality. They seemed to resigned to bringing Leroux down late in the match – their last hopes of containing her. Tobin Heath looked sharp, particularly when taking defenders on one-on-one, while Heather O'Reilly again reminded Sermanni that she has a role in the debate between her, Megan Rapinoe, and others for starting spots.
And then there's Christen Press, the former Stanford star who toiled outside the national team while staring in WPS and Sweden. It's a story would be old and worn out if it weren't for the paradox every goal Press adds to an already remarkable start. During the Olympic and (to a lesser extent) World Cup cycles, onlookers wondered why somebody with Press's credentials wasn't being called in. All the while people like myself would say "With Wambach, Morgan, Rodriguez and Leroux, where's the room?"
Sermanni has made room. He did so by initially starting her at right midfield, but with Tuesday's two-goal performance in a forward's role (the second double of her international career), Press threw some gas on the fire: If we had to rank the U.S.'s forwards, where do you slot a 24-year-old whose scored six times in her first seven games?
Perhaps not that high, right now. Alex Morgan's arguably the world's best player. Abby Wambach has come back strong after a disappointing winter, and every time Leroux starts, she reminds us she's the most physically gifted attacker in the squad.
But until Press slows down, we have to keep asking. And Sermanni has to keep testing: How good is Christen Press?
Matches like these are usually pretty meaningless, the competitive benefits of a down-cycle friendly negligible. But for a new coach looking to expand the narrow player pool used to compete for the last two major tournaments, matches like Tuesday's in Den Haag are invaluable. How else can you uncover the Christen Presses of the world?