There has been much speculation lately that former Liverpool hero Xabi Alonso will re-sign for the club in the summer, four years after he was sold by Rafa Benitez.
The 31-year-old World Cup-winning midfielder is weaving his magic at the giants of Real Madrid right now, but he stalled on new contract talks and has always made out he would love to return to Anfield to end his great career one day.
He enjoyed five amazing seasons in England, and nearly secured a Premier League title in 2009 in a great Liverpool side also containing Steven Gerrard and Fernando Torres. He also helped inspire them to Champions League glory in 2005, scoring in the final.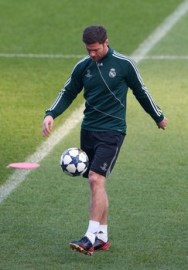 Gerrard, a Liverpool all-time great and big friend of Alonso's, would love nothing more than to see his buddy return to the setup, especially as the Reds captain looks likely to be signing a new deal to stay with the club at the end of the season.
Rumours have surfaced that Liverpool's interest will spring Madrid into action, and that a new deal will be offered to the stylish Spaniard, but will his heart rule his head when the crunch decision comes at the end of this current campaign?
Liverpool fanatics across the globe certainly hope so.