Their nightmare unfolded for 70 minutes, Barcelona fans left ruminate over a Paris Saint-Germain performance that had not only stole an early second half lead but monopolized all the chances on goal. Seventeen times the likes of David Villa and Cesc Fabregas had tried to test Salvatore Sirigu, but with each errant hope's collision with the side netting, flight into the stands, or meeting with a phalanx of PSG defenders, Blaugrana supporters were reminded of the two things that were about to see them out of Champions League: Lionel Messi was hurt; and their side had been second best.
When Messi's 62nd minute arrival failed to pay immediate dividends, the feeling started to grow: PSG's 3-2 (aggregate) lead might actually hold up.  Then, in a piece of sublime execution that could have been written on Jordi Roura's whiteboard, Barcelona's focal point ignited the move that secured his team's Champions League survival.
(MORE: Bayern advances, and the state of Italian soccer.)
In the 71st minute, Messi received a pass in his office – the area right above the arc. His short ball forward found David Villa making a run through the box, with the Spanish international able to carry the ball across two defenders. Drawing in the opposition, Villa laid off for Pedro Rodríguez, whose assured strike into the right of goal hit PSG's defense with a realization of the inevitable. As their shoulders sank under the burden of their new reality, you knew Barcelona was going through.
The feeling was familiar but still surprising, given how the match had unfolded. The idea that Barcelona would, of course, find a way to dismiss Paris Saint-Germain felt right, even if that idea had no place in the match's first 71 minutes. The speed of Ezequiel Lavezzi and Lucas Moura gave Barcelona problems from the opening kickoff, and while the home side was initially able to match the Parisians' chances with half-threats of their own, eventually PSG became the dictating force. By halftime, Barcelona's possession gave them little more than reprieves between PSG attacks, and when Zlatan Ibrahimovic set Javier Pastore past Dani Alves early in the second half, the visitors finally translated pressure into product.
For the next 20 minutes, two banks of four formed PSG's line. It wasn't Chelsea-esque, but it was single-minded: Survive the next 40 minutes, and Barcelona's out. Ultimately, Barça found a crack, leaving the Parisians to ponder where they could have found one more goal over the match's 180 minutes.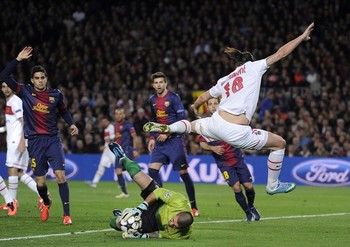 That Barcelona was forced to lean on away goals to eliminate them might evolve into a point of pride, but when they think back over this year's quarterfinal, PSG may see themselves as the better side for much of the tie. And rightfully so. Yes, Barcelona controlled the ball, but Paris Saint-Germain created more chances. They were able to play within their comfort zone for most of the round. The tie unfolded exactly as they would have requested. All that's left is for them to regret that  planning and fortune couldn't be parlayed into results.
But some credit is due Victor Valdes (right), a man whose recent performances for club and country are starting to justify the lofty praise his club's supporters have constantly adorned. Gerard Piqué is also due some plaudits, the defender who has struggled for much of the season raising his level over the quarterfinals. Andres Iniesta deserves credit for pushing the team before Messi's arrival, and of course, there's Messi, whose first leg score and second leg contribution played a part in Barcelona's only open play goals.
When 180 minutes ends 3-3, you can afford some mealy-mouthed conclusions, like Barcelona's individuals carrying their squad past the better team. Those are the type of vagaries often used while try to explain that one side (PSG) had the better plan, superior organization, and would be more likely to win if the circumstances unfolded again. But in the talents of players like Messi, Iniesta, and Valdes, Barcelona has equalizers – the type of performers you need to advance through round after round knowing somewhere along the way, you just might be outplayed.
It's a testament to Barcelona that they can face one of the most talented teams in the world, have an inferior plan, generally be outplayed (if only slightly), and advance despite the temporary loss of their best player. They may face a more talented squad in the semifinals, but they're unlikely to face as many obstacles.