Radamel Falcao, possibly the most in-demand striker in world soccer, is rumoured to be the subject of a $72m/£47m bid from Manchester United this summer.
The 27-year-old Colombian has been sensational for Atletico Madrid this season, scoring 28 goals in 33 appearances for the Spanish side, and he is fully expected to leave the club and join one of Europe's elite at the end of the current campaign.
Sir Alex Ferguson's interest in the player has been fairly relaxed until now, and rivals Manchester City and Chelsea are thought to be particularly interested in acquiring his signature. Will the lure of playing under Ferguson sway Falcao's opinion just like it did with Robin Van Persie last summer?
It is understood United are keen to offer Javier Hernandez to Atletico as part of the deal, after the Mexican 'super sub' has struggled for appearances in recent times.
Falcao's current coach Diego Simeone says it is no surprise that his player is being talked about so much in the transfer market right now.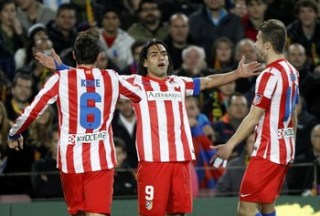 'Falcao is a great player and it's logical that the best teams in the world are interested in him. It doesn't surprise me.'
Prior to his great career in Madrid, Falcao was equally awesome for Porto in Portugal between 2009 and 2011, scoring an incredible 72 goals in just 87 matches. It will be fascinating to see where he ends up once the new season begins in August.
Whoever does sign him will have purchased a very special player.