Soccer comes in cycles. Certain countries produce generations of exceptional players then suddenly one day it stops.
The all-star, World Cup-winning group of Iker Casillas, Carles Puyol, Xavi, Andres Iniesta and David Villa, among others, are now either in their 30s or late 20s, and there is a feeling that their dominance of the international game will end at next summer's World Cup in Brazil. They have won three major tournaments in a row, but all good things have to come to an end at some point.
Lurking behind them are the Germans, who look set to take over Spain's empire at the top of international soccer.
You only have to see this season's Champions League to appreciate just how many young Germany stars are emerging. After they were knocked out of the European Championships in 2000, the German Football Association overhauled their youth development system, and that decision is now looking like a great one.
GOALKEEPER
Manuel Neuer is not only Germany's undisputed first-choice 'keeper, he's also one of the top three in the world. The 27-year-old is young in goalkeeping terms, and has a decade in the national side ahead of him still. The likes of Rene Adler and Ron-Robert Zieler are good, young reserves to Neuer.
DEFENSE
Mats Hummels is the main star of Germany's defense, and the 24-year-old has the look of a future Germany captain about him. He has shone for Dortmund in the Champions League, and his poise, elegance and stature make him a hugely formidable player. Marcel Schmelzer, again of Dortmund, is a very solid left-back, while the Bayern Munich duo of Holger Badstuber and Jerome Boateng, both also 24, complete the first-choice future back four. The experience of players like Philipe Lahm, Per Mertesacker and Marcel Jansen remain, but they won't be around forever.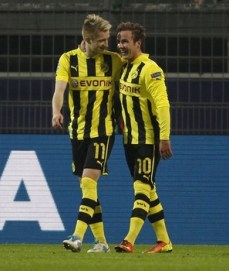 MIDFIELD
With the brilliant Bastian Schweinsteiger nearing 30, his place in the German side is slowly coming under threat. His midfield partner, Real Madrid's Sami Khedira, is only just 26 and he has years ahead of him. The most impressive young midfielder is Dortmund's Ilkay Gundogan, who looks a superb prospect. He can do everything: pass, tackle, shoot, header. He is the complete midfielder. At 22 he could be around for many years while Sven Bender his 23-year-old Dortmund teammate is also a very good defensive midfielder.
OFFENSE
The offensive area of the pitch is the most exciting for Germany, where they have many great youngsters. Mesut Ozil, despite his experience, is still just 24 and will get better and better with age. Playing alongside Cristiano Ronaldo at Real Madrid will only help his development. Tony Kroos and Thomas Muller and both only in their early 20s but are regulars for Bayern, keeping the likes of Arjen Robben out of the side at times. Both are very good technically and score plenty of goals. Dortmund's magnificent duo of Mario Gotze and Marco Reus are perhaps even more impressive. Both are just 20 and 23 respectively, and are being spoken of as potential 'top 5 players in the world' material. For all their great depth of youngsters, these two are the real stars. Keep an eye on 19-year-old Julian Draxler too.
While the 2014 World Cup may come to soon for this brilliant German side, with South American conditions favouring Brazil and Argentina, there is no doubt that they could dominate international soccer for many years to come.