While some feel that Barcelona are not too reliant on the genius of Lionel Messi, Wednesday's Champions League quarter-final proved to the world that, quite simply, they are.
With the Spaniards 1-0 down to a top-class Paris Saint-Germain side, thanks to Javier Pastore's excellent solo goal, Messi was bought into play after 62 minutes. When he was introduced he may have lacked his usual top level, but just his presence on the pitch gave Barcelona a big psychological edge over their French opponents.
Ultimately, Messi played a big part in Pedro's crucial equaliser, after a typically awesome dribble eventually found the Spaniard via David Villa's neat set up. As the Camp Nou went wild, it was impossible not to notice the best player in the world's impact on the game.
Many fans and pundits before the match thought that even without Messi the victory would be routine. With all-star players like Xavi, Iniesta, Busquets, Fabregas, Pedro and Villa, surely Messi could enjoy a night off?
How wrong they were.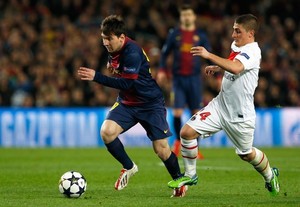 Barcelona look weak in defence on current form, especially without a number of key defensive players, and have managed to sneak through their last two knockout games, against Milan and Paris Saint-Germain. As their opponents get better and better, however, they will get knocked out if they keep playing like they are. Real Madrid, Bayern Munich and Borussia Dortmund are all far too talented and organised to get beaten by this ever-so-slightly declining Barcelona team.
Lionel Messi can't keep saving the day, can he?