Manchester United defender Rio Ferdinand believes both he and his side get a kick out of being unpopular with the rest of the Premier League.
Sir Alex Ferguson's team are 12 points ahead of rivals Manchester City, despite their 2-1 defeat to them on Monday, and it's just a matter of time until they win the title now. They need just 10 points from their remaining seven games, and failure to achieve that would constitute one of the biggest chokes of all time.
The 34-year-old shared his views in an interview with BBC Radio Manchester:
"People don't want to see us win the league and we thrive off that. We love it."

"Every year that we've won the league, the following season we've never been favourites to win it again. That has always riled me."
"If you win the league, you should be the favourites next year because you've been the best team in the league – it's simple."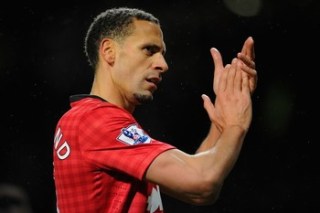 Ferdinand has enjoyed a good campaign for United, after some claimed his best days were behind him. Injury to captain Nemanja Vidic has meant the main pairing at the back has been Ferdinand and Jonny Evans, and they have done a great job in the absence of such a key man.
Ferdinand has represented England 81 times, and there is still talk that his international career may still have some life in it, as they struggle to find top-class guys to fill the void left by him and John Terry.