[youtube http://www.youtube.com/watch?v=aHMV-zPqccc]
PORTLAND, Ore. — The goal above was all the Portland Timbers needed for their second straight win, but there was a lot exposition that came before Will Johnson's game-winner. With the exception of a small stretch in the middle of the first half, Portland dominated play, racking up 64 percent possession and a 427-185 edge in completed passes. They also forced eight second half fouls, with Ramiro Corrales's 77th minute takedown of Kalif Alhassan setting Johnson up for his third goal of the season.
It's the worst spot on the field to give up a free kick. Just beyond the arc is far enough out to allow a player to get a ball up and over the wall. If he can do that, he'll gets either side of goal to choose from, and if he's not capable of hitting both sides, a team can put a right- and left-footer over the ball, making it even more problematic for a goalkeeper to place a helpful wall.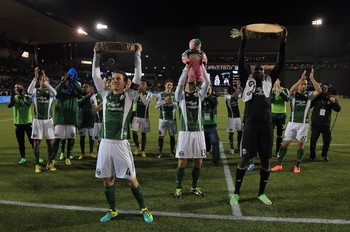 Will Johnson (right) isn't Portland's normal free kick taker, but with Diego Valeri out, Caleb Porter had a feeling his captain would deliver. "Why don't you smack a free kick goal today," Porter texted his captain before Sunday's game. The extra free kick practice Johnson put in mid-week paid off.
Burying his curler into the left side of Jon Busch's net, Johnson vaulted his team to third in the Western Conference, Portland collecting the second win of the Caleb Porter era. Along the way, the Timbers continued to quell concerns the defense may not be able to support Porter's ambitious attack, the Timbers keeping their second straight clean sheet.
Here are the takeaways from Major League Soccer's weekend finale:
Two straight shutouts for Portland – David Horst is out long-term, and Andrew Jean Baptiste's abductor injury didn't improve in time to take his place. That meant Mamadou "Futty" Danso, a long-time Timber who hadn't started since last October's trip to Seattle. Picking him over rookie Dylan Tucker-Gagnes, Porter made the right call. A matter match for San Jose's physical forwards, Danso turned out to be the game's best defender.
The performance led to Portland's second straight shutout, and although the results have been at home, the clean sheets have come against two of the league's better teams. San Jose won last year's Supporters' Shield, Houston made the MLS Cup final, but neither was able to score in Portland.
Wondolowski out wide? That didn't work – "The first thing I thought was I'd rather have Wondo wide than up top," Porter said, asked to describe his reaction to Frank Yallop's starting XI. For the first time this season, both Steven Lenhart and Alan Gordon were in the team, but rather than change formation, he sent Chris Wondolowski  right to fill in for the injured Shea Salinas. Despite the mismatch with personnel, Yallop stuck to his base 4-4-2.
The result was a quiet night for the league's reigning MVP. With the exception of a late header hit right at Donovan Ricketts, Wondo's most noteworthy actions were the times he came inside to pressure Will Johnson or Mikael Silvestre, defending that ultimately left him chasing left back Michael Harrington up the flank.
"What we tried to do out wide is really make him defend," Porter explained. "The more that Harrington got forward, the more it pulled him away from goal."
Wondolowski finished the match with more fouls committed (two) than shots on goal (one).
Combative San Jose – They like to be the "alpha dogs." That's how Will Johnson termed it after the match. San Jose's response to Portland's possession and movement was to try and rough them up, with Diego Chara, Danso, Darlington Nagbe, Ryan Johnson, and Mikael Silvestre all spending time on the ground.
"I don't fault them for that," Porter said of San Jose's aggression. "They want to win. But we have no problem with it. We'll fight too."
"One of the things I told the guys: We need to outfight them, but we need to out football them, too."
In a way, it was a complement to Portland. San Jose's not afraid to play a physical style. The Timbers forced them to push the envelope.
Oh, Alan Gordon – One Quake that pushed the envelope too far, Alan Gordon finished a short night with an ignominious hat trick. His feet-first slide through Chara in the 41st minute sent the Colombia writhing, drawing a yellow card. In the 69th minute, Gordon swung his arm while leaping into an aerial challenge, caught Silvestre in the face, and earned a second yellow.
And that wasn't the worst of it. In the second half, television cameras appeared to catch Gordon mouthing the same homophobic slur that earned Marc Burch a three-game suspension during last year's postseason. Just as like in November, the slur was directed at Will Johnson, who was with Real Salt Lake during last year's postseason.
Johnson declined to comment on or confirm what Gordon said. A representative from the Earthquakes said the team would release a statement addressing the incident.
MORE: Alan Gordon apologizes: "that language has no place in our game"