At a time when many in England are bemoaning the lack of quality and depth in the national side, one position is providing a fascinating battle: Ashley Cole vs Leighton Baines at left-back.
Cole has been one of the world's best full-backs for almost a decade now, and has been arguably England's best player in that time too. He has faced many of the planet's best wingers and won the battle, with his performance against Cristiano Ronaldo at Euro 2004 the greatest performance of his career. He has over 100 caps for his country, has won three Premier League titles, seven FA Cups- an all-time record- and of course the Champions League in 2012.
At 32, however, he is arguably just drifting past his prime, and there is a new kid on the block pushing him very close for a place in the England team.
That 'kid' is Leighton Baines.
Despite his youthful appearance, Baines himself is actually 29 at the end of this year, but he is a player at the peak of his powers right now. He has had a magnificent season for Everton and has been one of the standout performers in the Premier League over the last year. No player in Europe has created more goalscoring chances for teammates this season than Baines. And he's a left back. That proves his quality.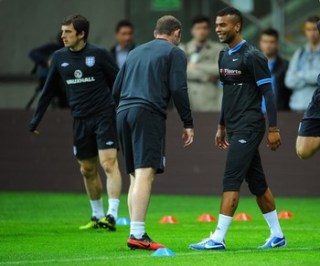 There are rumours that Manchester United could make a bid for his services in the summer, with Patrice Evra not quite the player he was. A move to the biggest club in the country could be the springboard in helping Baines replacing Cole for England.
It's a very close call at the moment as to who first-choice should be, but Cole still just has the edge. His experience and quality in the big games is a big factor for this, as you just know he will give you at least a seven out of ten display when you really need him to perform.
The Chelsea and ex-Arsenal star is a better defender than Baines, but the Everton man wins hands down in terms of attacking threat and delivery from the wing and from set pieces.
Given England's constant lack of natural width on the left, should coach Roy Hodgson consider playing them both, with Cole at the back and Baines in midfield?
It certainly can't hurt to try.