The Premier League has some of the most diverse, talented midfield players in world soccer, but who makes up the top 10?
10. MOUSSA DEMBELE (Tottenham)
The classy Belgium international has fitted into life at White Hart Lane brilliantly, and was awesome at Fulham before that. He is an all-round midfielder, combining creativity, power and pace to great effect. Still only 25, he will get better and better.
9. YOHAN CABAYE (Newcastle)
The Frenchman is a terrific player, and Newcastle will do well to keep hold of him in the summer. Short and stocky in build, he plays with a ferocious style off the ball but with an elegance on it. He is now a fixture in France's side more often than not, and has been a great signing by Alan Pardew.
8. MICHAEL CARRICK (Man Utd)
Many say he's overrated, many say he's underrated. Carrick's effectiveness is one of soccer's big talking points at the moment, but the bottom line is that he's a terrific player. He has played with a calmness and authority all season for Manchester United and has been their most consistent player. He is neat and tidy on the ball, reads the game well and does a lot of unnoticed defensive work.
7. JACK WILSHERE (Arsenal)
In a few years time Wilshere will be much higher on the list; he really is an exceptional talent. His return from long-term injury has been a huge boost for Arsenal, and at such a young age he is already displaying leadership skills beyond his years. Future England and Arsenal captain, perhaps? He passes brilliantly, runs with the ball, tackles hard and always does his best for the team. The 21-year-old will be England's best player of his generation.
6. SANTI CAZORLA (Arsenal)
What a brilliant debut season the tiny Spaniard has had at The Emirates. Typically Spanish in style, he is deadly at shooting with both feet, has wonderful technical ability and has scored crucial goals throughout the campaign. Real Madrid and Barcelona must be wondering why they didn't sign him while he was still in Spain.
5. MAROUANE FELLAINI (Everton)
The Everton star is unplayable on his day. Tall, aggressive, strong, great in the air and with the ball at his feet, the 25-year-old Belgian international has been a revelation in his time at Goodison Park. He can play defensive or offensive midfield- even as a second striker sometimes- and is one of the most dangerous players in the Premier League.
4. DAVID SILVA (Man City)
This time last year Silva could've been top of this list, but he has just dropped in quality ever so slightly of late. That said, he is still a superb soccer player, capable of opening up defences with his amazing passing talent. He has a left foot as good as any in the league and, when he is at his best, he is one of Manchester City's key men.
3. STEVEN GERRARD (Liverpool)
Some thought Gerrard's injury problems last year would destroy him as a player, but he has come back and been colossal for Liverpool this season. He has altered his game slightly to a more defensive role, but his influence is still as great as it has always been for club and country. One of the Premier League's greatest ever players, he has played every single minute in the league this season.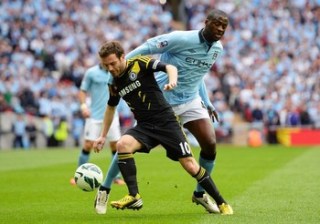 2.YAYA TOURE (Man City)
At times the 29-year-old walks around the pitch like he's not interested, looking lazy and slow, then he bursts into life. When he's in full flow he is literally unstoppable, running at great pace but also incredible strength. He is a giant of a man in midfield, and at his best there is arguably no more influential player in the Premier League. Like  many of City's players this season he has struggled to find top gear, but he's still an outstanding soccer player.
1. JUAN MATA (Chelsea)
The Chelsea superstar has been quite wonderful this season, constantly saving his side when others around him aren't performing. He has scored goals, assisted many others and is just always brilliant in every game he plays. He is a creative genius with a wand of a left foot, but he also does the dirty work and helps out defensively when he has to. He's basically David Silva but with a bit more strength and desire to his game. His talent deserves to be shown off at Barcelona, and the Premier League is lucky to have him gracing it.