Spain have dominated the world of soccer of the past five years, both at club level with Barcelona's once-in-a-lifetime team and, in particular, at international level, where they have won the last three major tournaments.
Such is their unbelievable squad depth that if their whole first-choice starting lineup was injured, their replacements would arguably still be a better side than anyone else in international soccer.
Spain's best current starting eleven is probably the following:
CASILLAS, ARBELOA, RAMOS, PIQUE, ALBA, BUSQUETS, ALONSO, XAVI, INIESTA, VILLA, PEDRO.
Not too shabby I think you'd agree, but when you look at who would be in the backup side it just highlights how incredible the depth and quality of this generation of Spanish stars is.
GOALKEEPER
Victor Valdes, Pepe Reina and David De Gea would all be capable of filling the void left by Casillas, with Valdes probably the favourite. Although Casillas is still the undisputed number one, his replacements are so good you would hardly notice he wasn't playing.
DEFENSE
Carles Puyol, though a veteran, could still do a great job for the national side, and Real Madrid's Raul Albiol, with 38 caps to his name, would also be a perfectly solid replacement for Ramos or Pique. At full-back Barcelona's Martin Montoya is already pushing Arbeloa for a place in the side, while Arsenal's new signing Nacho Monreal is a more than able deputy to the marauding Alba.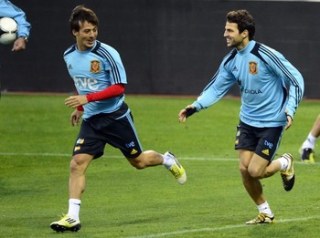 MIDFIELD
Although the sensational trio of Busquets, Xavi and Alonso are almost impossible to replace, the quality in reserve is phenomenal.
Javi Martinez has established himself as one of the best defensive midfielders in Europe, and many feel he should be ahead of Busquets in the pecking order now. Juan Mata, Cesc Fabregas, David Silva and Santi Cazorla are all top class players, and Spain's squad is so incredible that one of those may not even make the second-choice team.
OFFENSE
This is perhaps the only area where Spain aren't quite an unbelievable as they used to be. Villa is a little past his best, while Pedro has not had a good season at Camp Nou. Iniesta, in fairness, is still at the peak of his powers and in the top three players in the world. Strikers like Fernando Llorente, Alfredo Negredo and Roberto Soldado don't really fit into their style of play but if push came to shove any of the three would replace Villa to decent effect. There's not even space in the squad for Fernando Torres at the moment.
The most exctiting young player Spain have is Isco. The 20-year-old Malaga star looks like a wonderful prospect for the future. Jesus Navas is another excellent wide player on the fringes of the first team.
In summary, this could be Spain's second-choice starting eleven:
VALDES, MONTOYA, PUYOL, ALBIOL, MONREAL, MARTINEZ, FABREGAS, SILVA, MATA , NAVAS, LLORENTE. 
That would beat most teams, wouldn't it?