Between the end of the current season and the beginning of next, there will be huge amounts of transfer business done around the world. But who are the 10 best players whose futures will be most under the microscope this summer?
10. MAROUANE FELLAINI (Everton)
The 25-year-old Everton star player is still the club's record signing, since he joined for $23m in 2008. The Belgium offensive threat is now attracting the attention of the likes of Manchester United and Arsenal, and if Everton get a bid of something like $35m for his services it is likely he will leave Goodison Park.
9. DAVID VILLA (Barcelona)
A few years back he was the most respected striker on the planet, but he has declined since his broken leg, and there is a good chance he will leave Camp Nou in the summer. Because of his age, 31, his transfer fee will not be huge, but his wages will be. There is no doubt he is still worth taking a gamble on, and a move to the Premier League, with Arsenal interested, is a distinct possibility.
8. VICTOR VALDES (Barcelona) 
The Barcelona 'keeper has confirmed that he will leave in the summer for a new challenge, and there will be plenty of clubs bidding for the Spaniard. In his younger days he wasn't rated too highly, but he has matured hugely as a player. Liverpool's Pepe Reina has been linked with a swap deal with Valdes, while Arsenal need a top 'keeper, so like his teammate David Villa, he could soon be playing in the Premier League.
7. CHRISTIAN ERIKSEN (Ajax)
The 21-year-old Danish international is one of the most highly rated youngsters in Europe, with many great clubs monitoring his progress. A technically gifted, creative player, the Ajax star will cost a lot of money but will be worth every buck. Liverpool, in particular, have been heavily linked with acquiring his signature.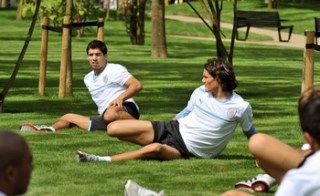 6. NEYMAR (Santos)
If the Brazilian sensation was definitely leaving Santos in the summer then he would be right at the top of this list, but his future in uncertain. Many think the 21-year-old will become the greatest player on the planet one day, and Barcelona and Real Madrid look favourites to sign the little genius. It looks more likely that he move abroad after the 2014 World Cup in Brazil, and expect a colossal transfer fee when he does move.
5. ROBERT LEWANDOWSKI (Borussia Dortmund)
The Dortmund and Poland starstriker is on fire this season, scoring 30 goals in 41 games, and there is much speculation about his future. Part of him will want to stay at Dortmund, especially given their current success, but the other part will be tempted by a move to a European giant. Sir Alex Ferguson has expressed an interest in the 24-year-old, while Real Madrid have also kept a close eye on him.
4. LUIS SUAREZ (Liverpool)
Like Neymar, Suarez would be higher on the list if there was more certainty that he was leaving Liverpool in summer. The little Uruguayan has been sensational in the Premier League this season, and many feel he should be at a club that can turn him into an ever more special player. His heart is telling him to stay at Anfield, but his head is telling him to join Pep Guardiola's revolution at Bayern Munich.
3. EDINSON CAVANI (Napoli)
Suarez's strike partner for Uruguay looks very likely to leave Napoli at the end of the season. The leading goalscorer in Serie A is regarded as one of the form players of world soccer, and he has the ability to transform a team. Manchester City are strong favourites to sign him, with Roberto Mancini unhappy at his side's lack of goals lately. Madrid have also shown an interest. The fee could be in the region of $45m.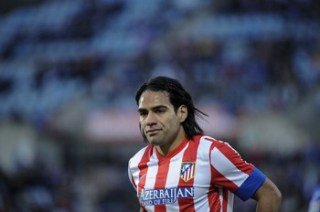 2. GARETH BALE (Tottenham)
The 23-year-old Welshman is a phenomenon when he is in top form, and he is one of the most unstoppable players on the planet. He has probably stayed at Spurs for longer than many expected, but this summer really does look like the end of his North London adventure. Madrid are favourites to sign him, with Barcelona close behind, but don't be surprised to see Ferguson make an audacious bid to take him to Old Trafford.
1. RADAMEL FALCAO (Atletico Madrid)
There are some hugely in-demand soccer players around at the moment, as this list shows, but none are being talked about as much as Falcao. Atletico Madrid's 27-year-old superstar striker has been linked with every big club you can imagine, and will almost certainly join one of them for about $60m in time for next season. Madrid, Barcelona, United, Chelsea, City, Bayern, take your pick. The Colombian will end up at one of those sides in the summer.