Liverpool have been one of the most unpredictable sides in the Premier League this season, looking like potential title-winners one minute and relegation candidates the next.
Brendan Rodgers has laid the foundations of a potentially excellent side, but there are certain areas of the pitch that definitely need addressing in the summer if they are to challenge for the top four next time around.
LEFT-BACK
Jose Enrique is a solid player who is more than good enough to be in Liverpool's squad, but is he consistent enough to be first-choice? I'm not so sure. He is capable of having great games and awful games one after the other, and when he is pitted against a lightning fast winger he struggles. Leighton Baines would be a prefect signing, but the chances of him joining Everton's biggest rivals are slim to say the least. Davide Santon of Newcastle is another possibility.
OFFENSIVE MIDFIELD
With Steven Gerrard and Lucas Leiva in defensive midfield, that is as strong as any duo in the Premier League, but they lack creativity in the center behind the striker. They don't have a Juan Mata, David Silva or Santi Cazorla. Christian Eriksen has been heavily linked, and he would be a great signing. Players like Jordan Henderson and Joe Allen will do a job there but are not good enough to play there week in week out, while Luis Suarez is wasted if he plays there.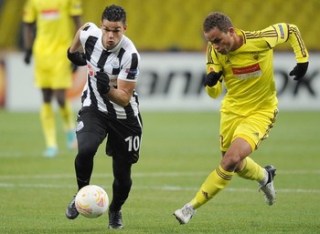 NEW WINGERS
The addition of Philippe Coutinho has been an excellent one, but Rodgers still needs more depth out wide. Stewart Downing has improved in the last few months but he does not represent the solution to their width issues. Newcastle's Hatem Ben Arfa is a player who Rodgers is believed to be interested in, and he would be a superb signing for the club. Daniel Sturridge can be used out wide but is more effective centrally.
In addition to these three key areas that need improving, Liverpool simply need a stronger squad. The quality they bring off the bench is not a patch on most of their rivals, and Rodgers needs to bring in 5 or 6 new faces at the end of the season.