Last week, two offside goals cancelled out in Dortmund, but we were left wondering what the goal line officials were doing when they allowed Eliseu and Felipe Santana's goals to stand. If the extra officials can't help with the hard calls, it's worth questioning their value.
There were no goal line officials today at Upton Park, and given the nature of this one, they shouldn't have been needed. When Shinji Kagawa turns and hits his shot from 18 yards out, Robin Van Persie is in an offside position. When he becomes a factor in the play, it became an infraction, one that should have been relatively easy to spot. Unfortunately for West Ham, the flag stayed down, and Manchester United got some help on their way to a draw.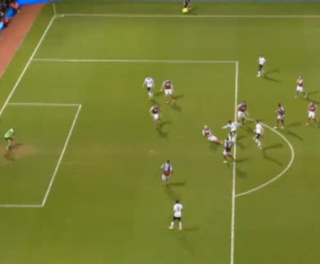 These borderline calls go against teams often enough, it's not worth making a huge deal out of them. They're noteworthy, they're talking points, but they're also events managers know are bound to occur. You have to prepare your team to adjust to a myriad circumstances, and while most of those are created by your opponents, others come from the viables around the game. Today, one of those variables went against West Ham. They're neither the first nor the last squad to be asked to overcome a bad call.
But the non-call does have another deleterious effect: We're talking about it instead of three very good goals. West Ham opened the scoring with a great team goal from Matt Jarvis, Andy Carroll and (the scorer) Ricardo Vaz Te. Shinji Kagawa's work made life easy for Antonio Valencia, while Mohamed Diame's curling left-footer used the congestion in penalty area to prevent David de Gea from reacting to the ball.
Here are the highlights, courtesy of FOX Soccer.