Liverpool face Chelsea at Anfield on Sunday, in what has been one of the most entertaining, controversial fixtures over the last decade. Here are five of the most memorable Liverpool vs Chelsea matches at Anfield in recent times:-
LIVERPOOL 1-0 CHELSEA- 2005 (Champions League)
Many believe this was the loudest atmosphere Anfield had ever witnessed, as the two sides met in the Champions League semifinal second leg. The first leg had been a tight 0-0 draw, so it was all to play for. Just a few minutes into the game came one of the most controversial moments in recent memory, as Luis Garcia's bundled effort was judged to have crossed the line by the referee. Anfield went wild, Chelsea's players were incensed and eventually, after an incredibly tense finale, Liverpool progressed to the final.
LIVERPOOL 1-4 CHELSEA- 2005 (Premier League)
Jose Mourinho's side visited Anfield early in the 2005/06 season as champions, still smarting from their defeat at the same ground a few months previously. England's dynamic midfield duo of Frank Lampard and Steven Gerrard exchanged goals before a bit of genius from Didier Drogba set up Damian Duff to give them a half-time lead. The highly impressive visitors then bossed the second half, with further goals from Joe Cole and Geremi, and Chelsea had their revenge.
LIVERPOOL 1-0 CHELSEA- 2007 (Champions league)
Two years on from their thrilling semifinal, the two sides met again at the same stage. This time a Cole goal had given Chelsea a 1-0 advantage from the first leg, and many fancied them to progress to the Champions League final this time around. Things did not pan out that way, however, and Daniel Agger's brilliantly worked goal took the game to extra-time and penalties. In the shootout it was Liverpool 'keeper Pepe Reina who proved to be the hero, saving from Arjen Robben and Geremi. Dirk Kuyt scored the winning kick to send Rafa Benitez's side through to face Milan in Athens.
LIVERPOOL 2-0 CHELSEA- 2009 (Premier League)
Having led the Premier League title race at Christmas of the 2008/09 season, Liverpool had an awful January. Both sides knew that defeat for one of them would effectively end their title hopes, with Manchester United leading the way. Frank Lampard was sent off in the second half for a foul on Xabi Alonso, and with the game heading for a stalemate Fernando Torres scored two priceless goals in the last few minutes of the game. Anfield went wild, while Chelsea's title dreams were finished.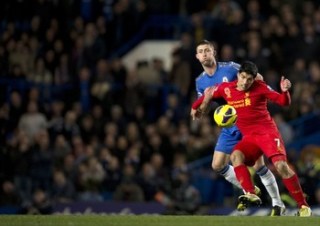 LIVERPOOL 1-3 CHELSEA- 2009 (Champions League)
Yet another Champions League meeting, but this time in a quarterfinal first leg. Torres gave Liverpool a dream start, but from that point on it was all Chelsea, now coached by Guus Hiddink. Defender Branislav Ivanovic showed his threat in the air, scoring two headers either side of the interval to put his side in control. Drogba then put the icing on the cake with a lethal finish to give Chelsea a priceless away win. The epic 4-4 draw in the return leg was enough to see Hiddink's side progress to the last four…..just.