West Ham coach Sam Allardyce was very unhappy with the officials in his side's 2-2 draw with Manchester United on Wednesday, after Robin Van Persie's equalizer was not given as offside.
The Hammers were on their way to registering a famous victory against the soon-to-be champions only for Van Persie, standing in an offside position, to score in the 77th minute to level the contest.
The 58-year-old was less than complimentary about the performance of the match officials.
"We had a fabulous win taken away from us," Allardyce ranted to reporters.
"It was blatantly offside, as we can all see.
"It's their job to give the offside decisions that appear in front of them," he added.
Sir Alex Ferguson was also unamused by the display of the officials, after Andy Carroll's dangerous challenge on goalkeeper David De Gea in the first half.
"It was a red card. There is not a doubt about that," he said.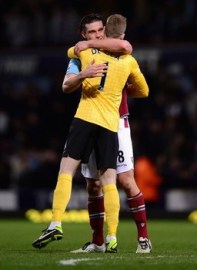 "The referee did see it but didn't see it as a red card. He saw that incident and chose not to give him a red card."
On a typically feisty night between the two sides, who have had some great games over the years, Allardyce disagreed with Ferguson's opinion about Carroll, stating that it was not a sending off offence in his opinion.
"I think it is a yellow card at most because Andy has committed to try for the header and you can't stop dead," he said.
"When you commit on a corner and you start off running, you can't stop dead even though you aren't going to get it."
United's point moves them another step closer to a 13th Premier League title, while West Ham should now be safe from relegation after the entertaining draw.