The battle for a place in the Premier League top four is sure to take another twist this weekend, with Chelsea, Arsenal and Tottenham all facing tricky games.
Everton's draw at The Emirates on Tuesday has probably ended their hopes of Champions League qualification, turning it into a three-way battle for third and fourth place.
Arsenal will be the first under the spotlight when they travel across London to face Fulham on Saturday. Although Chelsea's 3-0 win over Martin Jol's side on Wednesday would make you think it will be an easy victory for Arsenal, it will be far from it. Craven Cottage is usually a tough place to visit, with the crowd very close to the action and one of the smaller, and therefore tighter, pitches in the league. It will be an excellent win for Arsene Wenger's men, and will crank up the pressure on their rivals.
First up on Sunday are Tottenham, who host an in-form Manchester City side. With the title race realistically over, City are playing with a real freedom at the moment, and the return to form of star players Sergio Aguero and Yaya Toure has made a big difference. In many ways it's the last game Andre Villas-Boas and his side want at such an important time in the season. They are lacking momentum hugely at the moment, and failure to beat the current champions would be another nail in the coffin in terms of their Champions League aspirations.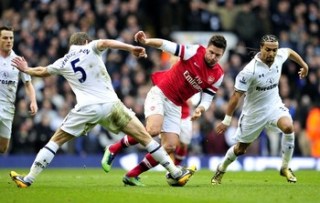 Later on Sunday Chelsea face Liverpool at Anfield, which is sure to be a feisty affair. Liverpool are impossible to predict at the moment, but they invariably play very well against the big sides at Anfield. With Chelsea's heavy fixture schedule it could be a tough game to win. Benitez would probably take a draw.
By Monday morning the top four will have a new look to it, one way or the other, but who out of Chelsea, Arsenal and Tottenham will be the most disappointed?