When Manchester United signed Shinji Kagawa from Borussia Dortmund last summer, great things were expected of the Japanese star.
The 24-year-old had won the Bundesliga Player of the Year for the 2011/12 season, and he was arguably the star player in a Dortmund side that is showing everyone how good it is in the Champions League this year.
Although his first season in English soccer has not been a particularly impressive one, he is just beginning to show signs that next season he will have adjusted to the Premier League, and will be a far more influential player at Old Trafford.
United's 2-2 draw with West Ham on Wednesday was a tight game, but Kagawa had a big say in the result. He assisted both goals, for Antonio Valencia and Robin Van Persie, the first after a classy piece of skill and the second after his shot rebounded off both posts. It wasn't an awesome performance from him by any means, but it was another sign that he is steadily improving.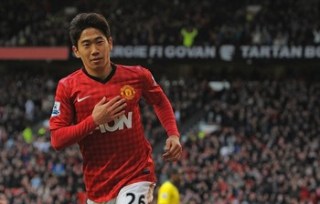 Part of his lack of effectiveness this season must be put down to the fact that he hasn't always played in his best position, which is in a central role behind the striker. That position has invariably been occupied by Wayne Rooney, which means Kagawa has been pushed out to the left, where his lack of pace has made him ineffective. Dropping Rooney deeper into midfield, with Kagawa behind Van Persie is certainly an option for Sir Alex Ferguson next season.
Many top foreign players often struggle in their first season in the Premier League. Just look at the likes of Dennis Bergkamp, Thierry Henry and Robert Pires, a trio who ended up becoming legends at Arsenal are disappointing debut campaigns.
The signs are that the Japanese international has struggled in a similar way, but his current form makes you believe you will see a very different Shinji Kagawa next season.