Having won an ever-tougher German league in record time, Bayern Munich needs little more to prove their European bonafides that the domestic distance between them and Borussia Dortmund (20 points), a 4-0 (aggregate) trouncing of Juventus in the UEFA Champions League quarters, and a roster with depth and quality that rivals any in world soccer. If they did, the 16-2 margin they've racked up in winning their last three league games or the +75 goal difference they've accumulated through 30 Bundesliga rounds would be enough to argue they're not only Europe's form team, they've put together UEFA's most impressive campaign. If you were to pick Champions League's favorite based on only this year's returns, Bayern would be the obvious choice.
But that status only confounds the picture ahead of Tuesday's Champions League semifinal, one that pits the would-be kings against the reigning monarchs. Because although Barcelona didn't win last year's Champions League (remember Chelsea?), their status as 'team our club would most like to emulate' creates a standard, one Bayern has implicitly bought into while tabbing Pep Guardiola to take over at the Allianz next year. Having won two Champions Leagues and three Spanish titles during four years bossing the Blaugrana, the Barcelona legend is set to bring Barça to Bavaria, a move that makes Tuesday's meeting the first half of a type of Guardiola Clasico.
"I have respect for Pep Guardiola and we have a very good relationship," Bayern head coach Jupp Heynckes said on Monday. "This match will not affect this. I don't need any information from anyone. I know Spanish football, I know Barça and I know my own team very well."
It's exactly what you'd expect from a coach that signed off on Guardiola's hire, though it doesn't help answer the central questions ahead of Tuesday's match: Who's the favorite? The team with the gaudy numbers and layers upon layers of talent? Or the team that sits on the proverbial throne.
There seem to be two schools of thought:
| Picking Bayern | Picking Barça |
| --- | --- |
| They're clearly the best team in Europe. They've lapped the Bundesliga and embarrassed Juventus with talent that explains their results. Only subscribing to Barcelona mysticism would make them underdogs. We're seen Barcelona be eliminated by lesser teams than Bayern. | It's one thing to put up impressive results against Germany and the res of Champions League – results that shouldn't be discounted – but Barcelona is so stylistically distinct, you predict results based on a club's performance against other teams. Most teams crumble against Barcelona |
Bayern's a team which, even by Barcelona's standards, has an enviable amount of artillery. Even with first choice number nine Mario Mandsukic suspended, Bayern has an elite goal scorer: German international Mario Gomez. On the flanks, Franck Ribery and Arjen Robben present significant challenges for Barcelona's fullbacks, while Thomas Muller, set to play in support of Gomez, has proven himself in a World Cup and the previous Champions League. Bayern has no shortage of players who could win this match.
"To sum up Bayern's strength this year with just one word, I would say 'teamwork'," Heynckes said. "Bayern play the most modern and up-to-date football in their history. There are so many things you can prepare before a game, but being spontaneous is very important in football. You need good intuition to do this."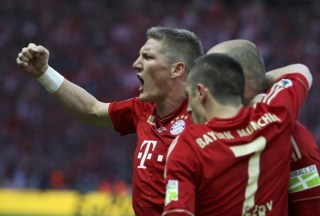 That spontaneity means players like midfielders Bastian Schweinsteiger (right) and Javi Martinez could also be threats, as well as fullbacks Philipp Lahm and David Alaba. It also means the team may have the fluidity to cover for the absence of Toni Kroos, the Bayern playmaker out for the season after suffering an abductors injury against Málaga.
The bigger injury concern, however, lies with the other side. Barcelona's Lionel Messi – the consensus world's best player who's scored an astounding 43 goals in 29 league games – has only played since the his team's second quarterfinal leg against Paris Saint-Germain, a match in which he could only go half an hour. Having picked up in injury in the first leg in Paris, Messi hasn't started a game since April 2. He's expected to being in Jordi Roura's starting XI on Tuesday, but whether he's 100 percent remains to be seem.
"Messi is improving and is getting better but we will have to see what the doctor says," Barça's interim boss Jordi Roura said on Monday. "He is a great player because he can dictate games. We hope he will be fine tomorrow."
In a way, that's not even the most important part of the match for Barcelona. On the road in game one of a two-legged tie, the more important thing will be staying close. Barcelona need to keep the score close enough to play their normal style when the match moves to Cataluyna. They need a big day from Gerard Piqué in defense, and they'll need strong performances from Sergio Busquets and Victor Valdes.
Any result that keeps them from falling behind by more than one goal will be a positive one. Because of their standards, Barcelona will want to win on Tuesday, but with the quality of this Bayern side, staying close away from home could be the difference between maintaining their Champions League dreams and being just another Juventus on the road to Bayern's title.
Notes
Bayern's domestic season is done, but they're still racking up results. Gomez and Claudio Pizarro each scored twice in this weekend's 6-1 win at Hannover.
Barcelona also won this weekend, albeit in less convincing fashion. Cesc Fabregas's 84th minute goal gave the Blaugrana a 1-0 win at home against Levante.
Eric Abidal, coming back from a liver transplant, played 90 minutes in central defense on Saturday, though don't expect him in Roura's XI at Bayern. Adriano should start along side Piqué in the middle.
The last time the two teams met was the 2008-09 Champions League quarterfinals. Barcelona routed Bayern in the first leg on their way to a 5-1 aggregate victory.
Bayern returns two starters from that match: Ribery and Lahm. Barcelona could return as many as six starters: Valdes, Dani Alves, Piqué, Xavi Hernandez, Messi, and Andres Iniesta,
Bayern have only lost once at home to a Spanish side in Champions League play: 3-2 to Deportivo la Coruna in 2002-03.
Barcelona have an eight match unbeaten run on German soil, their last trip a 3-1 victory over Bayer Leverkusen in last year's group stage.
Possible Lineups
Bayern Munich (4-2-3-1): Manuel Neuer; David Alaba, Dante, Daniel Van Buyten, Philipp Lahm; Bastian Schweinsteiger, Javi Martinez; Franck Ribery, Thomas Muller, Arjen Robben; Mario Gomez.
Barcelona (4-3-3): Victor Valdes; Jordi Alba, Adriano, Gerard Piqué, Dani Alves; Andres Iniesta, Sergio Busquets, Xavi Hernandez; David Villa, Lionel Messi, Pedro Rodriguez.