It seems we were a bit premature in touting the league's ability to get goals, because while the NWSL's first two weeks notably avoided WPS's punch-less debut, it wasn't until this weekend – Week 3 of the new league's season – that we saw a surge. Whereas only one team (Portland Thorns, against Seattle) had bagged multiple goals in a game through "The N's" first fortnight, every Week 3 winner got on the scoresheet twice, with matches in Kansas City and Chicago giving the league its first multi-goal margins.
While the product wasn't necessarily better (`70s-style turf pitches challenging our soccer aesthetics), the execution was, with set piece precision and counterattacking awareness flashing the cohesion coaches have been trying to instill. With teams having only assembled for preseason six weeks ago, some growing pains were expected. Now teams are making good on their coaches' two-week-old promises: As we get more time together, things will improve.
Take Boston, who injected ball-winner Mariah Nogueira into midfield, used Lianne Sanderson as a focal point at the top of midfield, and push Sydney Leroux wide to break down the Flash's right back (Alex Sahlen). The result? Two goals for Heather O'Reilly cutting in from the right. That's a system doing work.
Or look at Kansas City. On all the league's teams, Vlatko Andonovski's was most-ready to go on day one, but even the Blues made tweaks. They stayed 4-2-3-1 but moved Sinead Farrelly into the team, pushing Lauren Cheney wide. That tightened screw allowed FCKC to avoid their Week 1 slog, a trough that allowed Portland's second half goal to take a point from Overland Park. On Friday, it was Kansas City scoring the second half goal, Renae Cueller's second of the season sealing their 2-0 win over Seattle.
For some teams, asking fans for patience is so two weeks ago. Their changes are already collecting points that could make a difference at the end of this short, 22-game season. They're also putting pressure on the rest of the league to catch up.
Here's what else happened in Week 3: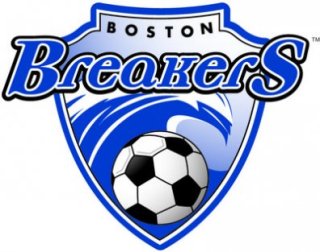 TEAM THAT STOOD OUT
With Western New York struggling out of the gate, it's difficult to know what Boston was up against on the field, especially with Flash focal point Abby Wambach kept out of Saturday's home opener. But this weekend in Rochester, the Breakers' biggest obstacles were always going to be away from the pitch, where the team sought to move on from last week's tragedies in Boston.
With last week's match in Kansas City cancelled, Boston may have shown some rust while allowing Samantha Kerr to put the Flash up after six minutes, even if Heather O'Reilly's quick response evened the scales. Late in the second half, O'Reilly's dash from her right-wing position through the left channel created the game-winner, the U.S. international recording the first brace in NWSL history.
It's easy to exaggerate the link between sports and "real life," but there is a link, one that Lee Billiard and Lisa Cole talked about in the buildup to Saturday's game. If not for Boston as a whole then for the team and community around it, Saturday's game was an important return to normalcy. And a winning one.
MVP … OF THE WEEK
While O'Reilly recorded the league's first double, FC Kansas City's Lauren Cheney (above) was in a giving mood. Dangerous over dead balls all night, Cheney curled a corner kick two yards from the goal line to give Farrelly a far post, 21st minute opener.
But witness the real gem of Cheney's night: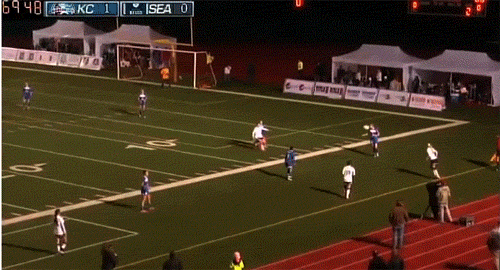 (Mark Yesilevskiy graciously made the GIF for us)
Cheney was a target striker in WPS, but in the year-plus since that league closed shop, she's been converted to a midfielder by the national team, a move made possible by her intelligence and quality on the ball. But to this point, her performances in the middle have been merely acceptable, perhaps the product of a learning curve. She's been steady, and her versatility allows for a lot of possibilities tactically, but squeezed backward by the national team's forward surplus, Cheney just hasn't had as much of an impact in midfield.
On Friday, that showed signs of changing. Beyond her two assists, Cheney showed a command for the game that justified Andonovski's midfield deployment, assuming the responsibility of being the driving force in midfield. Whether wide left or back in the middle (Kansas City's interchangeability seeing her move around), Cheney was the week's best player.
At the time of allocation, there was some speculation Cheney would resume her natural, forward's position, but after performances like Friday's, we now have a proof of concept. Lauren Cheney – whether as a wide creator, late-match regista, box-to-boxer or a No. 10 – may have a viable future in midfield.
Also of note: "HAO" did have those two goals, Coco Goodson is a giant (h/t Lauren Barker), Christine Sinclair was again her match's best player, and don't forget our unsung hero, below.
NWSL Results
| Date | Home | Score | Road |
| --- | --- | --- | --- |
| Fri., Apr. 26 | Kansas City | 2-0 | Seattle |
| Sat., Apr. 27 | Washington | 1-2 | Sky Blue FC |
| Sat., Apr. 27 | W. New York | 1-2 | Boston |
| Sat., Apr. 27 | Chicago | 0-2 | Portland |
ROUND'S BIG STORY
It's no surprise the league's first two-goal margins were produced by Portland and Kansas City, the two clubs at the top of most expert's blindly predicted final standings. What's more surprising: Two teams have joined them to create an early haves, have nots scenario.
That Boston and Sky Blue are undefeated is neither alarming nor remarkable this early in the season, but the quality gap between them and the league's bottom four is surprisingly large:
Washington Spirit's attack could click at any time, but until it does, they have no consist means of producing goals. More troubling: A defense expected to be the team's backbone just allowed two goals at home against Sky Blue.
The Western New York Flash, thanks to being drastically short-changed in allocation, just don't seem to the quality. Aaran Lines has done well to keep his team competitive in their three games, but the team's yet to find a solution.
Like the Flash, the Chicago Red Stars' allocation was lacking, though they did get a national team quality player in free agency (Lori Chalupny). Unfortunately, she's the only Red Star that's meaningfully distinguished herself through two games.
And just like Washington, the Seattle Reign just don't have any goal scorers. Megan Rapinoe is coming, but it remains to be seen if they can scrape together enough points to stay close while she's gone.
It's too early to make any long-term assumptions about the league's bottom half, but Week 3 gave us a lot of information about the chasm dividing the league's eight teams. Not only did the scoreboards favor the league's better half, the teams' actual quality reinforced the notion of haves and have nots.
UNSUNG HERO
Washington may not have a reliable goal scorer, but in Diana Matheson, they have somebody who can create chances, like this one Saturday for rookie Caroline Miller:
It was her own Lauren Cheney moment, and although the Canadian international doesn't have Cheney's renown, she carries some of the same qualities: Somebody who can orchestrate play from the middle of the park. At 5'0″, though, Matheson has to go about her business much differently then the 5'8″ Cheney, with her willingness to turn on a ball and burst forward in attack feeding the natural description 'spark plug'.
NWSL Standings
Pos.
Team
GP
Pts.
+/-
PST
Rank
1
Portland
3
7
+3
1
2
Sky Blue FC
2
6
+2
3
3
Kansas City
2
4
+2
2
4
Boston
2
4
+1
4
5
Washington
3
2
-1
7
6
W. New York
3
1
-2
6
7
Chicago
2
1
-2
8
8
Seattle
3
1
-3
5
In that way, Matheson is more Jessica Fishlock (last week's Unsung Hero) than Cheney, with both the Canadian and Welsh internationals serving as examples of a women's professional league ancillary benefits. While much of women's soccer fandom in the U.S. is tied to the popularity (and exposure) of the women's national team, there's an array of underappreciated talent fans see to thanks to the NWSL's arrival. At some point, women's soccer might be about more than the Olympics and whomever's the latest Mia Hamm.
Matheson's 150 caps for Canada mean she's well-known to most long-term women's soccer fans, but newer fans drawn in by the U.S.'s World Cup and Olympic runs may know little about her. But with NWSL, Matheson may not be unsung for long.
LINGERING QUESTIONS …
Can Kansas City take their act on the road? … How much patience should Cindy Parlow Cone have with Portland's midfield? … Why did it take until Saturday to hear the word "concussion" from Abby Wambach or the Flash? … Can Kelley O'Hara stop tackling like Paul Scholes? … Is Sydney Leroux: Left Winger a real thing? … Will fans turn out for Seattle's home opener?
LOOKING FORWARD
Reign FC finally get that opener his weekend when FC Kansas City show up in Tukwila, a match we'll feature as this week's NWSL Game of the Week. With some factions of Seattle fandom balking at supporting a non-Sounders FC brand, owner Bill Predmore has a marketing challenge ahead of him. On Saturday, we'll see the first product of his efforts.
And for the first time this season, the NWSL is going mid-week:
Wednesday, May 1
Western New York Flash vs. Sky Blue FC
Saturday, May 4
Boston Breakers vs. Chicago Red Stars
Washington Spirit vs. Portland Thorns
Seattle Reign vs. FC Kansas City