In a league with eight clubs and a 22-game schedule for each team, there's always a chance at redemption for a result that may have previously slipped away. For Seattle Reign FC, the wait to turn the table on FC Kansas City is a mere seven days.
On Saturday, the two teams face off for the second time in a week when Kansas City travels to Starfire Sports Complex in Tukwila, Wash., for a late 11 p.m. ET kickoff. FC Kansas City won the first-ever meeting between the two clubs 2-0, with goals from Renae Cuellar and Sinead Farrelly.
Despite the quick rematch, it's a game of firsts for each team, with Seattle opening its home slate and Kansas City boarding a plane for the first time this season.
THREE THINGS YOU NEED TO KNOW
1 – Welcome home Seattle; say hello to the road, KC
Seattle is the last of the eight clubs to play its home opener, now in Week 4 of the season. Reign FC have come away with just one point in three road matches to open the season (a 1-1 draw with Chicago Red Stars) but a trip to the intimidating JELD-WEN Field in Portland and rain-soaked pitch in Kansas City last weekend are tall tasks for any team. Now Seattle comes home for the first time this season, and while the 3,800-seat venue is not sold out — a point of concern given the lead-in time and the strength of Seattle's soccer fan culture — it finally offers a chance at some regularity to life for Reign FC.
The travel began almost the moment the team arrived to training camp in early March. Seattle embarked on an ambitious two week preseason tour in Japan – including a match against L. League power INAC Kobe Leonessa – while the other seven clubs humbly stayed home and trained in domes or cold weather, scrimmaging college teams. Now, nearly two months after leaving for the Far East and then trekking to Portland and twice to the Midwest, the sight of the Emerald City for a full week is a welcomed one for Reign FC.
NWSL Standings
Pos.
Team
GP
Pts.
PST
Rank
1
Portland
3
7
1
2
Sky Blue FC
3
6
3
3
FC Kansas City
2
4
2
4
Boston
2
4
7
5
W. New York
4
4
4
6
Washington
3
2
6
7
Chicago
2
1
8
8
Seattle
3
1
5
"That's been the biggest positive this week is we've just been able to settle in and not get on an airplane and not go to an airport, which has been a nice change for us," Seattle head coach Laura Harvey said.
Likewise, as impressive as FC Kansas City has been thus far, the Blues are yet to play on the road this season. They've gotten comfortable in their Kansas confines and look like one of the best teams in the league. But all that gets put to the test on the road, where a Seattle team hungry for its first win and not far off from putting the pieces together offers a trap game for FC Kansas City, which sits in third place on 4 pts.
"We haven't had a chance to get the feeling and the rhythm of being on the road," Blues defender and captain Becky Sauerbrunn said. "It's a little different without having a set schedule, which we've had here, fortunately, the last three weeks or so. That's going to be a challenge, just being able to find that comfort level [like] at home. And then just playing Seattle again, the game here they were high pressuring and they had a lot of energy. I think that can only be magnified by the fact that they are playing at home and it's their home opener."
[MORE: Looking back at Week 3 of the NWSL season]
Harvey thinks that, to an extent, the advantage lies with Seattle having not gotten the result last week. She doesn't anticipate changing much in the game plan and said her side hasn't struggled to create opportunities, but rather, to finish them.
FC Kansas City coach will look to replicate last week's performance, but is well aware of the dangers of his team's first road match.
"We're working on the psychological aspect and we're working and getting ready for those first 15-20 minutes of the game, because usually in a home opener those first 15-20 minutes are crucial," he said.
2 – Buczkowski and Scott holding down the middle for KC
Two of the league's best players early in the season have been FC Kansas City's pair of holding midfielders, Jen Buczkowski and Desiree Scott. Both serve as an extra line of defense in front of an already solid back four for the Blues, which includes Sauerbrunn alongside Canadian international Lauren Sesselmann.
"They make our jobs so much easier at the back line, specifically for me as a center back with Sesselmann, just having them in front – they sweep in front of us so they break up plays, but they are also so good at finding the ball and keeping it that they are our outlet," Sauerbrunn said. "Both defensively and offensively they've been such a help in there."
FC Kansas City has come together quickly across the pitch. The back line is solid, but there is no stronger unit than the Blues' loaded midfield, in which Buczkowski and Scott sit in and first round college draft pick Kristie Mewis, U.S. international Lauren Cheney and Sinead Farrelly have freedom to roam and push forward at will.
The system is cohesive, free-flowing and flat-out effective thus far. Mexican international Renae Cuellar, who has two goals this season, utilizes world-class speed to run off that five-woman midfield as the lone striker.
And the tendencies of the Blues' midfielders to play more centrally at times opens up the wings for outside backs Merritt Mathias and Leigh Ann Robinson, something Seattle learned last week.
Round one of this matchup in Overland Park, Kan., last week was won and lost in the midfield. The same will be said about Saturday's rematch.
3 – Fishlock the engine of a team close to clicking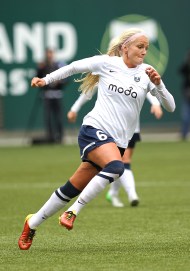 Seattle hasn't overly wowed anyone with their opening three performances, but there have been moments – flashes – where Reign FC have pieced together sequences that show their potential.
At the heart of most of that is Welsh midfielder Jessica Fishlock (pictured above, right).
[MORE: Fishlock the unsung hero in Week 2 vs. Portland]
Without a doubt she has been Seattle's engine and best player, creating attacking opportunities sometimes out of nothing from her advanced midfield role and doing so in place of a front line that hasn't come to fruition yet. Harvey admits she  is yet to figure out who is best suited in the lone striker role of Seattle's 4-5-1 formation, she knows where her foundation is.
"Prior to any ball being kicked we knew we had a strong midfield," Harvey said.
Harvey says Fishlock will be "a massive success" for the team and the league. But Fishlock's fellow central midfielders, Keelin Winters and Canadian Kaylyn Kyle (pictured left), have also been instrumental. The trio is a perfect combination of defensive ball-winning and attacking flair.
On Saturday, the midfield will need to stay connected with its backs. Cheney was able to find pockets of space between those lines last week and while neither of her two assists came from a built-up attack (one was a corner kick, the other a clearance turned through ball), she had far too much time on the ball.
As for the battle of two strong midfield units – a crowded one with two teams that prefer three central midfielders – Andonovski said he was "very happy" with how Buczkowski and Scott contained Fishlock, but the Welsh international isn't sweating the rematch.
"A lot of teams nowadays play with the two holding, so it's not something knew that we've come up against or I've come up against," Fishlock said. "But they do it very well. I tip my hat to them tremendously; they did it very well against us when we played them away."
Harvey said Lindsay Taylor and Tiffany Cameron have returned to fitness and could be options at forward, where Seattle has struggled.
QUICK HITS
| | Seattle | Kansas City |
| --- | --- | --- |
| Star to Watch | Jessica Fishlock – She's the focal point of an attack lacking a pure striker and often pushes beyond the lone forward from her attacking midfield role. Can she get support from a forward who rises to the occasion? | Lauren Cheney – Lit up Seattle last week. Her two assists weren't even her most impressive contributions. Three of Cheney's free kicks were dangerous, including one in the second half that that forced a huge save. |
| Still Important | Michelle Betos – The young goalkeeper has done a solid job filling in for Hope Solo, who is out until June or July after having wrist surgery. Betos needs to continue to come up big to keep her team in matches, including this home opener. | Renae Cuellar – Lost in all the praise of Kansas City's midfield is a 22-year-old star who has scored in both games, including the first goal in NWSL history. Her pace is electrifying and she showed it last week, out-running the Reign's defense in a 50-yard sprint. |
| Win if … | … they stay compact and win the midfield battle. They'll need this to be a 1-0 kind of game. | … Buczkowski and Scott can dictate play and if Cheney is given too much space again. |
Other games in Week 4:
Western New York Flash 2-1 Sky Blue FC (Wednesday) – The Flash finally picked up their first win in the first midweek game of the season, which also ruined Sky Blue FC's previously perfect record and bid to go top of the league. Abby Wambach scored the game-winner in the 20th minute for Western New York in front of a paltry 2,127 fans.
Chicago Red Stars at Boston Breakers (Saturday, 6 p.m. Eastern) – The Breakers return to Somerville, Mass. for the first time since the Boston Marathon bombings (which canceled their trip to Kansas City and deeply affected defender Kia McNeill). Boston comes in riding high on the heels of a big three points in Western New York last week, while Chicago begins a brutal stretch that has them on the road for four of the next five games.
Portland Thorns FC at Washington Spirit (Saturday, 7 p.m. Eastern) – The Alex Morgan Show is in town and a sellout crowd of over 4,500 is expected at the Maryland SoccerPlex. Washington has exceeded very low expectations early on, but Portland – and the Thorns' engine, Christine Sinclair – seem to have hit their stride. Ashlyn Harris will need another big game in net for Washington, which can't afford to get into a shootout with the Thorns.