World soccer's silly season is starting early. You can thank a lack of competition of that. With races across UEFA's top five leagues completely deflated, it's hard to blame fans and editors for gripping the rumor mill, trying to bring some uncertainty back into an unexpectedly predictable world.
But by now we all know, most of that uncertainty is utter chaff – rumors that only make sense for one of player, club, or other club; gossip fueled by a cynical appeal to readers' most daft instincts. Yet on a rare occasion, there is a legitimately interesting rumor that surfaces that makes sense for buyer, seller, and player.
Or in this case, players.
And so we have the potential Edinson Cavani-for-Edin Dezko swap, a deal that's main improbability is the scarcity of swap deals. The last time players of this magnitude were involved in a trade, Samuel Eto'o was going to Inter Milan to help Barcelona pay for Zlatan Ibrahimovic – an extremely rare deal at the time, one that's already four years old.
Still, this speculated swap makes sense because of Cavani's enormous buyout ($82.5 million), one Napoli can hold to given the Uruguayan's production. Since moving to Naples from Palermo three seasons ago, the versatile target man has 72 goals in 95 league appearances. Combined with a nearly unmatched work rate at his position, Cavani is one of the world's marquee strikers.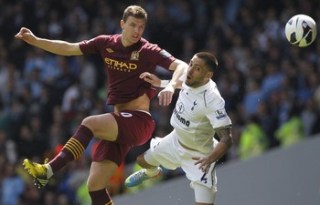 Thus it's no surprise he's been linked with every big club in the world, but with Edin Dzeko seemingly set to leave Manchester City after two years of part-time duty at Eastlands, the Citizens have a way of taking a chunk out of that buyout. If they offer Napoli an elite replacement and $54 million (as is thinly speculated), everybody could win: City get an upgrade that can truly complement Sergio Aguero and Carlos Tevez; Napoli get return on their investment and a viable replacement; Cavani gets a huge raise to move to a now-elite club; and Dzeko gets playing time while staying with a Champions League club.
The one hiccup: Dzeko may have better options. The former VfL Wolfsburg sniper is presumably keen to move back to Germany, with Borussia Dortmund said to be interested in seeing the Bosnian replace Robert Lewandowski. If Dzeko can go back to a league he likes — to a Champions League finalist who play in front of some of the best fans in the world – what incentive does he have to play ball in this swap?
If, however, BVB can keep Lewandowski, or if they have another replacement in mind, all of a sudden the Cavani-for-Dzeko swap looks far more viable. Dzeko's style would be hugely successful in Italy, and at Napoli, he's almost guaranteed to get as much playing time as he wants. Unless one of Italy's other big clubs comes in for him – somebody like Juventus or Milan – Napoli could prove his best option, should BVB bow out …
Especially if they're willing to roll over some of that $54 million into his wages.