Hull City may be one of the least-impressive teams to earn automatic promotion, but they have the summer to correct those problems, because after today's draws at the KC Stadium and Vicarage Road, the Tigers are back in the Premier League, joining league-winners Cardiff City as automatic promotees from England's Football Championship.
But Steve Bruce's side practically volunteered to be pulled into a playoff. Hosting the already-promoted Bluebirds on the season's last day, Hull went down early in the second half before goals from Nick Proschwitz and Paul McShane looked to have the Tigers promoted. One point up on third-place Watford ahead of today's 12 simultaneous kick offs, Hull knew three points would send them up.
Yet in the 93rd minute, a handball by defender Abdoulaye Faye sent Nicky Maynard to the spot, a state that brought Hull's horrible form back into perspective. In mid-April, the Tigers looked sure bets to join Cardiff in the Premiership, but one point in three games ahead of the Bluebirds' visit brought Watford back into play. And when Maynard beat David Stockdale in the 95th minute, the Hornets had fate in their hands.
Unfortunately, Gianfranco Zola's team couldn't find the late goal that would have snatched automatic promotion. While a visit from Leeds United should have meant three points, the Whites were able to take a 1-1 draw from Vicarage Road, sending Watford into a four-team playoff for the last promotion spot. The result also allowed Hull to back into the Premier League.
The Tigers' ability to get the league's second-most points from a 46-match season is an obvious argument to their quality, one that precludes any claim (possibly inadvertently hinted here) they're undeserving of their spot. Yet powered by a midseason, post-Bruce-hiring run, Hull bares a vague resemblance to last year's Reading – a team with Championship mid-table talent that found a mid-season rhythm and rode it into the Premier League. Add in a pedestrian +7 goal difference, there's more than one reason to think this is the beginning of another Hull yo-yo, even if there's a shade of poor taste in bringing this up moments after the club's secured promotion.
Hull were last in the Premier League in 2009-10, the end of a two-year run that began when a sixth-placed team went through the Championship playoff and into England's top division. They were saved on the last day in 2008-09 before finishing 19th in 2009-10.
Now they're back, and with the cash injection provided by Premier League broadcast rights, they'll have the same shot given to every other promoted club. If they spend wisely and manage their season well (neither of which Reading did), they can stay up, their Championship run-in be damned.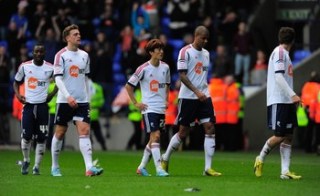 Playoffs set
With their home draw, Watford's route to the Premier League now does through Wembley. They'll face Leicester City in one half of the bracket, while Crystal Palace and Brighton & Hove Albion meet on the other.
That makes Bolton the day's big loser. The Trotters came into the day in sixth place and needed only a win over visiting, mid-table Blackpool to secure a playoff spot. But like Hull and Watford, they left their destiny in others' hands, giving up two early goals to spot the Seasiders a lead they never gave up. With the 2-2 draw, the turnaround Doughie Freedman engineered after Owen Coyle's dismissal fell short. A 91st minute goal by Leicester City's Antony Knockaertat rival Nottingham Forest allowed the Foxes to secure the league's last playoff spot.
Brighton and Palace both got home wins against relegated sides, confirming relegation for Peterborough United and Wolverhampton Wanderers. For Wolves, it was their second successive relegation. Bistol City, 10 points adrift of 23rd place Wolverhampton, join the duo in League One.