Through the first four weeks of the NWSL season, life on the road has proven very forgiving for the league's eight clubs, a minor surprise for those expecting transcontinental travel and the challenges of the league's various surfaces to give home teams an edge. Yet through 14 games, teams are 5-5-4 away from home, and while that figure may be skewed by Portland's three games on the raod, home teams have still yet to see any significant advantage from their friendly confines.
That's in aggregate, though. For individual teams, there were still questions, particularly surrounding Kansas City and Chicago – two teams who ventured away from home for the first time in Week 4.
For the Red Stars, the questions were ominous ones. One point from home games against Seattle and Portland confirmed doubts about Rory Dames' team, none of which were assuaged by Saturday's 4-1 loss in Boston. League-wide results may not show a home field advantage, but for Chicago, life went from bad to worse on the road.
For FC Kansas City — a team living at the other end of the standings — the story was much different. Their 1-0 result at Starfire Sports Complex may be superficially less impressive than last week's 2-0 over Reign FC in Overland Park, but on the road against a Seattle team that played better than they did a week ago, Kansas City gave arguably their most convincing performance of the season. Vlatko Andonovski's team dominated the first half-hour, executed one of the season's best goals in the second half, and went on to sully the Reign's home opener.
Most convincing was the continuity. Lauren Cheney is FCKC's key player, somebody whose constant, steady movement in the attacking phase churns the team, with fellow midfielder Sinead Farrelly filling in the spaces Cheney vacates. As defenders adjust, Renae Cuellar's given areas to exploit, while Kristie Mewis can pick spots to attack. It isn't explosive, it isn't overbearing, but with patience and prodding, Kansas City eventually opens you up, just as they did on Cuellar's 69th minute score, her third of the season.
Andonovski, beaming after the convincing performance, was easy with his praise, saying "There was nothing more I could ask" of the team.
"Every line was working great," he said, shortly after Saturday's final whistle, "The goal that we scored was just a pleasure to watch."
"It was our first road game, and we didn't know how we were going to respond. If [we] want to be a contender for a playoff spot and move up from there, we have to win games on the road. We came out, worked hard and did what we did."
What they did was stay undefeated, now 2-0-1. They also may have answered the last, faint question about their potential. Through the season's first three weeks, our internal cynics could wonder whether they'd be as strong on the road. Now we know.
Here's what else happened in Week 4: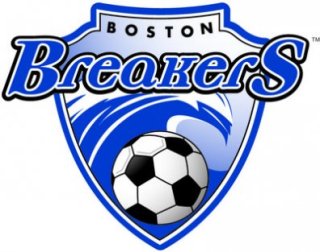 TEAM THAT STOOD OUT
It was the league's first four-goal game, the first time any team'd won by at least three goals, and for the Boston Breakers, it was the second straight week where they stood out. Last week, a convincing road victory in Rochester made their post-Boston Marathon return a successful one. On Saturday, their result to Dilboy Field produced the league's first rout.
For as much talk as there's been about the NWSL's Big Two (Portland and Kansas City), Boston's giving us some reason to think they can keep up. After an opening day stumble at home against Washington, the Breakers have put together two convincing wins, the second showing off the depth of one of the league's deepest attacks. Though there were concerns about their goalkeeping and defense at the beginning of the season, central defenders Kia McNeill and Cat Whitehill are capable of providing some stability. And thanks to the insertion of rookie Mariah Nogueira into the lineup, Lisa Cole has a formidable presence in front of the defense – somebody who can destroy play before it hits the back line. Put the package together, and you have the most likely challenger to the league's still-unproven duopoly.
At a minimum, the Breakers are dangerous, and with a player like Syndey Leroux, they have a way to steal games they don't otherwise control. That could come in handy against the likes of Portland and FCKC.
MVP … OF THE WEEK
The Red Stars were unfortunate to be exposed to the whole Sydney Leroux arsenal – an array of skills that leaves her atop the league's scoring list after Saturday's onslaught. Her scoring instincts were on display when she opened her account (and gave Boston their final lead), redirecting a Nogeuira flick past Erin McLeod in the 26th minute. In the 74th minute, Leroux flashed her near-unmatched speed and tenacity, taking a ball off defender Camelina Moscato and racing near-half the field for her second. Ten minutes later, she reminded everybody of the finishing that's made her one of the world's best per-minute scorers, putting home a ball from Kyah Simon to record the league's first hat trick.
Because of her place in the national team, Leroux doesn't get as much publicity as Alex Morgan and Abby Wambach, but in some ways, she's more dangerous. While she doesn't have Wambach's aerial presence or Morgan's finishing, she's still an elite player in both regards, and with her speed, tenacity, and pure physicality, she better equipped to create opportunities for herself (as evidenced by her second goal on Saturday).
Just as in the men's game, national team performance isn't the be-all, end-all of a player's profile, yet for internationals in the NWSL, that's all they've had since WPS folded. For a player like Leroux — someone who's in the middle of her first professional season — getting regular playing time could broaden people's perceptions. She's just as dangerous as Morgan or Wambach, and the Breakers are allowing her to prove it.
(Note: Tuesday is Sydney Leroux's birthday. Happy 23rd birthday, Ms. Leroux.)
Also of note: Diana Matheson's still a jewel for Washington; as is Jessica Fishlock for Seattle; Becky Sauerbrunn went on an 80-yard run out of central defense to set up Kansas City's only goal; Sophie Schmidt is the one thing that is working for Sky Blue; and don't forget our unsung hero, below.
NWSL Results
| Date | Home | Score | Road |
| --- | --- | --- | --- |
| Wed., May 1 | W. New York | 2-1 | Sky Blue |
| Sat., May 4 | Boston | 4-1 | Chicago |
| Sat., May 4 | W. New York | 1-2 | Boston |
| Sat., May 4 | Chicago | 0-2 | Portland |
ROUND'S BIG STORY
Abby Wambach returned to the field on Wednesday, a highly-anticipated home debut after a week of speculation surrounding her health created the league's first major controvery.
Two weeks ago, Wambach was nailed in the face by a kicked ball and played out the last five minutes of the Flash's visit to Washington with what was later conceded to be a concussion. Unfortunately, Western New York was late to diagnose the injury, leading the criticism of the team, league, and the official who oversaw the Spirit-Flash match. U.S. Soccer eventually conceded the situation was handled incorrectly.
Chalk it up as a leaning experience, albeit a very disturbing one. While flakey live streams and organizational issues at facilities can be categorized as growing pains of a new, small league, players' health can't be allowed to suffer amid those mistakes. Professional standards demand you provide for the basic care of your workers. In the realm of athletics, that means being able to treat your employees when they suffer injuries on the field.
Undoubtedly, the Flash will learn from this experience. They didn't diagnosis Wambach properly on site. They allowed her to travel back to Western New York without full knowledge of her condition. They didn't promptly see she was treated when they returned to Rochester. The word "concussion" wasn't even used until a week after it was inflicted when Wambach revealed it during an on-field interview.
U.S. Soccer stepped up, confessed there was a problem, and acknowledged this can't happen again. That it was allowed to happen at all, however, is disturbing. This isn't a web stream where you can justify improving as you go. Everything should have been in place before hand.
NWSL Standings
Pos.
Team
GP
Pts.
+/-
PST
Rank
1
Portland
4
10
+4
1
2
Boston
3
7
+4
3
3
Kansas City
3
7
+3
2
4
Sky Blue
3
6
+1
5
5
W. New York
4
4
-1
4
6
Washington
4
2
-2
7
7
Seattle
4
1
-4
6
8
Chicago
3
1
-5
8
UNSUNG HERO
Nineteen-year-old Samantha Kerr knew what she was up against on Wednesday. She's been playing with Caitlin Foord since the 18-year-old defender joined the Australian national team two years ago, so when the two Matildas met mid-week in Rochester, Kerr knew exactly how to pick apart her Sky Blue counterpart.
Shifted over to the left wing, Kerr was able to continuously get behind Foord, SBFC's isolated right back. With Jim Gabarra starting Danesha Adams at right wing in Sky Blue's 4-3-3, Foord was given no help, stranded while deciding when to come up to stop the ball or lay back to contain Kerr. Between Flash left back Katherine Reynolds and help from midfielder Veronica Perez cutting across the Western New York formation, Foord was overrun.
But it was Kerr who made the tactic really pay off almost immediately, assisting on Spanish international Adriana's sixth minute opener. Shortly after, a cross mishandled by Christie Rampone set up Wambach for what became the game-winning goal.
With Wambach and Adriana in the middle, Wednesday's could be a regular occurrence for Kerr, who has already shown she can beat players down both the left and right flanks. That gives head coach Aaran Lines a lot of tactical flexibility, flexibility he used to get the Flash's first win last Wednesday.
LINGERING QUESTIONS …
Did Portland's midfield finally wake up? … Or is Washington regressing after a feisty start? … Who will win first: Seattle or Chicago? … When will Lisa De Vanna start finishing some of those chances? … How many people were really in attendance last Wednesday in Rochester? … Is the Big Two really a Big Three?
LOOKING FORWARD
The NWSL has its first five-match week, with another Wednesday match serving as the opening act for a four-game weekend. The marquee event is on Saturday, with FC Kansas City visiting Western New York – this week's PST Game of the Week.
Wednesday, May 8
Sky Blue FC vs. Chicago
Saturday, May 11
Washington vs. Boston
Sky Blue FC vs. Seattle
Western New York vs. FC Kansas City
Sunday, May 12
Chicago vs. Portland