When José Mourinho left Porto, he did so triumphantly. Same at Inter Milan, and while the mood was more somber when he left Stamford Bridge, there was still the acknowledgement that Mourinho had been integral to Chelsea becoming a true Premier League power. Everywhere he's gone, he's not only won. He's moved the club forward.
The same is true at Real Madrid, even if Mourinho's impending departure is becoming more contentious by the moment. When The Special One arrived from Inter Milan after the 2009-10 season, the Merengues were on the wrong side of an ever-growing gap between themselves and Pep Guardiola's Barcelona. They'd also been eliminated in Champions League's Round of 16 in six straight seasons. In year one, Mourinho got El Real to the semifinals and won the Copa del Rey. In year two, he again reached the semis and added a league title. He had moved another club forward.
That's not enough at Real Madrid. He was brought in to win Champions League, and with last week's elimination at the hands of Borussia Dortmund, Mourinho will end his three-year tenure without a European Cup. He ended Real's second round curse and reversed a trend that was saw the Merengues romped whenever they faced Barça, but bringing to Madrid a bombast that matched his resume, Mourinho knew: No Champions League, no success in the Spanish capital.
They're ridiculous standards, but they're ones Mourinho embraced when he moved from Milan. That was part of the challenge – the prospect of being the man who returned El Real to European glory. So as the Portuguese saunters off to Stamford Bridge this summer, don't waste your time passing judgment. Better to spend your time witnessing the growing carnage being left in his wake as the Spanish season winds down.
Take today's press conference, an opportunity José Mourinho used to stoke some fires.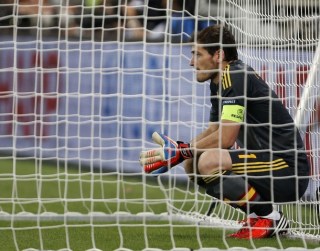 On Iker Casillas (right):
For me I prefer Diego Lopez as a goalkeeper to Iker Casillas. It's simple. It's not a personal decision. I like a keeper that is good with his feet, who is dominant in the air and who is a phenomenon between the posts.

I prefer this other profile of keeper. In the same way that Casillas can say that he prefers another type of manager, like Del Bosque or Pellegrini. While I am the coach of Real Madrid, Diego Lopez will play in goal.
Seems rather innocuous, but in the context of Real and the Madrid media, it's still anathema, despite the fact Casillas hasn't been the No. 1 in four months. There's a reason Casillas's nicknamed "Saint Iker," and while Mourinho's winter handling of Casillas and Sergio Ramos can be seen as a step that helped offset the club's player power culture (and get the team re-focused after a terrible autumn), many see the move as affront to the club. How do you bench the captain for club and country?
It's a sentiment with which Pepe probably agrees. The Portuguese international was thought to be one of the most pro-Mourinho players in the squad, yet he recently claimed the team's captain "deserved more respect" from the coach.
To which, Mourinho noted one possible motivation for Pepe's sudden forthrightness:
It's very easy to analyze Pepe. His problem has a name, and that name is Raphael Varane. It's not easy for a man of 31 years of age to be overtaken by a kid of 19.
Regardless of motivation, Mourinho seems to have lost Real's Portuguese contingent, with Cristiano Ronaldo also offering some off-putting words about Mourinho in the wake of Real's Champion League exit. Take Diego López and Michael Essien out of the picture, and almost anybody around Real Madrid could be next to kick Mourinho as he's going out the door.
All of which is a bit silly. Just as Mourinho knew what he was getting into when he moved to Madrid, the club knew who they were getting when they bought him from Inter Milan, and while it's the media and the players (not the people who hired Mourinho) that are taking these parting shots, there's still an element of the greater Real Madrid community rushing to condemn a man who moved them forward. Media, fans, players are all trying to get on record before he leaves, as if this type of perverse "say it to his face" logic can mask the underlying dissonance.
To the media, Mourinho is a selfish "I" instead of "we" type of guy, but he's always been, and while his inability to deliver a "decima" opens him up to second-guessing, critics should be mindful of context. That selfishness has driven more successes than failures, and after mid-May's Copa del Rey final, Mourinho could leave Madrid with three trophies and three successive trips to Europe's final four. Given that relative success – achievements that transcend the context into which he was dropped – Madridistas would be better served asking what endemic factors at the club meant Mourinho's latest successes where ultimately limited ones.
Perhaps Madrid would have never made another Champions League semifinal if Casillas and Ramos hadn't been checked, leaving the club to continue their autumn descent?
But in the face of a person as combative as Mourinho, counterpunches are inevitable. And it's hard to begrudge a community's chance to fire back at a man who seems to have had his bags packed for months. But those countermeasures will be meaningless if Madridistas don't stop and consider what really went wrong. It would be wrong to use these last, contentious weeks as reason to blame a man who was a relative solution.