Eschewing the unmatched list of honors accumulated over this 27 years at Old Trafford, the most repeated anecdote from Alex Ferguson's Manchester United tenure is about near failure, not his myriad success. That's because in 1990, in his fourth year with the Red Devils, Ferguson was reportedly on the verge of being fired, with an away match at Nottingham Forest in the FA Cup expected to be his final game in charge. Yet when Mark Robins' goal snatched a 1-0 upset from the Reds, Ferguson avoided the sacking everyone, in hindsight, thought inevitable. He went on to claim 13 league titles and two European Cups.
That story, as apocryphal as it has become, is often leveraged by those seeking to admonish capricious boardrooms, a use that conveniently contributes to the deification of the legendary boss. Ferguson is an icon, no doubt, and his accomplishments transcend almost any other manager's, yet there is a point where the Sir Alex iconography becomes too glib – trite. When Ferguson is portrayed as omnipotent and infallible, the irony of his failures is lost. And it's in those failures that the we see the true character of his journey.
After three-plus unconvincing seasons, Ferguson was in trouble at United. He was also fired once in Scotland. He's admitted to mistakes in player management (selling Jaap Stam too soon), and in his one World Cup, Sir Alex failed to win a match. He's often showed undo loyalty to aging favorites, and over the past four seasons, his squads have been criticized for their glaring weaknesses.
In light of his resume, such critiques are trifles, but they do go to show how little we understand of Ferguson's success. Unable to identify a tactical, managerial, or psychological silver bullet, we tend to look at 13 titles over the last 21 years, throw our hands up in the air, and ascribe it to something the transcends the successes of contemporaries like Wenger, Mourinho, or Guardiola. All we know: Ferguson is constantly able to remake his squads. As to the philosophies that underpin it? We're content to leave that to folklore.
The truth, for all its troughs and crests, is always much more interesting. Walking through the timeline of Ferguson's life in soccer, the momentary failures make his triumphs in the game all the more remarkable:
1957-1974 – Playing days
Ferguson was a forward of some renown, spending two seasons at Glasgow Rangers after commanding a record transfer fee (£65,000) to move from Dunfermline. At one point, Ferguson had an opportunity to move to Nottingham Forest in the English First Division but chose to stay in Scotland, where he spent his entire 16-year career. In 317 league appearances, Ferguson scored 171 goals, including a Scottish League-leading 31 in the 1995-66 season.
1957 – While serving an apprenticeship to be a toolmaker, Ferguson debuts for Queen's Park as an amateur at the age of 16; scores in first appearance.
1960 – Moves to St. Johnstone, finishing his three-year career at Queen's Park with 15 goals in 31 league appearances.
1964 – Moves to Dumfermline to become a professional after four, part-time years at St. Johnstone, recording 19 goals in 37 games.
1965-66 – Along with Celtic's Joe McBride, leads the Scottish First Division with 31 goals. His all competition totals: 45 goals in 51 games.
1967 – Transfers to Glasgow Rangers for a then-record £65,000 fee, ending his three-season stretch at Dunfermline (66 goals, 89 games).
1969 – After two seasons with Rangers, Ferguson turns down Nottingham Forest to sign with Falkirk. He leaves Glasgow having scored 25 times in 41 league appearances.
1973 – After four seasons at Falkirk, Ferguson requests a transfer after new manager Joe Prentice removes him from role as player-coach. After 37 goals in 95 league games, Ferguson moves to Ayr United, where he returns to the part-time ranks in 1973-74 (9 goals, 24 games).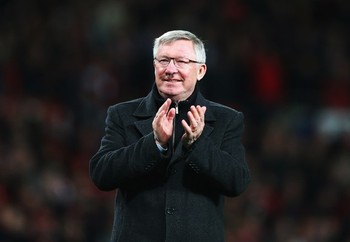 1974-1986 – Managing in Scotland
At 32 years old, Ferguson got his first managerial job – a part-time assignment with East Stirlingshire in June 1974. The appointment was short-lived. After three months, Ferguson was soon poached by the bigger St. Mirren, who he took from struggling in the second division to first division champions over the course of three seasons. In 1978, however, Ferguson was sacked for issuing unauthorized payments to players and disrespectful behavior toward a secretary. Later, the club's then-chairmen admitted the reason behind the dismissal was Ferguson's impending move to Aberdeen.
Over the course of the next eight seasons with the Dons, Ferguson won three Scottish Championships, four Scottish Cups, a League Cup and two European trophies: the 1982-83 Cup Winners' Cup and the 1983 UEFA Super Cup. Since Ferguson's title triumph in 1984-85, Aberdeen's failed to win another Scottish title, and his two continental honors remain the club's only European trophies.
During his last season at Aberdeen, Ferguson managed the Scottish national team in a caretaker capacity after the untimely passing of Jock Stein. After steering them through a qualifying playoff with Australia, Ferguson saw his team take only one point from their group at Mexico 1986.
Back at Abderdeen, Ferguson turned down approaches from Arsenal and Tottenham Hotspur to make the move to England, but after starting the 1986-87 season with the Dons, Ferguson was soon lured to Manchester United after the firing of Ron Atkinson.
1974 – Takes first managerial job, a part-time position with East Stirlingshire of the Scottish Second Division.
1974 – St. Mirren lures Ferguson away from East Stirlingshire. Ferguson eventually sees them promoted to the first division.
1977 – St. Mirren wins the Scottish First Division, Ferguson's first major trophy.
1978 – Ferguson's fired for the only time in his career, joining Aberdeen one month later.
1980 – Abderdeen breaks a 15-year run of Celtic-Rangers dominance by winning the Scottish First Division.
1982 – Ferguson wins his second trophy at Abderdeen, claiming the Scottish Cup.
1983 – Abderdeen wins the Cup Winners' Cup, eliminating Bayern Munich and Real Madrid along the way. They'd also retain their Scottish Cup and, later that year, win the UEFA Super Cup.
1984 – Abderdeen claim a league-cup double, retaining the Scottish Cup for a third straight season.
1985 – Ferguson wins this third league title at Abderdeen
1986 – The Dons claim both the Scottish and League cups in what would be Ferguson's last full season at the club. In November, Ferguson leaves to join Manchester United. In between, Scotland goes 0-1-2 at World Cup 1986, with Ferguson managing the team to a fourth place group finish.
1986-2013 – Manchester United: Four generations of success
Among the marvels of Ferguson's time at Manchester United was a paradox: Monotony amid change. Ferguson leaves renown for his ability to make over a squad, having gone through four distinct generations during his time at Old Trafford, yet the result was always the same. The Red Devils were always among the favorites to win the league, and in bringing home 13 of the league's 21 titles, Ferguson repeatedly delivered.
His first title team was built around French attacker Eric Cantona, the iconic libertine poached from rival Leeds United to usher in the most important dynasty in English soccer history. Peter Schmiechel, Gary Pallister, Steve Bruce, Denis Irwin, Paul Ince, and Mark Hughes were also part of 1992-93's breakthrough squad, as was a young Ryan Giggs, with the likes of David Beckham, Gary Neville, and Nicky Butt lurking in the background.
Roy Keane, the man who'd take the armband from Cantona, joined from Nottingham Forest the next season. Soon Ferguson added Andy Cole. Then Ole Gunnar Salskjaer, Terry Sherringham, Japp Stam and Dwight Yorke. As Paul Scholes emerged along with Phil Neville, Ferguson had slowly turned over his original title winner into a team that would claim Champions League in 1999. With their 2-1 win over Bayern Munich in Barcelona, Ferguson's side became United's first European champion in 31 years.
By the time United returned to European glory, only Giggs, Scholes, Gary Neville and Wes Brown remained. By 2008, Edwin van der Saar was in goal. Rio Ferdinand, Nemanja Vidic, and Patrice Evra were the stalwarts at the back. Michael Carrick, Owen Hargreaves, Nani and Anderson were the next faces in the middle, faces built around an attack featuring Carlos Tevez, Wayne Rooney, and most importantly, Cristiano Ronaldo. Again, Ferguson had remade his squad, and again, he would be European champions, defeating Chelsea on penalty kicks in Moscow.
Since then, Ferguson's win three more titles (and appeared in two more Champions League finals), bringing in the foundation of what's likely to be United's continued success. The goalkeeping legacy is in good hands with David de Gea. Ferdinand, Vidic, and Evra are still present at the back, but so are Jonny Evans, Phil Jones, Chris Smalling and Rafael. Tom Cleverley's a regular in midfield, while United continue to amass possess talent wide with Ashley Young, Antonio Valencia, and Nani. And just like his 1999 and 2008 European champions, Ferguson has layers of depth in attack: Robin van Persie, Javier Hernandez, Danny Welback, Shinji Kagawa, and Rooney.
It's a wealth of talent that leads some to claim Ferguson's as much a product of his environment as he is its architect, but nobody truly believes that. As much as Ferguson will be remembered as a man who had resources, he'll be revered as a manager who used them wisely, his ability to turn over his team while still claiming 13 titles still largely left unexplained.
Along the way, he has had his pitfalls. For brief moments, Arsenal, Chelsea, and Manchester City were able to derail his dominance, the latter benefitting from United's unfathomable collapse at the end of the 2011-12 season. That same year, United failed to make it out of Champions League's group stage, leading people to look at Ferguson's thin-middle preferences and wonder if an ever more midfield-centric world wasn't passing him by.
Having run away with the Premier League in his final season, Ferguson muffled those critics, and in finally leaving, he does so on top, with a breathtaking list of accomplishments to accompany his regresses into retirement:
1986 – Replaces Ron Atikinson as manager at Manchester United.
1990 – Claims first trophy at United – the 1989-90 FA Cup.
1991 – United claims the UEFA Cup Winners' Cup, defeating Barcelona 2-1 in Rotterdam. Later in the year, the UEFA Super Cup.
1992 – Ferguson's first League Cup is his second piece of domestic silverware at United.
1993 – In his fourth year, Ferguson finally breaks through and wins United's first league title in 26 years.
1994 – United do the league-FA Cup double, their first in club history.
1996 – United again do the league-FA Cup double, claiming their third title in four years.
1997 – Making it four titles in five years, Ferguson again wins back-to-back Premier Leagues.
1999 – For the third time in his tenure, Ferguson wins the league-FA Cup double, only this time, United adds the UEFA Champions League to their trophy haul, winning the "treble." The Red Devils would go on to win the Intercontinental Cup later in a year Ferguson becomes Sir Alex, knighted by the Queen.
2000 – United wins their sixth title of the Premier League era.
2001 – For the seventh time in nine years, United are champions of England.
2002 – After initially announcing he would retire at the end of the 2001-02 season, Ferguson signs a new deal at Old Trafford. He would manage for 11 more seasons.
2003 – After finishing third the previous season, United reclaims first place, besting Arsenal by five points to claim Ferguson's eighth title.
2004 – While relinquishing the title, United claim the fifth and final FA Cup of the Ferguson era.
2006 – For the first time in 14 years, United win the League Cup, defeating Wigan Athletic 4-0 in the final.
2007 – After a three-year drought, United win the Premier League, unseating two-time defending champions Chelsea to claim Ferguson's ninth league title.
2008 – United defend their league tile while claiming the second European Cup of the Ferguson era, defeating Chelsea on penalty kicks in Moscow. They would go on to win the World Club Cup in December.
2009 – For the second time, Ferguson wins three-straight league titles, adding the League Cup. The Red Devils return to the Champions League final only to lose in Rome to Barcelona.
2010 – United makes it back-to-back League Cups, bringing Ferguson's total to four.
2011 – United reclaim the league title from Chelsea and return to the Champions League final, where they are again defeated by Barcelona, this time in London.
2013 – The Red Devils collect the final trophy of the Alex Ferguson era, clinching the Premier League four rounds before the season's finale. It's Ferguson's 13th league title, bringing his total major trophy haul at United to 28.