Last week was a week of firsts for FC Kansas City and Western New York. The Blues ventured away from Overland Park for the first time in their short existence, their 1-0 win at Seattle maintaining their place among the NWSL's undefeated. Prior to last Wednesday, Western New York was at the other end of the spectrum, but with their 2-1 win over Sky Blue, last year's WPSL Elite champions finally broke into the win column.
This week, the two teams meet at Sahlen's Stadium in Rochester, their Saturday, 7:35 p.m. Eastern kickoff serving as this week's ProSoccerTalk NWSL Game of the Week.
THREE THINGS YOU NEED TO KNOW
1. Coming from opposite directions
Before January's allocation, Kansas City looked like an isolated team without any history – a club, it was thought, that would not fair well in a dispersal which considered player preferences. But while Portland and Seattle hit (what then looked like) jackpots with the Jan. 11 assignments, Kansas City was quietly given the most balanced team in the league. U.S. internationals Lauren Cheney, Becky Sauerbrunn, and Nicole Barnhart provided a presence at each level. Canadians Lauren Sesselmann and Desiree Scott strengthened that spine, while Mexican international Renae Cuellar gave them a goal scorer to play in front of Cheney. While the Blues may not have gotten the marketing might of an Alex Morgan, Hope Solo or Abby Wambach, they did receive an enviable foundation.
When the NWSL landscape changed, Kansas City went from wild card to co-favorites, thought to be the one team that would rival Thorns FC for the league's top spot. Off to a 2-0-1 start, the Blues haven't disappointed, and while two games against the hamstrung Reign mean they've received some fortune with their first month's schedule, an opening night draw with Portland remains the only points Thorns FC have dropped this season. The farther we get from that 1-1 at Shawnee Mission District Stadium, the more impressive it becomes.
For Cheney, FC Kansas City's biggest name, the explanation for the team's fast start begins with the coach, Vlatko Andonovski, while additions like midfielders Jen Buczkowski, Sinead Farrelly and Kristie Mewis helping to round out an already favorable allocation:
I think [Andonovski] letting us have a little bit of freedom as players on the field has given us the ability to gel. [Buczkowski] and Des (Scott), both holding midfielders, [are] two of the best in this league … Becky in the back line and [Nicole Barnhart]. They make it so much easier for Sinead, Renae, Kristie and I to do what we do offensively, because if we make a mistake, we know we're going to win the ball right back. We know we're capable of doing that.
Western New York, on the other hand, are still assessing their capabilities. Short-changed in allocation and handed a number of injuries over their first four games, the Flash have yet to have their entire team together. Abby Wambach's already missed a game, while midfielders Carli Lloyd and Sarah Huffman have yet to see the field. Combined with a player dispersal that left the team light in defense and short one U.S. international, the Flash saw little of Kansas City's fortune.
That's starting to change. Wambach is back from her much-publicized concussion. Huffman returned to full training this week and could see her first action of the season on Saturday. And Lloyd, who most expected to be the team's second-best player, has joined the team after a broken shoulder kept her sidelined through Western New York's first four games.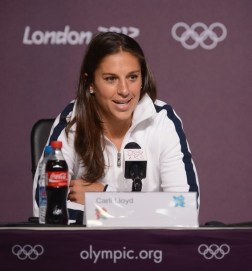 Set to go through her first full training on Friday, Lloyd (right) is still a ways away from full fitness, but for head coach Aaran Lines, the prospect of having his full team is cause for optimism.
"Very nice," Lines answered, laughing with irony when asked what it will be like to finally have his team in place. "It's nice to know that we have some really nice, good options [coming] back to us."
Whether Lloyd will be an option Saturday remains to be seen.
"It's a lovely option to have, Carli Lloyd," Lines explained. "I'm going to give her the time she needs to get used to the team and get used to perhaps a different system and style of play … She's just come back from a difficult injury. We'll take it one step at a time and see how she does when she gets in there [Friday] at training."
In the face of a tough start, Lines is looking at the season as "a marathon." Once he has his full squad, the real race can start.
2. Samantha Kerr's impact transcending her youth
Most players her age are still in college, but the Flash's Sam Kerr is on a different path. Instead of living in a dorm room, the 19-year-old Australian international is living in a house in Elma, New York, competing as one of the youngest players in the NWSL.
"It's been a bit of a culture training, even though Australia and America are so close," explains Kerr, a speedy winger who has been one of the league's standout players over the season's first four weeks. "It's been two months and I'm still just getting used to it … I'm trying to get out of the football life and see things from a different perspective."
After the months in the U.S., she likes the people ("very nice"), didn't enjoy New York City ("I don't like the rush and bush of things"), and with the weather starting to heat up, the climate's beginning to fit her Aussie sensibilities.
But make no mistake, Kerr is here for that football life – the opportunity to train and compete with some of the world's best players. Coming off a performance where she set up both goals against Sky Blue, Kerr has established herself as one of the most dangerous wide threats in the league.
"The games that we've playing in have been really exciting (and) to a high quality level," Kerr says of her first month in the league. "The quality, even in training, I'm really enjoying it. I'm learning a lot, I'm gaining a lot of experience. That's really what I wanted … I'm very happy with my decision."
NWSL Standings
Pos.
Team
GP
Pts.
+/-
PST
Rank
1
Portland
4
10
+4
1
2
Boston
3
7
+4
3
3
Kansas City
3
7
+3
2
4
Sky Blue
4
7
+1
5
5
W. New York
4
4
-1
4
6
Washington
4
2
-2
7
7
Chicago
4
2
-5
8
8
Seattle
4
1
-4
6
Undoubtedly, so is Lines. Originally brought in for depth, Kerr has made a place for herself in Western New York's first XI, her ability to play on both flanks providing Lines with valuable tactical flexibility.
"She can play on the left and cut in but also get around the corner," Lines explains. "She did that on a couple of occasions against Sky Blue. She can also [lineup] on the right hand side or cut in there on her left leg. That flexibility allows us to put her up against players we feel she might have a little advantage over."
Last Wednesday, Kerr started on the left, opposite fellow Australian international Caitlin Foord (only 18 years old). Within six minutes, Kerr had set up Adrianna Martin for the opener. With a little help from Sky Blue defender Christie Rampone, Kerr created Western New York's second in the 20th minute, Abby Wambach eventually finishing her first goal of the season.
Each time, it was Kerr's speed that beat her mark. Each time, it was stellar service that provided for the Flash goals.
Cutting off that threat presents a challenge for FC Kansas City, particularly with a player of Wambach's aerial ability on the end of Kerr's crosses. Not only do Kansas City have to worry about where Kerr lines up. they also must consider whether the free movement of their attackers will work against them, leaving fullbacks Merritt Mathias and Leigh Ann Robinson isolated.
"Kristie, Sinead, and I are going to have to be aware of our positioning offensively and try to make it easier on each other to fill the spot where it needs to be filled," Cheney explained, asked about Kerr's threat. "We're not get to away with leaving Leigh Ann or Merritt alone to go one [on] one. We're going to have to track back. Just that awareness of, 'Is there somebody on the left. Is there somebody on the right' – making the correct runs and getting back into position as quickly as possible."
Be it in the NWSL, Major League Soccer, or any other league in the world, it's rare that a 19-year-old requires that kind of consideration. And perhaps Kerr's month will prove nothing but a hot start. Yet after four games, the young Australian is rivaling Boston's Heather O'Reilly as the league's premier wide threat. With Wambach and Adrianna up top, that threat could prove particularly potent as the season develops.
3. Finally, the right position for Lauren Cheney
You try not to reduce teams to one trick, especially when there's as much talent on the field as there will be on Saturday, but both the Flash and Kansas City have had one, distinct quality that's jumped out through the league's first month. For Western New York, Kerr has spearheaded wide play only the Boston Breakers can rival as the league's best. With the Blues, an interchangeable line of three behind Cuellar gives Andonovski the league's most versatile attack.
"It's pretty obvious those three freestylers we have, they're very creative players," the 36-year-old Macedonian said after last week's win at Seattle. "They have absolute freedom to go wherever they feel they can get the ball, and that's what they are doing … They have a great feeling and understanding for the game. We work on certain ideas during practices, but most of it, it comes from them – from within."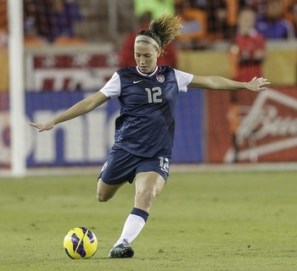 The key beneficiary of that approach is Cheney (right), somebody who projected as a target striker coming out of UCLA. Since then – through two years in WPS, another where her national team served as her club – Cheney's slowly moved away from a number nine's role. She's spent time on the wing, as a holder Pia Sundhage's brief 4-2-3-1 experiment, and more recently, as a box-to-box player for the U.S. She's too talented to leave out, but being square pegged into a bunch of round holes, Cheney's versatility has often left her in some suboptimal positions.
Yet when you see her as a number ten for Kansas City, serving as the focal point of the attack while playing behind a striker, you wonder why it's taken so long for Cheney to be put in what seems to be her ideal spot.
"At UCLA, the majority of the time I was a forward, and I was the one that needed to score goals," Cheney recalls, asking if she's ever played the role Andonovski's assigned her. "There was a time that I played underneath a bit in college, and I would say that would probably be my best position, or my favorite position, just because I have the ability to still play with my back to goal but I also am able to run and see the whole field."
She makes Kansas City's attack work, whether she has the ball or not. In Week 1, as she dropped deeper to help contain Portland's threat, her passing helped keyed the Blues' counters. In Week 3, a brilliant long ball from just outside her own penalty area created a breakaway for Cuellar, one of Cheney's two assists on the night. In Week 4, her off-the-ball movement created space for her teammates as Seattle's midfielders marked her through the middle of the park.
It's a role Cheney's played so naturally, so instinctively that you wonder if she'll ever be able to play it with the national team. But to this point, the U.S. hasn't utilized that kind of playmaker. If that changed, Cheney wouldn't mind:
With the national team, I've played so many different positions that I've just kind of adjusted and made the best of it.

…

With Tom (Sermanni), we're still figuring it out. Obviously Pia (Sunhage) didn't play [with a number ten]. We had a little bit more of a direct style of play. With Tom, he's still open to the idea of anything. We'll see what happens the longer he's with us and the longer he gets to see more players. I do like the way FC Kansas City plays, and if that worked for the national team, I would love to play that position.
Western New York is likely to play more of a 4-2-3-1 against Kansas City, the system Lines has started to employ over the last two weeks. That means when Cheney drops to pick up the ball, it will fall on Adrianna to help. As Cheney enters the attack, former UCLA teammate McCall Zerboni and potentially Sarah Huffman will have to immitate Seattle's Jessica Fishlock and Keelin Winters, who did a decent job to tracking the Kansas City playmaker.
But even if she doesn't see the ball, Cheney can dictate the game. With teams forced to account for her, Cheney's movement back toward the ball, out to the flanks, and up toward the striker circulates the entire attack. If she doesn't beat you, Cheney's likely creating space for Cuellar, Mewis, and Farrelly to do it for her.
QUICK HITS
| | W. New York | FC Kansas City |
| --- | --- | --- |
| Star to Watch | Abby Wambach – If Sam Kerr was just a wide player sent into the nightmares of the league's left and right backs, that'd be bad enough. That she's providing service for the reigning FIFA World Player of the Year is a scary proposition for the rest of the league. Back, healthy, and (as of last Wednesday) on the scoresheet, Wambach is the player most likely to deliver another win for Western New York. | Lauren Cheney – Along with Christine Sinclair, Cheney's the best attacking midfielder in the league, and if the Thorns captain eventually returns to a forward's role, Cheney will be alone as the league's best No. 10. This role, which she's never been able to play for club or country, makes her one of the league's most influential players, essential to FC Kansas City reaching their potential. |
| Still Important | McCall Zerboni – Her work rate in the middle sets the tone for her team. Against one of the best midfields in the league, she'll need to replicate the passing she showed against Sky Blue, a performance that helped Western New York control last week's game from its outset. | Becky Sauerbrunn – Arguably the best defender in the league through four weeks, the Blues' captain will be tasked with containing Abby Wambach. For a player whose known as more cerebral than physical, Sauerbrunn's may to have to step out of her comfort zone. |
| Win if … | … Zerboni's strong in the middle, Kerr continues her dominance of the flanks, and Wambach can exploit the advantages she has against Sauerbrunn and Sesselman. | … they continue to dictate play, are willing to sacrifice some ingenuity for defense, and stay patient, like they did last week in Seattle. |
Other games, Week 5
Sky Blue FC 1-1 Chicago Red Stars (Wednesday) – Sky Blue's perfect start seems like so long ago. Chicago, who've struggled to this point, grab a late equalizer in a telling match for both teams.
Washington Spirit vs. Boston Breakers (Saturday, 7:00 p.m. ET) – After the Breakers' 4-1 rout of Chicago last week, Boston's now being mentioned by the league's players and coaches in the same breath as Portland and Kansas City. If the Big Two has really become a Big Three, Boston will win in Maryland.
Sky Blue FC vs. Seattle Reign FC (7:00 p.m. Eastern) – Three of Seattle's four games have been against Portland or KC. Their only other game, a visit to Chicago, ended 1-1. This is Laura Harvey's chance to show her team's slow start is a function of scheduling, not quality.
Chicago Red Stars vs. Portland Thorns FC (Sunday, 6 p.m. ET) – Portland makes their second visit of the season to Chicago, where they won 2-0 two weeks ago. There's little reason to think this week will be much different.