Seconds into second half stoppage time, Ben Watson became the most famous player in the history of Wigan Athletic. On a late corner from Shaun Maloney, Watson rose short of Manchester City's near post to head a flick past Joe Hart. Moments later, Wigan had their first major honor club history. Wigan Athletic — embattled by relegation, facing one of the most well-funded clubs in the world, and only 35 years from playing non-league soccer — have won the 2012-13 FA Cup.
After a week in which the debate between relegation and glory confounded the Latics' story, supporters were left with no doubt as to which they preferred. When the final whistle blew while the game's clock showed 94:04, a Wigan section left short by a kickoff that precluded train travels home erupted, compensating for the few seats left vacant by the late start. Dave Whelan's team, hamstrung by their budget and the challenges of being the soccer club in a rugby town, had the defining moment in their club's history.
And in a turn of near-literary coincidence, the Cup-winning goal came right after the game's proverbial midnight moment. With City having been reduced to 10-men just minutes before, the idea of Wigan turning into a pumpkin was starting to fade. Seconds after the game reached the end of regulation time, with Wigan starting to come into their advantage, Maloney was taking his corner kick. And with the first shot of stoppage time, Watson made Cinderella's dream come true.
They may yet end up in the second division, but thanks to this trophy, they'll be in Europe. And they'll always have that walk up Wembley's stairs. They'll always have the memory of lifting the FA Cup in front of over 86,000 at one of the holiest grounds in world soccer. They'll have their winner's metals, and long after Wigan's added years of first and perhaps second division football to their history books, Roberto Martínez's team will always be the first listed under the Latics' major honors.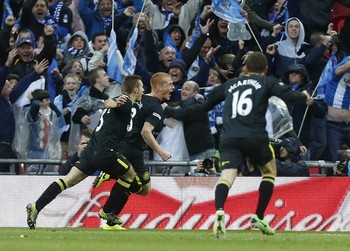 With superior energy and a tactical edge, Wigan were the better side over the match's first 45 minutes even, if they gave up the half's best chance. That fell to Carlos Tévez who, on a ball played in from the left, put a right-footed shot back toward the near post. Joel – the young Wigan keeper who took over the number one's job half-way through the season – kicked out desperately with his right foot, the shot going off his boot and over the bar. It was the best chance City would have all day.
A Callum McManaman threat down the right; a Roger Espinoza penalty shout through the left – Wigan had the quantity of chances, especially through the 22-year-old McManaman's matchup against City left back Gael Clichy. Perpetually dribbling past defenders only to find crowds, McManaman's best chance was thwarted when a ball won behind the defense would have had to beat three defenders and the keeper after his exploits led to a shot. His desperate left-footed shot, taken after dancing from the goal line back toward the shot, was blocked before if got half way toward goal.
After halftime, City took more control, but given their huge edge in talent and resources, it was a meek control. Joel's day was not a difficult one, with the uninspired Citizens squad seemly unaware that their manager's job might be on the line.
Samir Nasri came off early, with James Milner brought on to give the team some life. Jack Rodwell's introduction for Carlos Tévez in the 69th switched the team to a 3-5-2. None of it worked, with Pablo Zabaleta's second yellow card earned while stopping another McManaman charge rendering Roberto Mancini's changed worthless.
In stoppage time, it was Rodwell who failed to mark Watson on a near post run, the Wigan substitute head and shoulders above his Manchester City mark while making contact with Maloney's inswinger. With a flick that gave Hart little chance to react, Watson gave Wigan one of the biggest upsets in FA Cup history.
It's been 25 years since this kind of David toppled a Goliath. Then Wimbledon held on after a 37th minute goal from Lawrie Sanchez allowed them to claim silverware at Liverpool's expense. Now, with the gaps between haves and have-nots larger than ever, Wigan may have created a new standards for English soccer Cinderellas.
They may have also helped settle the debate between honor and survival. In the moments after something's won, it's difficult to judge such things, but these moments are the ones we should remember most. In the those tears clouding the eyes of Wigan supporters, we see the answer. Promotion, relegation – these are things that happen to any club, and while you don't want to scoff at the finances that underscore life in the Premier League, you also can't dismiss history. Very few teams can ever claim to have won an FA Cup.
In their first trip to Wembley, Wigan emerge victorious. Regardless of how their relegation battle unfolds, the Latics made history. They've won their first FA Cup.