Long ago, I thought I was a Manchester United fan, back when I assumed you had to have a team to care about any league. It wasn't long before I grew out of it – an errant soul unable to believe any of his childhood dreams, disillusioned into a life of criticism and suspicion — but in the days when the only games you'd see if you were a kid growing up in rural California were late, English league matches tape delayed by your regional sports outlet, you either followed Manchester United, Liverpool or whatever other club happened to be playing when insomnia exposed your credulity. Even back when they weren't good – before the Premier League, Cantona, and the boon of Sky's bankroll – Manchester United were still on television all the time, albeit at ridiculous hours when even Australian Rules Football had a mid-day highlight shows on the not-yet Worldwide Leader.
I didn't know who Alex Ferguson was, and I'm not sure when I found out, though when I did, I'm sure I didn't bat an eye. Even to the pre-teen me, whose knowledge of soccer barely went beyond my AYSO league and Ryan Giggs' ability to set up a defender before his next touch, there was already a ubiquity to man overseeing the Red Devils. To me, he was both unknown and omnipresent; a transcendent figure just waiting to be revealed. The only other people I could equate him to were Quincy Jones or Clive Davis – elusive, omniscient presences that forced me to stop and asked, "Oh, he's running this? Oh, of course he's running this. I knew that." There were no English league-scouring friends or Twitter followers to offer alternatives, and without their second-guessing, I was sure Ferguson had been there all along.
For people my age (mid-30s), Ferguson is as prominent in our English soccer lives as the league itself – a league that fragmented and spawned a leviathan in our early fandom, leaving entities like Manchester United and its manager to transcend the turmoil. Once the chaos settled and the Premier League was born, the United boss was its central figure, having acquired its first big star (Eric Cantona) and featuring a class of player that would define the circuit's early commercial success: the flare of Giggs; the skill of Scholes; the inspiration of Keane; and the draw of Beckham. And while the van Nistelrooys, Ronaldos, Ferdinands and Rooneys cycled in to played their part, it was the manager that remained the protagonist. In terms of plot, in terms of narrative, there was no Premier League without Alex Ferguson driving it.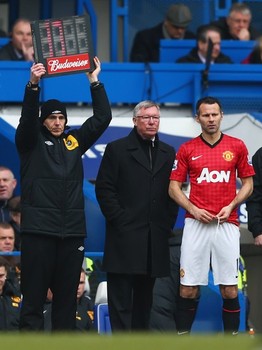 It seems like a stretch, but with 13 titles in the 21-year Premier League era, it's no exaggeration to say each year's drama can been seen through a Red Devils' lens, especially given the contrast of the club's fortunes before and after the circuit broke of from the Football League. Prior to the Sky-travaganza that started in 1992, spurring a surge that has since redefined world soccer, Manchester United went 26 years without a title. But they won in year one. And every year since, a stretch that's seen them claim 12 titles in 20 years, each season's defined by two questions: Is Manchester United supposed to win? And if not, how will the favorite hold them off?
During that time, English football has gone from a lightly-exported regional league to the defining brand in world soccer, a journey which can be tracked by its exposure in this country. Whereas a soccer fan born in the times of an Eastern Bloc and divided Germany had to scrounge low-budget late night repeats for their soccer fix, converts were soon able to see games an honest-to-goodness national entity. And then there was a channel that broadcast soccer. Then there were multiple games, digital packages, and starting next year, a free-to-air network committed to showing games on a weekly basis. Now, South America, Africa, Asia all follow the league with the same zeal as we do. This is not the post-Heysel, pre-inclusion league Ferguson joined in 1986. From exclusion to exemplar, England's become the commercial benchmark.
And amid that accompanying iconography, few presences have been as constant as Ferguson's. Perhaps you could point to Manchester United's titles or the metronomic Ryan Giggs as other heartbeats of the Premiership's infancy, but that'd only be dodging the obvious. Ferguson is the backbone behind each. Within that handful of clubs (seven) that have been in the league since day one, Ferguson's has been the protagonist. If you did nothing but track Ferguson over the lifetime of the Premier League – if you were nothing but a true believer who bought into the legend before it was born — you'd be as cognizant as anybody of what the Premier League is all about.
So if you're relatively new to English soccer – if you were lucky or young enough to not have to wade through its ascendance, to land on the doormat of this pre-constructed Orwellian monolith – this is why day like Sunday's against Swansea and next week's at West Brom's are so important. Today, Ferguson manages his final game at Old Trafford – the final chance for Red Devils supporters to pay tribute to a man who literally defined the club. And next week, at the Hawthorns, West Brom and their fans will get the honor of representing the Premier League at large. The ever-present, the backbone, the constant will be gone, saying goodbye in Sandwell in front of 26,272.
Nobody watching Sunday's game will know a Premier League without Alex Ferguson, and only those old enough to remember Ron Atkinson can speak to what world soccer was before Ferguson's arrival. But in our confusion we can still acknowledge our ignorance and realize the change that's upon us. Most of us don't know of a league without Ferguson, and many of us would not be watching without him. It's worth a moment to consider before Sunday's farewell.
As an American, I normally refrain from calling Ferguson "Sir Alex," but eight hours before his final match in Manchester, I can't think of a more appropriate tribute. You don't have to cower to British honorifics to make "Sir" into something else, if only for one day. Use it to recognize his achievement. Use it to recognize his influence. But on Sunday, use 'Sir Alex' to recognize an icon is saying goodbye to Old Trafford.