While two of the league's early powers face off Saturday in Overland Park (Lauren Cheney and FC Kansas City hosting Sydney Leroux and the Boston Breakers), a battle from teams at different ends of the NWSL's early spectrum will take place in Portland. On Sunday afternoon, the Thorns FC, fresh off their first loss of the season, will host Washington, a team who broke out Thursday in Tukwila.
A rematch of the teams' first meeting two weeks ago, Portland hosting Washington is this round's ProSoccerTalk NWSL Game of the Week.
THREE THINGS YOU NEED TO KNOW
1. Opposites in almost every way
By now you know: Portland was almost everyone's favorite to win this league. And if that's one of the few things you've heard about the new women's league – that Portland has Alex Morgan (above); and Christine Sinclair; and these great facilities; and oh my god it's women's soccer's Shangri-La — you probably haven't heard much about Washington, who were the consensus pick to finish last. Go back two months, and this match looked like David knocking on Goliath's door, only with five-digits worth of neighbors heckling David while doing do.
The contrast between the two sides extends beyond preseason expectations. Portland was giving an established, potent attack while Washington has had to rely on drafted kids. The Spirit have the likes of Lori Lindsey and Diana Matheson in midfield, while the Thorns had to turn to free agency during Tobin Heath's Parisian sojourn. Portland was given a bedrock center half (Rachel Buehler) while the Spirit's allocated defender (Ali Krieger) is a fullback, yet Washington was given Ashlyn Harris, to date the league's best keeper.
Leave those initial impressions behind and fast-forward to mid-May, where all the lip service the league's coaches have given to the quality of each side – arguments encouraging fans and media to look beyond the big names — is starting to have merit. Back in March, their comments seemed like empty platitudes – the kind of hogwash that's more American folklore than something that correlates to reality. Overlooked, under-appreciated Washington, whose attack was considered one of the league's weakest, just exploded for four goals against Seattle. And Portland? They were shocked at home by Sky Blue, with a late song from Taylor Lytle giving Jim Gabarra's a 1-0 win. Goliath's not so big, David's not so small, and the rash predictions of a preseason spent evaluating teams we'd never before seen has proved predictably fallible.
Portland and Washington may have been at opposite ends of March's spectrum, but the gap appears to be closing. Despite their strong record (now 4-1-1), the Thorns are still struggling to meet their potential, while after a break out performance in Tukwila, the Spirit may have just received a first glimpse of their's.
After Sunday's game, comparisons to David and Goliath may prove as foolish as our preseason assumptions.
NWSL Standings
Pos.
Team
GP
Pts.
+/-
PST
Rank
1
Portland
6
13
+5
3
2
Sky Blue
6
13
+4
5
3
Boston
4
8
+4
2
5
W. New York
5
7
+0
4
5
Kansas City
4
7
+2
1
6
Washington
6
6
+0
6
7
Chicago
5
2
-7
7
8
Seattle
6
1
-8
8
2. Young, talented, and unproven: Spirit's attack still coming into its own
It's not that Washington got a bad allocation, as far as their attackers were concerned. They didn't get any help up top. One goalkeeper, three defenders, three midfielders – no forwards. That meant Mike Jorden and the Spirit organization were reliant on the supplemental draft, college players, and limited free agency to forge an attack, a daunting task given each team's financial constraints.
Come Week 1, Washington had three main options:
With the second overall pick in the college draft, Washington went for Florida State's Tiffany McCarty, a local product who had spent time with the W-League's Washington Freedom. Only 5'4″, McCarty has the speed to beat anybody in the league, though finding an end product has proved more difficult than blowing past some of the world's best defenders.
Stephanie Ochs, an industrious striker from San Diego, was selected third overall in WPS's last draft before that league officially folded in 2012. After a year in relative limo, spending some time with the U.S. U-23s, Ochs signed on with Washington, her work rate a potentially potent complement to McCarty.
Caroline Miller, last year's ACC Offensive Player of the Year, slipped into the college draft's second round. A consistent part of the U.S.'s youth national teams, the former Virginia attacker was seen a possible Week 1 starter, even if she's eventually settled into a substitute's role.
They represented three lottery tickets. In a league where few teams have more than one true goal-scoring threat, all Jorden needed is for one to come good. Combined with Diana Matheson's play making and Lori Lindsey's occasional attacking contributions, the Spirit could be viable. It was just a matter of getting one player to click.
Early, though, it wasn't happening. The Spirit scored one goal in each of their first five games, with Matheson being the team's only consistent threat. Long balls that tried to use McCarty's speed weren't being converted into chances, while Och's determination was often left unrewarded.
On Thursday, however, that changed. Perhaps a floundering Reign FC side contributed to the outburst, but after flying cross-country for a battle of winless sides, Washington finally broke through. McCarty scored her second goal of the season. Matheson found her fourth. Defenders Krieger and Tori Huster also got on the scoresheet as Washington tied a (young) league record for goals in a game: four. The Spirit won, 4-2.
Along the way, Ochs and Miller also made contributions, providing a glimpse of how Washington's attack may come around before their lottery tickets are cashed. As long as his Jorden's young attackers can threaten, the game opens up for players like Matheson, who's now tied for the league lead in goals.
Washington's forwards are still be a work in progress, but with nine goals in six games (as many as team in the league), they may not have to wait for something to click. Perhaps something already has.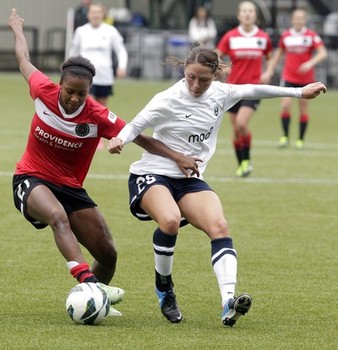 3. Tactics or talent? There's a problem in Portland's midfield
When the Thorns opened the season with a 1-1 draw at Kansas City, many remarked on the trouble Cindy Parlow Cone's midfield had in Overland Park, the quartet of Angie Kerr, Allie Long, Nikki Washington and Becky Edwards unable to generate chances for Morgan and Sinclair. Since, Cone has made adjustments, dropping Sinclair into Kerr's spot while the team continues becoming more familiar with each other.
It hasn't helped that Portland has played four games on the road. Half their matches have been on the type of multi-purpose, turf surfaces that most midfield creativity. While every team's facing similar problems as they try to establish a style and a systems, Portland's time on the road combined with a want to play a possession-style has presented the Thorns with some distinct obstacles.
Thursday, however, those excuses went out the window. Against a Sky Blue team who, like their previous opponents, sat deep and dared the Thorns to break them down, Portland still seemed to lack ideas. And this wasn't on the road, on a bad field. This was at home, on the same field they practiced on all week. Still, the movement Cone had promoted all preseason was non-existent. There was no combination play, no significant buildup. The team was playing into Sky Blue's jam-packed block.
Having carried a four-game winning streak into Thursday's game, Portland is clearly capable of winning despite their shortcomings. But they can't reach their potential without improvement. The cohesion and familiarity, which has only been evident on one goal this year (their second last Saturday at Chicago), needs to improve. They need to draw compact defenses out of their positions, and if they can't, they have to kind a way to play wide. To date, the Thorns have had almost no presence down the flanks, their wide midfielders pinching in to contribute to the congestion.
That's meant Long (left midfield) has been in focus, with onlookers asking if there's more that can be done to serve Morgan and Sinclair. Same goes for Washington (right midfield, pictured), though at some point, when the players are repeatedly trying the same, unsuccessful approaches, you have to look beyond their individual play. Why are the Thorns persistently trying to work through the middle? Why aren't they going wide, be it with by more readily overlapping their fullbacks, overloading a flank, or just playing behind their opposing fullbacks? Instead of trying to go through teams' two-woman shields, why aren't they playing in, out, and around the defense, trying to pull players out of position while encouraging Morgan to make better runs behind the center halves?
Perhaps Long and Washington need to do more, but when you consider how Portland's played through six games, it's unclear they've been asked to do anything different. At some point, the team needs to change it up.
QUICK HITS
| | Portland Thorns FC | Washington Spirit |
| --- | --- | --- |
| Star to Watch | Christine Sinclair – The natural forward has been draw into attacking midfield to try and solve the team's biggest problem. She's still Portland's best player, but while adjusting to her new role, Sinclair has yet to discover how to balance a midfielder's demands with her goal-scoring talent. | Diana Matheson – Arguably the league's best player after five-plus weeks, the Canadian international is capable of creating chances by going either from the middle or by going wide. To date, however, she's been handling the goal-scoring herself. She'll go into Sunday's match tied for he league lead in goals (four). |
| Still Important | Alex Morgan – The U.S. international leads the league in shots and shots on goal, but the quality of chances need to improve. Part of that is on Morgan's teammates to put her in better spots. Part of that is on Morgan, who's still adapting to a markedly different style than what she's flourished in for the U.S. national team. | Ashlyn Harris – No NWSL keeper has been better about decisively coming off her line to collect opposition through balls. If Portland's plan to beat Washington depends on running through the Spirit defense, they better hope Harris is off her game. |
| Win if … | … they either add another trick to their attack, thus finding a way around what's bound to be blockade in the midfield, or they get something special from Sinclair or Morgan. | … they stay tight and deep through the middle, eschew risks for organization in defense, and find a moment's magic from Matheson going forward. |
OTHER GAMES, WEEK 6
Seattle Reign 2-4 Washington Spirit (Thursday) – While we're only six games into the season, you have to consider whether Reign FC can come back from this. If there was one game they were going to win, it was this one – returning home, against another winless side. Instead, they become the first team to give up four goals at home.
Portland Thorns 0-1 Sky Blue FC (Thursday) – Jim Gabarra's team moves into a tie for first after an 80th minute blast from Lytle handed Portland their first loss. One of the least-entertaining match of the season, Lytle's long shot was the only real test either keeper saw. Karina LeBlanc, ultimately had no chance to stop the winner.
FC Kansas City vs. Boston Breakers (Saturday, 8:35 p.m. Eastern) – The Blues are coming off their first loss of the season, falling 2-1 at Western New York. Venturing out of the Eastern time zone for the first time this year, Boston looks to remain the league's last undefeated team. Watch for the how Leigh Ann Robinson and Lauren Sesselmann deal with Heather O'Reilly.
Portland Thorns vs. Washington Spirit (Sunday, 5:00 p.m. Eastern)
Seattle Reign FC vs. Sky Blue FC (Sunday, 9:00 p.m. Eastern) – Last weekend, Sky Blue got two first half goals en route to a 2-0 win over Seattle at Yurcak Field. While a change of venue would seem to embolden the Reign, there's an increasing feeling the first-year club is in a flat spin. Based on mid-week results, it appears these teams are going in opposite directions.