Scheduling-wise, Week 6 was the strangest yet on the NWSL calendar; either a horrible idea that shook up the routine of all but two of the league's team or a welcome way of breaking up to monotony of the league's scheduling treadmill. In a competition comprised of only eight teams, two didn't see action, yet the league still scheduled five games, four taking place in the Pacific Northwest. That meant while Chicago and Western New York were enjoying early-season reprieves, Seattle and Portland were hosting Thursday-Sunday dyads against continent-crossing Sky Blue (New Jersey) and Washington.
Though the games produced the season's first major surprise, Sky Blue stifling Portland at JELD-WEN for a 1-0 victory, it was Thorns FC's Cascadia partners, Reign FC, that ultimately stole the week's headlines. Unfortunately, it was for all the wrong reasons. On Thursday, Laura Harvey's squad became the first team to give up four goals in a game at home, losing 4-2 to what was previously thought to be an attack-challenged Washington Spirit. Three days later, Seattle lost 3-0 to Sky Blue, completing a week that evoked the worst of comparisons.
Before the last year of Women's Professional Soccer, the Atlanta Beat traded away almost all of their star players, an apparent reaction to a 2011 season that would see most quality internationals spend their summer in Germany, at the World Cup. The argument put forth at the time by head coach James Galanas was that the competition for spots and the resulting continuity would help the Beat overcome their talent deficiencies. Atlanta went on to score seven goals in 18 games, lose 13 times, and finish last, 12 points behind their closest competition.
NWSL Results
| Date | Home | Score | Road |
| --- | --- | --- | --- |
| Thur., May 16 | Seattle | 2-4 | Washington |
| Thur., May 16 | Portland | 0-1 | Sky Blue |
| Sat., May 17 | Kansas City | 2-0 | Boston |
| Sun., May 18 | Portland | 2-0 | Washington |
| Sun., May 18 | Seattle | 0-3 | Sky Blue FC |
The Beat, however, have one thing the Reign do not: A win. Through seven games, Seattle is 0-6-1. They've allowed a staggering 15 goals while scoring only four times, and after being outscored 7-2 last week, the trend line's about to hit rock bottom. All six of their losses have come in succession, and in five of those games, Seattle has given up at least two goals.
Megan Rapinoe will be back from Lyon in a month. Hope Solo will be there, too. Once those U.S. internationals join the team, Seattle actually has a decent squad on paper, one that complements their two most-prominent faces with Jess Fishlock, Keelin Winters, Teresa Noyola (one of the few sparks this week), and Christine Nairn. As Harvey and owner Bill Predmore search for solutions to their present, they can take some solace in their future.
Unfortunately, Seattle's two big names may arrive too late. Thoguht Reign FC are only six points back of the playoff line (fourth place), the two teams sitting on that boundary – Boston and Western New York – have both played two fewer games. As the league quickly sprints away from its quarter pole, Seattle's hole may already be too big.
Here's what else happened in Week 6: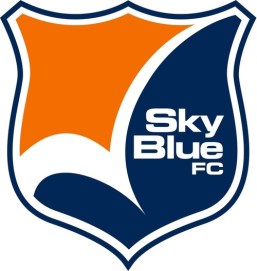 TEAM THAT STOOD OUT
On paper, the team has little that stands out, especially with U.S. international Kelley O'Hara struggling to have an impact for Sky Blue FC. But in their organization at the back, the rotations of their midfielders and attackers, and the play of their two young fullbacks, you see SBFC coach Jim Gabarra has amassed a team that's fulfilling that old-timey cliché. Right now, Sky Blue is greater than the sum of its parts.
They're also 5-1-1 and, thanks to their new tiebreaker advantage over Thorns FC, the surprise leaders in the NWSL. That advantage was earned late Thursday night when a gruff display in Portland was blown open by substitute Taylor Lytle, whose first NWSL goal came from 24 yards in the 80th minute, sending Portland to their first defeat of the season.
Combined with a rout at Seattle (a more impressive performance, though a less notable outcome), Sky Blue collected six validating points. While you can look at a team that lacks game-breaking talent and is getting relatively little production from its attackers (O'Hara, Lisa De Vanna, Danesha Adams combining for three goals), their results are beyond reproach. They're tied for the league's best attack, and only one team has conceded fewer than Sky Blue's four goals allowed.
The explanations aren't easy, but it's happening, and at some point, you have to give Gabarra credit. You have to credit a back four that's rebounded from their May 1 loss at Western New York. You have to credit a midfield which has supplied six of the team's goals.
And at some point, we have to stop doubting Sky Blue. Or, at least, we have to start imagining this team as more than a plucky upstart that could snatch a playoff spot. When they post results like last week's, we have to start asking: Are we seeing a contender?
MVP … OF THE WEEK
There have been many 'Ali Krieger is back' moments since the U.S. international blew out her knee during in January 2012. There was her return to live action with Frankfurt II on September 2. There was her first team appearance a week later, and five months later, there was her return to the U.S. women's national team.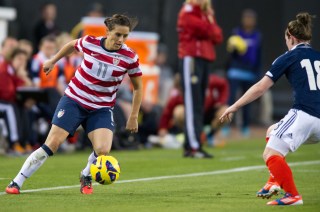 At various points along the way, fans have used "she's back" to claimed she's returned to her former form, but if there were scarce, lingering doubts as to whether the 28-year-old right back had fully returned, she blew those out of the water last week.
In Seattle, Krieger scored her first goal of the season, charging through the Reign defense on a Lori Lindsey free kick to put home the rebound. It was part of a performance that has become customary in Mike Jorden's set up. Playing a wing back's role in a fullback's spot, Krieger teamed with Diana Matheson to torment Seattle's left flank, a tactic Washington's leaned on against each of its recent opponents.
In Portland, that plan was on full display. In a first half that saw the Spirit dictate the game's terms, Krieger constantly took advantage of Thorns FC's narrow midfield, switches to her side allowing her to gain steam as she charged past Allie Long before beating Portland left back Nikki Marshall. Multiple times, she was able to get in crosses for Tiffany McCarty and Stephanie Ochs. Multiple times, she was able to threaten Karina LeBlanc's goal from the right side of the box.
In this league, you don't see many fullbacks who can provide a credible, consistent threat going forward. Krieger is not only one of them, she's somebody Washington has come to lean on. And in Week 6, her performance in that role made her the NWSL's best player.
Also of note: Never aging Christie Rampone has put together four strong games in a row; Caitlin Foord was a part of two shutouts and created a nice goal against Seattle; Lauren Cheney continues to play the No. 10 role better than anybody in the league; obligatory mention of Christine Sinclair, this time for one of the week's most skillful goals (as well as her contributions at the top of midfield); oh, poor Jess Fishlock; and don't forget our unsung hero, below.
ROUND'S BIG STORY
With the U.S. national team set to face Canada on June 2, some team's rosters are going to get real thin, real quick. The United States are scheduled to play three times between June 2 and June 20, while Canada has two friendlies in that time. Given some teams are leaning heavily on the countries' allocated players, early June will test the league's depth.
League Leaders
| Goals | | Assists | |
| --- | --- | --- | --- |
| Diana Matheson (WAS) | 4 | Lianne Sanderson (BOS) | 3 |
| Sophie Schmidt (SBFC) | 4 | Lauren Cheney (FCKC) | 3 |
| Sydney Leroux (BOS) | 4 | 5 tied with | 2 |
| Alex Morgan (PTFC) | 4 | | |
| Renae Cuellar (FCKC) | 4 | | |
So coaches can't be thrilled that, a week before players start leaving for national team camps, injuries are starting to take their toll:
Sky Blue FC saw Brittany Bock, out since the season opener, leave Sunday's game after five minutes after apparently breaking her left wrist. She had just recovered from a rib injury. Goalkeeper Jill Loyden still hasn't played a game, recovering from a broken hand, while Lisa De Vanna picked up a knock late in Seattle.
FC Kansas City were forced to scratch WPS iron women Becky Sauerbrunn for Saturday's win over Boston with what was reported as a hamstring injury. Late in the match, center back partner Lauren Sesselmann picked up a right ankle injury and was forced from the game.
For Washington, Ashlyn Harris was kept out of Sunday's game for what was originally identified as a "coach's decision." Later the Spirit clarified, saying the U.S. international failed a late fitness test.
And in Seattle, where defenders Kate Dienes and Elli Reed had joined Hope Solo as injury absences, Keelin Winters is still not fully healthy after suffering an ankle injury 12 days ago in New Jersey. She may have hurt her shoulder late Sunday, compounding troubles for a team that will miss Jenny Ruiz in their next match after the defender picked up the league's first red card.
Portland and Boston were able to escape this week's action without any additional injuries (the Breakers got their share out of the way in preseason). Chicago and Western New York? If they have new injuries, we won't know the extent until Friday.
For the league's other four teams, though, the season's stresses are starting to be felt. Unfortunately, they may need to get healthy before next week, when their rosters will really be thinned out.
UNSUNG HERO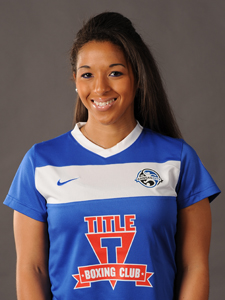 It says something about the lack of awareness of Canadian internationals that this, a section designed to shine light on a player casual fans may not know, has turned into a tribute to CONCACAF's second power. It also says something about the quality the Canadians have brought to this league that Sophie Schmidt, Diana Matheson, and Desiree Scott have already been honored in this space.
Desiree Scott, however, deserves further recognition. As far as pure destroyers at the base of midfield, there's nobody better than the diminutive Canadian, somebody whose job became more difficult on Saturday when partner Jen Buczkowski was moved into central defense. Scott, however, didn't miss a beat, wandering midfield slightly less than she would have were Buczkowski next to her, instead protecting Vlatko Andonvoski's makeshift defense. Making like difficult for Lianne Sanderson and the Breakers' attack, Scott helped turn around the Blues' slow start and keep one of the league's deepest attacks off the scoresheet. FC Kansas City went on to win, 2-0.
Depending on what you want from a sitter, you might prefer another NWSL deep midfielder to Scott. If you like more of a holder, somebody who can act as a pivot, Portland's Becky Edwards is probably your woman. Like more of a box-to-box profile? Maybe Lori Lindsey's your choice. If you want a versatile, all-arounder, Keelin Winters is an option.
But if you're looking for a pure destroyer – somebody who can imitate a Claude Makelélé in more than just relative stature – there's no question who best fits that profile. Desiree Scott is one of the keys to a K.C. team that's kept three clean sheets in five games. On Saturday, with their captain and best defender (Sauerbrunn) on the sideline, Scott played the most important role in the Blues' shutout of Boston.
At some point, Desiree Scott becomes so good and so acknowledged, she can no longer be 'unsung.' But we're not at that point. Today, a few people will click on this post and read about her for the first time. But in the future, hopefully the near future, her quality will be old news.
NWSL Standings
Pos.
PST
Rank
Team
GP
Pts.
+/-
1
5
Sky Blue
7
16
+7
2
2
Portland
7
16
+7
3
1
Kansas City
5
10
+4
4
3
Boston
5
8
+2
5
4
W. New York
5
7
+0
6
6
Washington
7
6
-2
7
7
Chicago
5
2
-7
8
8
Seattle
7
1
-11
LINGERING QUESTIONS
Can Sophie Schmidt keep making up for her forwards' lack of production? … Will Sunday's win continue to mask Portland's problems connecting Edwards to Sinclair? … Will Kansas City be able to hold on when they lose six starters next week? … Is Sydney Leroux wearing down? … Can Washington's attack sustain this output? … How often does Laura Harvey dream of London?
LOOKING FORWARD
The NWSL returns to business as usual in Week 7: eight teams; all active; each playing once. While Portland's first visit to Seattle will draw the attention of the those hoping for a rivalry atmosphere, the ProSoccerTalk Game of the Week will take place in Overland Park, where FC Kansas City, number one in our rankings, takes on the league's number one – Sky Blue FC.
Friday, May 24
Western New York vs. Chicago Red Stars
Saturday, May 25
Boston Breakers vs. Washington Spirit
Seattle Reign FC vs. Portland Thorns FC
FC Kansas City vs. Sky Blue FC