Toward the end of April, outlets in Europe started reporting that Jose Mourinho to Chelsea was a done deal. Well, it was mostly Sky Italia, but since Mou-to-Chelsea is accepted as inevitable, we should give somebody credit, especially when that outlet later reported the wish list – four expensive, high profile players Mourinho had requested Chelsea pursue this summer.
At the time, the names made sense, whether based on Chelsea's needs or Mourinho's assumed preferences. Now, just over three weeks later, there's reason to doubt Santa will deliver anything from Mourinho's list, possibly a hint he's been a bad boy this season.
Regardless, the players Mourinho's requesting give us some insight on how he sees Chelsea's current squad. Each of these players can be seen as addressing a perceived need. The fact the Chelsea presumably (according to this fable) agreed to pursue them hints the Blues are ready for another summer spending spree.
1. RADAMEL FALCAO, F, ATLETICO MADRID
There was a time when the 27-year-old Colombian wasn't linked to Monaco. That was three weeks ago. Back then, Falcao winding up at Chelsea made perfect sense, not only because a.) they need a striker, b.) are one of the few clubs that can afford him, c.) Mourinho's faced him and apparently likes him, and d.) Falcao's really, really good, but the Blues could use current Atletico goalkeeper Thibaut Courtois (on loan from Chelsea) as a makeweight.
But if we assume Falcao's agent may steer the striker to Monaco, Mourinho has to turn to Plan B, because it's hard to conceive a scenario where Mourinho rides into next season with Fernando Torres, Demba Ba, and Romelu Lukaku.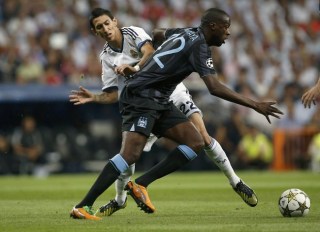 2. ÁNGEL DI MARÍA, W, REAL MADRID
When you watch Chelsea play, this one doesn't initially make sense, given how much talent the Blues have behind their striker in their current 4-2-3-1 formation. But once you pencil in Eden Hazard on the left and Juan Mata in the middle, who are Chelsea's best options on the right? The answer: Nobody who is as good as Ángel Di María.
They have Oscar – a great talent poorly suited to play wide in Mourinho's system. There's also Victor Moses, who would be a valuable option off the bench. Ramires can fill in, and maybe Marko Marin finds a role. But none of these options are as good as Di María.
A Hazard-Mata-Di Maria attacking midfield would be gruesome for opponents, Di Maria's speed and work rate a great complement to Hazard and Mata. But given the way the Real Madrid dressing room has coalesced in the face of Mourinho's departure, it's difficult to see a Real player making the move to Stamford Bridge (though who knows what Di María's personal thoughts are on the conflict).
3. JOAO MOUTINHO, M, FC PORTO
Nearly a Spur, having come oh so close to a move to White Hart Lane last fall, Moutinho may end up a not-so-nearly Blue, with the Portuguese international also tied up in the Monaco rumors. It's too bad, because there are a number of small connections that make you think Moutinho might be a perfect fit: Portuguese international; Porto player (a former Mourinho club); willingness to move to England; and fits a huge need for Chelsea.
Or maybe all those links could be reason to think Moutinho may still find his way to Stamford Bridge.
4. PEPE, D, REAL MADRID
This is the one that won't happen and probably never should have, given Chelsea have David Luiz, Branislav Ivanovic, Gary Cahill and John Terry in central defense. Yet there was the feeling, all those weeks ago, that Pepe was surplus at Real Madrid, and although Mourinho had made the decision to promote Raphael Varane over him, perhaps the Portuguese international would have an impact at Stamford Bridge.
Since, however, Pepe has been outspoken against Mourinho. Once thought to be the leader of Real Madrid's pro-Mourinho Portuguese guard, now the defender is leading their revolt. Unless the two make up, Mourinho's going to have to look elsewhere for his defensive's reinforcements.
So let's play a game, if even in our own heads. If Jose thinks these are areas of need at Chelsea (not certain, but let's make that assumption) and these players aren't available (see previous parenthetical), then who would Mourinho add to his new wishlist? Because with the other thin news around the soccer world hinting this list is now useless, Mourinho may need some backup plans.