The updated ordering in ProSoccerTalk's ranking of Major League Soccer teams following 12 rounds of play:
19. D.C. United – I just don't know how to feel about a team that seems so satisfied with a draw at home. Yes, a draw with Sporting KC snapped a seven-game losing streak. But for such a proud franchise, is a nine-game winless streak really that much better?
18. Toronto FC – After another loss at home, it looks like yet another season will come and go without anything to feel great about around BMO Field.
17. Chivas USA – El Chelis is broken. He says there isn't enough talent to win. The team's ownership situation is as stable as a three-legged chair. Otherwise, yeah … everything is OK.
16. Chicago Fire – If it weren't for Ben Olsen at D.C. United, Chicago's Frank Klopas would be the MLS coach in hottest water.
(MORE: Which MLS manager is in the most trouble today?)
15. New England Revolution – New England's win at BBVA Compass Stadium – statistically speaking, the toughest venue yet in 18 years of MLS play to go get three points – was probably the best yet in the young coaching career of Jay Heaps (pictured above).
14. Vancouver Whitecaps – The Whitecaps' had a chance to build some mo following last week's 3-1 win over the LA Galaxy. Well, they fumbled it away when conceding late against 10-man Portland, watching a potential win devolve into a draw at home. Martin Rennie's club has won just 7 of its last 31 matches dating back to this time last year.
13. San Jose Earthquakes – Yet another home draw for Frank Yallop's men, who are a pretty average 3-1-4 at Buck Shaw this year.
12. Columbus – Same story for this team of mystery: pretty shaky at home and curiously strong on the road. Federico Higuain was pure genius in the 1-0 win at Toronto.
11. Philadelphia Union – Young striker Jack McInerney struck for his league-leading eighth goal. Don't forget, he would be the league's youngest Golden Boot winner if he keeps the pace. New Brazilian arrival Kleberson is contributing regularly for the PPL Park gang now.
10. Real Salt Lake – Ned Grabavoy's two goals out of midfield got lost amid some other big performances in Round 12. Jason Kreis' team is 3-0-1 in May with one game still to play at home (plus another at Rio Tinto in U.S. Open Cup play.)
9. LA Galaxy – Three points from two road matches along the East Coast don't look too bad – until you consider how close Bruce Arena's team came to having even more. They conceded late against New York to fall, 1-0, at Red Bull Arena. It was a goal that probably should not have happened.
8. Colorado Rapids – Oscar Pareja's team lost all three games to the Earthquakes last year, so a draw at Buck Shaw on Nate Sturgis' goal represents a worthwhile result for the Rapids. Four consecutive games without a loss keeps the Rapids mid-pack in the West.
7. Montreal Impact – Marco Schallibaum's club had the weekend off, helping them rest and prep for Wednesday's second leg of the Amway Canadian Championship. Vancouver managed a scoreless draw in Montreal during last week's first leg.
6. Houston Dynamo – Two losses in a row at previously impenetrable BBVA Compass Stadium? What is going on with Dominic Kinnear's club? This one was to New England after a previous setback against Sporting KC.
5. Seattle Sounders – In a wildly entertaining game, Seattle downed Western Conference leading Dallas, 4-2, at Century Link Field. Eddie Johnson scored twice as he preps for a busy summer for Seattle and the U.S. national team.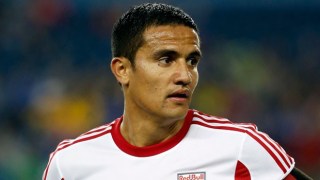 4. New York Red Bulls – After we all started worrying that Tim Cahill (pictured left)  had forgotten how to score, now suddenly the man cannot stop scoring. His late header – A header … what else? – gave the Red Bulls all the points in a high-profile meet-up with Los Angeles.
3. Portland Timbers – An unlikely figure (Jose Valencia) provided the late equalizer for 10-man Portland in a draw at Vancouver that Caleb Porter's team can feel pretty good about.
2. Sporting Kansas City – Sporting Kansas City is still hopping mad about a perfectly legitimate goal that was incorrectly ruled offside. Officials have copped to the error, but that won't change the result, a 1-1 draw at D.C. United.
1. FC Dallas – Beating down beleaguered D.C. United in Texas without a bunch of important starters is one thing. Clearly, a match at Seattle without those important figures is something else completely. Schellas Hyndman's men gave it a good go, but finished on the wrong side of a wild 4-2 loss in Washington.