How appropriate that in the end, Arjen Robben's relentless running captured European glory in a relentless final, a breathtaking UEFA Champions League culmination full a chances on both sides.
The Dutchman's 89th minute roller eluded Roman Weidenfeller to cap a delightfully entertaining match that had three goals – but seemed like it should have had twice as many. The goalkeepers stole the show in London by stealing goals (along with one other ball bound for Dortmund goal that was rescued spectacularly by center back Nevin Subotic).
Dortmund bravely started so forcefully, not a bit intimidated by the big brother from Germany, the runaway Bundesliga winner. The world needed about three minutes to see that Dortmund would not play the victim in this UEFA theater. The global audience was treated to an absolutely breathless display of attack, counter attack and high pressure around the field from Dortmund's side.
Dortmund ran the show for about 30 minutes before Bayern played its way into contention, as Robben's influence gradually grew.
Would anyone have blamed BVB manager Jurgen Klopp for slightly taming his young team's desire for push, push, push?  But they didn't, and all the chances went Dortmund's way early. So much so that Bayern goalkeeper Manuel Neuer seemed to have one hand on the Man of the Match medal early, doing his part to keep the Bundesliga champs in the match.
So many possessions went through the skilled, fast feet of Marco Reus, the attacking midfielder in the underdogs' 4-2-3-1. He  outplayed the increasingly frustrated Bastian Schweinsteiger, Bayern's midfield engine, by some margin over the game's first half-hour.
Schweinsteiger retreated deeper and deeper to collect possession for Bayern, finally finding himself between the Bavarian club's center backs, hardly where the German international wanted to be.
Meanwhile, Dortmund seemed destined to open the scoring. Neuer used his shin to turn away Blaszczykowski's close-range shot in the 15th minute.  Rues blazed one from 20 yards with pace that Neuer pushed wide with authority. Soon after it was Sven Bender seeing his curler from 22 yards turned away, as even Dortmund's holding midfielder was creeping closer to Bavarian goal.
Bayern was reduced to hopeful, long balls, mostly gobbled up by Dortmund center back Subotic and Mats Hummels.
Inevitably, Dortmund had to drop its intensity and pressure, dropping those lines of resistance back 20-25 yards; Even a young club like Klopp's could not possibly sustain the highly placed pressure over 90 minutes.
And then Robben happened. The German champs gained confidence from a series of chances off  corner kicks, as German's midfielders began to sense Robben's mounting influence, funneling more balls the Dutchman's way.
Robben got behind Dortmund's defense three times before the break, once clean through only to be stuffed by the onrushing Weidenfeller, once too slow to throw a ball across goal from a rapidly decreasing angle on the right and once on a ball that bounced fortuitously in a desperate scramble with Hummels. On that one, it was Weidenfeller once again to the rescue, making himself big and taking one off the face as Robben got position on Dortmund's center back.
More of the same after the break, as Bayern generally sustained pressure. Robben, Franck Ribery and Thomas Muller zipped in and out in liberal interchange behind striker Mario Mandžukić. The Dutchman seemed to find his way around the gamed better, and most of his damage came along the right side despite the valiant toil of Marcel Schmelzer, who was ablaze himself up and down Dortmund's left side.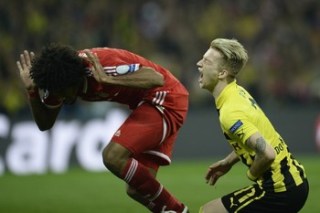 That interchange was important, however, as Dortmund had some trouble locating the heralded trio of Bayern attackers. They also crept inside, adding further pressure on Dortmund's defenders and midfielders. Finally, Lahm and David Alaba were making noise on the wings, so Muller, Ribery and Robben had room to operate inside.
Robben was stationed centrally at one big moment, slicing through to play a ball back into Mandžukić at the far post for the breakthrough.
Behind them, Bayern's Jerome Boateng had seemed vulnerable due to a slight injury. Dortmund striker Robert Lewandowski, so faithfully connected to Reus through the match, kept himself stationed nearby Boateng, hoping to exploit the matchup. But it was Bayern's other central man who helped temporarily turn the match. Brazilian defender Dante was beaten inside the penalty area as he kicked Reus, and Ilkay Gundogan – taking the penalty because Neuer had saved one off Lewandowski recently – blasted the equalizer.
But Robben happened again. And again.
Wiedenfeller saved wonderfully on a blast from David Alaba and later the Dortmund goalie's work was just as good on an absolute blazer from Schweinsteiger.
Lahm, pinned in by so much Dortmund pressure in the first half, was getting into the attack, combining with Robben and Müller.
Bayern's winner seemed inevitable as Ribery and Robben poured themselves toward Dortmund goal. Even the terrifically heroic Weidenfeller could not stop Robben's game-winner.