Most Chelsea fans saw a bit of good news hit their Twitter timelines on Monday, with a picture being send around social media marking the end of the club's Rafa Benítez era. Though some fans eventually warmed to Benítez, the vast majority were either conflicted or antagonistic, so although they knew their time of conflict would soon end, proof of its passing would have been met with relief.
At the same time, Napoli fans were forced to embrace a reality of an uncertain future, their club having officially welcomed the controversial Spaniard as their new head coach. For a team who finished second in Italy and have reason to hope they team can push on, today's must have been sobering news.
Word of Benítez's move to Naples had been circulating for some time, but until Benítez finished his responsibilities with Chelsea's brief U.S. tour, Napoli supporters could try to convince themselves the deal would fall through. However, after this weekend's match at Yankee Stadium, all that was left was to dot i's and cross t's. Benítez was destined to replace Walter Mazzarri.
And with this image of Benítez shaking hands with Napoli President Aurelio Di Laurentiis, the tenuous transition finally begins.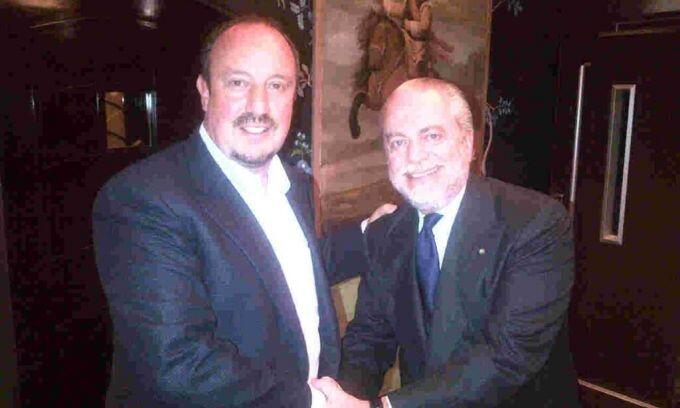 I've made my newfound ambivalence toward Benítez known, but for new visitors who don't want to go back through the PST archive, I'll reiterate: I feel as if Benítez has earned himself another chance, one that shouldn't require him resorting to a 'take what I can get' attitude. I'm not sure I felt the same before he was fortunate to find a role in West London.
He underperformed at Chelsea, Inter Milan, and in his last days at Liverpool, but over the last three months at Stamford Bridge, he showed the qualities of a man capable of forging a stable united. Were I at Málaga and looking to replace Manuel Pellegrini, I'd strongly consider him. He might work well at a place like Schalke, when he could take a talented team and establish a foundation that would address inconsistencies. Among club who don't have obvious job openings, places like Marseille, Sevilla, Lazio, Hamburg would also be a fit for a boss with Benítez's qualities, and if it wasn't for the circumstances of Benítez's past, clubs like Everton and Valencia would also fit nicely onto that list.
Napoli, however, is a very peculiar case. The departing manager, Walter Mazzarri, played almost exclusively three at the back, employing an attractive style that leveraged the abilities of Edinson Cavani, Marek Hamsik, Goran Pendev and Blerim Dzemaili to pick opponents apart, often in transition. In contrast to Benítez's style, Napoli's is not one you would readily call controlling or robust. Their's was a more open game.
With Mazzarri having moved to Inter, Napoli's style is going to change. And if the Neopolitans lose Cavani, they'll have to reload, a process in which Benítez is likely to have great say. As opposed to a Chelsea job that was about ostensibly about correcting course, Benítez will have to chart a new one.
At one time in his career, he was capable of doing that. His accomplishments at Valencia and Liverpool speak to it, but having painted more confounding pictures at Stamford Bridge, the San Siro, and his last year at Anfield, Benítez's appointment at Napoli becomes a litmus test. If you feel the man is capable to recapturing the magic, there's little reason not to hire him. If you believe the more recent evidence, he seems an bad fit for the job.
The only other time Benítez faced the tactical test of the Italian league, he drove a European champion to mid-table before walking away from Inter Milan. De Laurentiis has elected to cast this as an aberration, but for a team returning to Champions League, you can't help but ask if they couldn't have found a better fit.