In this infancy before the competition can cultivate its own stars, the NWSL has been defined by those renowned talents the U.S. and Canada are paying to be in the league. So it's perhaps apt that, days before those talents left to join their national teams, two of The N's biggest names snared weekend headlines
The good came in Seattle, where Hope Solo's early return from wrist surgery captivated hardcore U.S. Women's National Team fans. Buoyed by their icon's returned, Reign FC gave one of their most complete performances of the season, avoiding the type of in-game collapses that saw them enter Week 7 with a six-match losing streak. Unfortunately, an officiating error intervened to ruin Solo's return, with Reign FC left to embrace a moral victory while their losing ways continue.
The bad news came in Boston, where Lisa Cole picked a team without attacking star Sydney Leroux. After the game, the Breakers' coach alluded to a "bazillion" reasons why Leroux was held out, but having pulled the international off late the previous week in Kansas City, it was clear this might may have been a performance-related decision. From the outside, this looks like an attempted attitude adjustment, with Cole using an old coaching standard to send a message to one of her biggest stars.
NWSL Results
| Date | Home | Score | Road |
| --- | --- | --- | --- |
| Fri., May 24 | W. New York | 2-1 | Chicago |
| Sat., May 25 | Boston | 3-0 | Washington |
| Sat., May 25 | Kansas City | 0-1 | Sky Blue FC |
| Sat., May 25 | Seattle | 0-1 | Portland |
Any time you bench a talent like Leroux, you're taking a risk, yet Cole was vindicated in Somerville, with Boston's win keeping the Breakers among the league's one-loss teams. With Sky Blue and Portland also winning, the league has a small caste of near-unbeaten teams at the head of its standings. Right on their heels, Western New York finished a perfect May with a Friday win over Chicago.
Here's what else happened in Week 7:
TEAM THAT STOOD OUT
For the second time this season, Boston routed a team at Dilboy Stadium, pasting a 3-0 result on Washington that could have been much worse. Late, with the game already decided, Katie Schoepfer drew a penalty that should have made it a four-goal game, but perhaps still smarting from being takendown, the Breakers striker left a thigh-high try within reach of Chantel Jones, a relatively easy ball to keep out.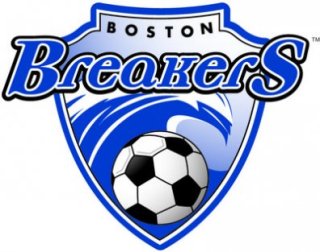 But nobody's going to remember the penalty kick. What they'll remember is the lofted ball that led to Heather O'Reilly's opener. They'll remember the easy finish Schoepfer had for the second. They'll especially remember the blistering shot Kyah Simon put in the far side netting from the right of the box, deflating the already demoralized Spirit.
The league didn't need Boston to show off the depth of their attack, but with Leroux riding the pine, that's exactly when happened. Mike Jorden was undoubtedly disappointed with a poor performance from his defense, but as Chicago found out while giving up four to Boston on May 4, the Breakers can explode on anybody who takes a disorganized defense into Dilboy.
With 11 goals in six games, Boston has the best attack in the league (goals per game). And rebounding off their 2-0 loss in Kansas City, the Breakers showed they still need to be considered among the league's elite.
MVP … OF THE WEEK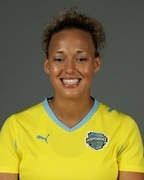 Breaker Lianne Sanderson has always been considered a highly skilled forward, but after joining Boston this winter, she's been fully converted to an attacking midfielder. Playing behind the striker in what functions as a 4-2-3-1 formation, Sanderson has rivaled Lauren Cheney and Christine Sinclair as the league's best at that position. The reputations of that company speak to how well Sanderson's played.
On Saturday, she had her best performance of the season, collecting three assists as Boston routed visiting Washington, 3-0. The highlight was her first, a ball looped back over her head as she stood with her back to goal. Near the edge of the 18-yard box, Sanderson hit a bouncing ball back and to her right, dropping her pass between the defense (about 12 yards out) and goalkeeper Chantel Jones. Heather O'Reilly, cutting in from the left, leapt onto her volley, the top of her shin putting home Boston's opening goal.
Sanderson now leads the league in assists, and it's not even close. Her six helpers double the total of second place Cheney, forcing us to consider where she ranks among that elite group of NWSL playmakers. She may not possess Sinclair's threat toward goal or provide Cheney's all-the-little things contributions, but she's contributing more to the bottom line. Her actions are creating goals; lots of them.
And in Week 7, she was the clear player of the week.
Also of note: Sanderson teammate Kyah Simon contributed to the season's huge, early Australian influence; Abby Wambach's up to four goals after scoring on Friday, with teammate Brittany Taylor contributing two assists; Lauren Cheney did everything but kind an equalizer for Kansas City; Karina LeBlanc may have been the weekend's best `keeper; and don't forget about our Unsung Hero, below.
ROUND'S BIG STORY
NWSL Standings
Pos.
PST
Rank
Team
GP
Pts.
+/-
1
5
Sky Blue
8
19
+8
2
4
Portland
8
19
+8
3
3
Boston
6
11
+5
4
2
W. New York
6
10
+1
5
1
Kansas City
6
10
+3
6
6
Washington
8
6
-5
7
7
Chicago
6
2
-8
8
8
Seattle
8
1
-12
You're not a real league until your fans hate your officials. NWSL followers naturally did so from the beginning, an apparent blind obligation of every soccer fan, but in Week 7, the league gifted the curmudgeons two game-defining controversies.
In Kansas City, first place Sky Blue saw their game all but sealed mid-way through the first. Lisa De Vanna, her relentless effort getting the best of yet another center half tandem, forced Lauren Sesselman to grab her jersey as she linded up a nine-yard shot. The whistle blew, the official pointed to the spot, and to the surprise of KC's Canadian international, a red card was shown. Sophie Schmidt converted for her league-leading fifth goal of the year, and after an hour of playing against 10, Sky Blue finished off a 1-0 win.
But should it have been a red card? The cynicism of Sesselmann's move convinced many, but if that challenge occurs outside the penalty area, it's a yellow card-worthy, professional foul. Players go into matches with that expectation, which is why Sesselmann was so surprised to be dismissed. Inferentially, the referee must have seen it as a denial of an obvious goal scoring opportunity, but De Vanna was neither behind Sesselman nor moving toward goal. As De Vanna said after the match, a yellow card would have been enough.
The situation in Seattle was much worse. In the 83rd minute of a 0-0 game, Christine Sinclair chipped a ball to the edge of the area, the last part of a give-and-go with Allie Long. Long then ran into defender Kiersten Dallstream ahead Kaylyn Kyle's clearance, only after which did the whistle blow. Occurring just inside the area, an otherwise innocuous collision drew a penalty, one that seemed a clear make-up call for the hand ball missed 15 minutes earlier. Moments later, Sinclair beat Hope Solo for the game's only goal, and Seattle had their seventh loss in a row.
The call in Kansas City happens. It was a reasonable, if debatable interpretation on what was obviously a foul. The play in Seattle, however, was inexplicable – one that Laura Harvey justifiably (and perhaps, understatedly) labelled "a joke."
Unfortunately, as bad as the call was, no post hoc solution will give Seattle the point they deserve.
UNSUNG HERO
Chicago and Seattle have been coupled since their 1-1 result in Week 1. Unfortunately, since that draw, the two clubs been linked for all the wrong reasons. They remain the NWSL's only teams without a win, each struggling to find goals in lieu of obvious attacking threats. As their winless runs persist, the sides risk carving an unfortunate niche for themselves at the bottom of the NWSL's standings.
But just as Seattle has Jessica Fishlock, Chicago has one player whose performance has transcended the Red Stars' standing, and while in former years Lori Chalupny wouldn't have qualified as unsung, the relative obscurity of the Red Stars' start combine with her exile from the U.S. National Team means new fans know little about her.
Chalupny has 92 caps for the U.S. and has the honor of wearing the team's armband, but since concussion symptoms sidelined her from the team in 2009, Chalupny hasn't been called in. While she's been cleared to play for the St. Louis Athletica (right), Atlanta Beat, Sweden's AIK and Chicago, U.S. Soccer still hasn't green lighted the former Tar Heel.
This being a health issue, we're unlikely to ever hear U.S. Soccer's side of the story, but in the professional ranks, Chalupny's career goes on. On Friday, she helped spark and finish the counterattack that gave Chicago an early lead in Rochester, her activity and quality through the middle serving as the key to the Red Stars' upset bid.
That bid fell flat, but as has been the case all year, Chalupny did not. For a team that was hamstrung by an unfavorable allocation, she's provided national team quality. Whether deployed wide or playing through the middle, Chalupny has been one of the season's unsung stars.
LINGERING QUESTIONS
League Leaders
| Goals | | Assists | |
| --- | --- | --- | --- |
| Sophie Schmidt (SBFC) | 6 | Lianne Sanderson (BOS) | 6 |
| 6 tied at | 4 | Lauren Cheney (FCKC) | 3 |
| | | 6 tied with | 2 |
| | | | |
| | | | |
What will it take for Portland to start changing things up? … How good can the Flash be with Carli Lloyd playing behind Abby Wambach in their 4-2-3-1? … How much of this is luck, and how much of this is Jim Gabarra manufacturing luck for Sky Blue? … Are Washington's scoring problems back? Were they ever truly gone? … Can Brittany Cameron hold off Jill Loyden in goal for Sky Blue? … Which teams are best-situated to survive the national team callups? … Will Megan Rapinoe be able to build on Seattle's Hope Solo boost?
LOOKING FORWARD
It's a slow weekend in the NWSL, with only two matches ahead of two-mid week games next week. While Boston takes their high-octane attack to New Jersey to face a ever-stringy Sky Blue, Chicago makes a trip west, visiting JELD-WEN Field. We'll use that game as an opportunity to take our first look at Rory Dames' Red Stars in Friday's PST NWSL Game of the Week feature.
Saturday, June 1
Sky Blue FC vs. Boston Breakers
Portland Thorns FC vs. Chicago Red Stars
Wednesday, June 5
Boston Breakers vs. Western New York Flash
Portland Thorns FC vs. FC Kansas City