The summation of spring events for a young, rebuilding U.S. back line is the very disquieting "one step forward, one step back."
All the good work in the snow of Denver and the cauldron of Azteca, two enormously valuable shutouts in  World Cup qualifying, weren't exactly washed away amid the Belgian foursome, but no one can feel good about a night of sliced and diced regression in Cleveland. One of Europe's rising powers cut up a young U.S. back line, reminding manager Jurgen Klinsmann and his team that rebuilding a rear guard smack in the middle of a World Cup qualifying cycle is risky business, indeed.
Belgium's 4-2 win laid bare all the defensive frailties, the communication issues, the limitations of the (hopefully) emerging crop of current center backs, the lack of depth that required Geoff Cameron playing out wide, the slow reactions all the way around, etc.
Ironically, the top defender was DaMarcus Beasley, the converted winger. He was identified as the biggest potential problem by fans and media before Wednesday's muggy night at FirstEnergy Stadium; but the man earning his 100th cap was the least of the U.S. rear guard in disarray.
Two important caveats here: It's just a friendly, and we can never assign too much value, good or bad, to results that don't matter. And certainly this: Belgium is for reals. The midfield looked like men-against-boys stuff as a U.S. team missing its brain, Michael Bradley, mostly couldn't cope. Plus, we'll be hearing about this fabulous Belgian crop of attacking midfielders, spry flankers and powerful forwards for years.
That said, the U.S. defensive errors are alarming, to say the least. (And Germany is up on Sunday. Yikes!)
Everyone but Beasley looked bad as the visitors took an early lead, leaving U.S. goalkeeper Tim Howard screaming in frustration.
(MORE: Belgium takes apart mistake-prone United States, 4-2)
Cameron, Omar Gonzalez and Clarence Goodson were all painfully slow to react as Romelu Lukaku slipped through, only to be foiled by the onrushing Howard.  That "leak" was bad enough; the communication just wasn't sharp enough all night between the defenders as they tried to pinpoint the big, physical and surprisingly slippery Lukaku and the outside-to-inside runs of Belgium's wide men, Kevin Mirallas and Kevin De Bruyne.
When Howard couldn't hold the ball, he needed help from … well, anyway. Gonzalez and Cameron were nearby spectators. Goodson was even more culpable, having stopped completely to wave about for the offside call. Had he simply followed the play, protecting Howard's vacated goal, Goodson surely could have been the hero, rescuing the moment.
Was it a mistake to replace Matt Besler, who had replaced the injured Goodson for the result in Mexico? We'll see on Sunday.
The second goal started with Brad Davis' turnover and ended on the easiest of finishes for Christian Benteke  – with Gonzalez's giant booboo forming the meat of this mud sandwich.
Gonzalez's options as he intercepted a ball near replacement goalie Brad Guzan included shielding Benteke to create an easy Guzan scoop, or crushing the ball well off into the Cleveland night. Instead, he chose to play out on the dribble, and his heavy touched turned into absolute disaster.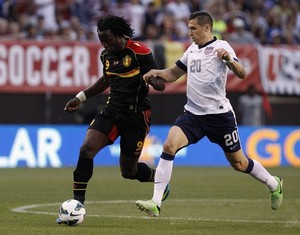 This is where Gonzalez must grow. He is so physically dominant in league play that he doesn't always have to "think" his way around the game. In international play, he will live or die by combining the functional brain with the brawn.
The third goal came off a corner kick – but go back to how that set piece was created. The back line was all kinds of out of shape as another turnover happened along the left, with Lukaku quickly finding himself with inside position on Goodson, who was miles away from his central partner Gonzalez. Guzan could only parry the big striker's shot for a corner – and further disaster ensued on Marouane Fellaini's far post header.
Klinsmann stresses getting the team in shape with the ball so the Americans are in good spots if possession is fumbled away. Well, it didn't take on that one.
The midfield was culpable on Belgium's fourth, as Jermaine Jones and Sacha Kljestan failed to communicate on which player should go pressure Steven Defour. When no one did, there was the fourth on Defour's wonderful ball out to the left.