Other than a couple of noted absences, Jurgen Klinsmann has his full team in Cleveland – and good thing, too.
They'll need all the horsepower they can muster at FirstEnergy Stadium, where practices have reportedly been sharp ahead of tonight's friendly against a highly potent Belgium.
The team's midfield brain, Michael Bradley, is not available. Nor is first-choice left back Fabian Johnson. Otherwise, this is the team for now, like it or not.
(MORE: Game preview, as U.S. has hands full versus Belgium)
Klinsmann has hinted that the personnel over five matches (this week's two friendlies, plus the trio of World Cup qualifiers ahead) will shift very little over the next month. That's a big clue to what things will look like tonight.
So, let's take an educated stab at it …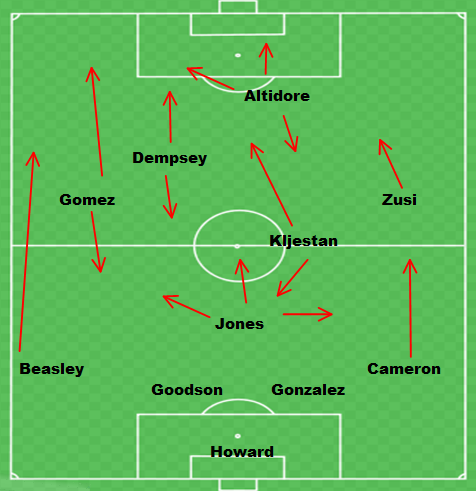 Goalkeeper: Klinsmann has been 100 percent clear: Tim Howard is the starter, Brad Guzan is the trusted backup. That doesn't mean that Guzan won't play in one of the two friendlies – tonight or this weekend against Germany. Or, there could even be a time split, with each goalkeeper gloving up for a half. But it does increase the likelihood that Everton's longtime No. 1 will be on the FirstEnergy field at opening whistle tonight.
Defense: All four members of the back line that flummoxed Mexico almost two months ago down at Azteca are available: Geoff Cameron on the right, Omar Gonzalez and Matt Besler centrally and DaMarcus Beasley on the left. So, if it ain't broke …?
Well, remember this: Besler was in the lineup only because of an injury to the more experienced Clarence Goodson. So we look for that change. Otherwise, status quo.
This could evolve further, of course, when Hoffenheim's Johnson drops into camp. In fact, it probably will, seeing as the rising German-born performer offers a better defensive presence. And going forward, he does not represent much dropoff, if any at all. But for tonight, it's Beasley, who will get his milestone 100th cap.
Well done, sir.
Midfield: Klinsmann has already tipped that Jermaine Jones and Sacha Kljestan will align themselves centrally. Given the lack of options, no surprise there.
Essentially, Kljestan will play the "Bradley role," which helps define the alignment Klinsmann has relied on lately. Bradley is the connector between the screening midfielder (typically Jones) and the attacking midfielder (typically Clint Dempsey). Bradley (well, Kljestan tonight) has a big two-way responsibility, sliding in alongside Jones on defense, but moving into good supporting positions and looking for late runs into the penalty area on attack. If that sounds like "big responsibility," that's because it is.
So the team shape is essentially a 4-3-3, but looks like a 4-4-2 or even a 4-5-1 depending on how the game develops.
(MORE: Kljestan's big chance, and two other things to watch for tonight)
Forward line: Unless something changes Klinsmann will probably have Graham Zusi on the right, Herculez Gomez tucking inside from the left and Jozy Altidore as the highest stationed man. Altidore will work to stay connected with Dempsey behind him and find the end  of Zusi's crosses.
Zusi tends to stay a little wider one the right than Gomez on the left, but both will work hard to find good defensive spots as Dempsey and Altidore attempt to steer the opposition possessions into the vulnerable spots along the wing.
(MORE: Klinsmann reveals lineup tidbits)
(MORE: U.S. back line will be young)
(MORE: Beasley hits mileposts No. 100, plus other U.S. notes)