Week 8 of the NWSL is a light one – one which coincides with what will likely be the most anticipated game on North America's 2013 women's soccer calendar. Yet much like its brother league, Major League Soccer, "the N" has elected to push through the international schedule and stage matches, with a pair games seeing the league's top three teams in action.
While Saturday's evening affair will see the league's leaders, Sky Blue FC, host third place Boston, out game of the week is in Portland, where a hamstrung Thorns FC welcome winless but reloading Chicago Red Stars.
The game kicks off at 5:00 p.m Eastern in Portland, with streaming available on the league's YouTube channel.
THREE THINGS YOU NEED TO KNOW
1. What they've lost
During a typical pregame at JELD-WEN Field, you'll a youth team from the greater Portland area brought onto the pitch, split up into sides, and stage a small game in front of the supporter's north end, laying across the width of the pitch. With one quarter-sized goal on each side of the penalty area, disorganized fleets of anonymous children give fans a chance to stretch their vocal cords. For the kids, they get a chance to be part of game day – stepping on the field, hearing the small roars of the venue's legendary crowd. For the fans, however, it's just the opening act.
NWSL Standings
Pos.
PST
Rank
Team
GP
Pts.
+/-
1
5
Sky Blue
8
19
+8
2
4
Portland
8
19
+8
3
3
Boston
6
11
+5
4
2
W. New York
6
10
+1
5
1
Kansas City
6
10
+3
6
6
Washington
8
6
-5
7
7
Chicago
6
2
-8
8
8
Seattle
8
1
-12
This weekend, NWSL plays the part opening, relatively anonymous opening act. With most of the league's best talent in Toronto, the N's two Saturday games will be played in the shadow of that main event – the burgeoning rivalry-like thing we've been told is Creed-Balboa II (if Apollo and Rocky's bout was purely an exhibition, though we know how those go).
Chicago's visit to Portland? Sky Blue welcoming Boston? On the surface, they carry little appeal, with the absences of Alex Morgan, Christie Rampone, and Heather O'Reilly, Christine Sinclair, Sophie Schmidt and Karina LeBlanc depriving the weekend set of its drawing cards.
For Saturday's match at JELD-WEN, one team will be vastly more hamstrung than the other. Chicago rolls into town without left back Rachel Quon, goalkeeper Erin McLeod, and defender Camelina Moscato – notable loses, but absences for which Rory Dames can adjust. Cindy Parlow Cone, on the other hand, loses two her only two goalscorers (Morgan and Sinclair), her leader in defense (Rachel Buehler), and the team's only goalkeeper with professional experience (LeBlanc).
Beyond prompting the question of why the games are being played at all, the weekend's matches look set to test the depth of squads that were never designed to be more than paper-thin. The league has a minimal salary cap (around $200,000) and limited international slots. Players brought up this week to fill-in for international call-ups are on amateur contracts; unpaid replacements in what is ostensibly a professional league.
2. What they look like, now
Calling Chicago's a second choice team is a bit of an exaggeration. Because they were dealt a poor hand in allocation, they haven't been dependent on U.S. and Canadian talents. Almost none of their U.S. allocations have contributed (Amy Lepeilbet, Shannon Boxx, and the traded Keelin Winters), while their Canadian internationals have been role players (Quon and Moscato) or inconsistent (McLeod). Their best player to this point, Lori Chalupny, offers international talent without the risk of being called up. Leaning on neither U.S. or Canadian internationals, it's unclear the Red Stars will be in any worse shape Saturday than they've been for previous games, particularly considering their high-profile addition.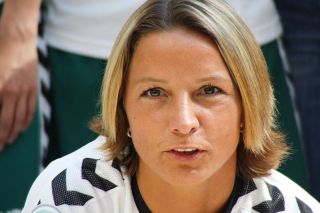 Along with another fellow ex-German international (34-year-old defender Sonja Fuss), Inka Grings will be with the Red Stars in Portland, each former Duisburg standout joining Chicago this month from FC Zurich. While Fuss is bound to bring some needed experience to the defense, it's Grings' addition that's been most anticipated, the women who has 64 international goals to her credit expected to bring some much-needed punch to the Red Stars' attack.
The big question is whether the 34-year-old attacker still has it. When she left the Frauen Bundesliga at the end of the 2010-11 season, she was still a prodigious scorer, posting more than one goal per game. After two seasons in Switzerland – playing fewer games, against lesser competition, and no longer having a part of the German national team – how much (if anything) has Grings lost?
Even at 34, Grings should be a significant upgrade for a team that's scored only four times in six games. And against a Thorns side that will be missing their goalkeeper as well as their best defender, Grings will get a nice ramp up to NWSL play, one which gives a relatively strong Red Star team a chance to take advantage of Portland misfortune.
The Thorns, however, have the virtue of having their midfield largely in place. Becky Edwards, one of the league's better defensive midfielders, will anchor a unit that retains Allie Long and Nikki Washington. Angie Kerr, a regular for the team, will likely slide into Christine Sinclair's spot at the top of midfield, giving Cone a unit capable of controlling to Saturday's game.
On the surface, Portland's team looks set to produce a typical Thorns performance, one that should see the team control a bulk of possession without generating a proportional number of chances. But whereas the Thorns usually have Morgan and Sinclair to bail out a team that's failed to produce their expected attacking fireworks, on Saturday they'll be relying on magic from Kerr and Danielle Foxhoven.
While there is a school of thought that holds getting Morgan's vertical runs out of the team – swapping in somebody whose movement meshes pretty with the midfield — might provide a spark, Portland will most likely miss the finishing of one of the world's elite goalscorers.
3. About that shadow
Around the league, coaches are saying all the right things, declining to criticize the timing of June's friendlies. They flash their diplomatic sides, choosing to note every team is facing the same challenges. There's a tacit acknowledgment that the club versus country debate takes on a new dynamic with federations are sponsoring the leagues, so although nobody likes the integrity of the regular season compromised (even in small amounts), there's little coaches can do but shrug their shoulders and put on a good face. They have no recourse.
Behind the scenes, however, there are small hints of indignation – questions as to why the best talent of a nascent league is going to be away from their teams for the better part of a month. One game here or there – it's fine, but with U.S. players playing three internationals, Canadian players reporting twice over the course of three weeks, the small, 22-match season could be disproportionately affected by international commitments.
When the federations are footing much of the bill, you have to play by their rules. That means you'll get weekends like this, where partially second choice teams are expected to give first team performances. But in a five-month season where order of finish determines not only homes for first round playoff games but also the site of the league championship match, little road bumps could prove decisive.
Beyond that, there's a perception issue, though until we see June's attendance figures, this is mostly hypothetical. If the league is staging games without its best talents, is it offering a product commensurate with its mission – first division soccer? Instead of pausing the league while its key players are away, is the NWSL electing to stage what some could see as high quality W-League games? And will that have an effect at the turnstiles?
As with most things in a league that's two months old, ideas need to be tried before we know if they're viable. And in all likelihood, scheduling concerns forced the league to play matches this weekend. Come Saturday night, if the crowds are good and the product is strong, the absence of U.S. and Canadian internationals may prove no big deal. Else, the league will have to reconsider playing scheduling against the international calendar.
QUICK HITS
| | Portland Thorns FC | Chicago Red Stars |
| --- | --- | --- |
| Star to Watch | Becky Edwards – Thorns FC's holders has steadily improved throughout the season, providing Portland with one of their few bright spots last Saturday in Seattle. As she continues to get used to her new system and teammates, Edwards will be able to start having a greater influence going forward. With PTFC's stars gone on Saturday, she may need to speed up that process. | Lori Chalupny – If the Red Stars are going to take advantage of Grings, Lori Chalupny is going to have to be on her game. Through six matches, she has been arguably been Chicago's only above-average player. Whether she's deployed through the middle or wide, she's the one most likely to take advantage of Chicago's new gaol-scoring talent. |
| Still Important | Kathryn Williamson – "Kat" is one of a handful college draftees getting regular time with her team, but although you often see some of her inexperience come through, she has arguably been the league's most influential "rookie." Increasingly decisive from her right-center half position, the University of Florida product will have to step up on Grings in the absence of Buehler. | Taylor Vancil – A third round pick out of Florida State, Vancil made her professional debut last Friday in Rochester, putting in a strong performance in a 2-1 loss to the Western New York Flash. The rookie's showing was so strong, coach Rory Dames took to Twitter post-match to sing the praises of Erin McLeod's stand-in. Set to get her second start, Vancil will need to be aggressive off her line against a Portland attack that likes playing through balls. |
| Win if … | … the midfield can take advantage of Foxhoven's movement while Grings experiences a period of adjustment to the NWSL. | … Grings is just too good or they're able to contain a tepid Thorns attack long enough to take advantage of a mistake. |
OTHER GAMES, WEEK 8
Saturday, June 1
Sky Blue FC vs. Boston Breakers – Both teams have major absences, though Sky Blue's loss of Christie Rampone will really show how crucial she is to a young defense's organization, particularly against an attack that will still feature Lianne Sanderson and Kyah Simon.