You can excuse most people for fixating on what happened to Sydney Leroux. For most of Sunday's match at BMO Field, there was little to talk about, a punchless Canada team constricting a United States squad that may have been thrown off by John Herdman's surprise formation shift. It wouldn't have been the first time a team had to collect itself against a surprise 3-5-2.
Perhaps it's no surprise that the U.S.'s first two goals exploited the formation. On the first, Abby Wambach went wide left, played behind Canada's wing back, creating a one-on-one for Alex Morgan against Emily Zurrer. Tom Sermanni couldn't have asked for a better matchup. On the second, Tobin Heath immediately played wide left into a similar space. The movement was different, but it exploited the same weakness – the room wide of the back three giving Morgan space behind Canada's wing back. On her stronger left foot, Morgan completed her brace in the 72nd minute, and the U.S. had secured their eventual 3-0 win.
For Herdman, the switch was worth the gamble. Canada may not have reproduced Manchester's dramatics, but if he had any inkling a formation change could yield results against the U.S., now was the time to try. Despite talk or redemption, lingering feelings from last summer, or this being some kind of launching pad for World Cup 2015, Sunday's was a meaningless, out-of-cycle friendly, one which justified experiments on both sides of the ball.
For the U.S., the biggest experiment was finding a replacement for the injured Kelly O'Hara at left back, though playing without Megan Rapinoe and Hope Solo while reintegrating the recovered Carli Lloyd, there were plenty of other talking points for the world's top-ranked team.
Since the writers' union I'm imagining in my head obligates me to post "things we learned" lists in threes or fives, let's go big. Then, after these five notes, we can all go home.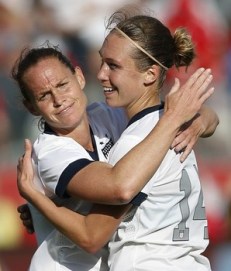 1. Talkin' a defense that didn't give up a shot on goal – It's not only that the U.S. defense didn't give up a shot on goal, it's debatable whether they even gave up a shot. Officially, Canada gets a face-saving "1" in the shots column, but it took over 90 minutes to record it, and given the shot in question may have been as far from goal after it hit Tiffany Cameron's shin as before, it was more of a shot away from goal.
So reasons for Canada's problems: The formation change probably didn't help. Melissa Tancredi starting while otherwise on hiatus also diminished a valuable part. But you also have to give the U.S. defense some credit. No shots on goal against a team featuring Christine Sinclair and Diana Matheson? No complaints there.
That leads to the central defense question. Whitney Engen, in what otherwise looked like a 'starting our best' kind of team, got the call along side Christie Rampone. Is that a hint as to Tom Sermanni's depth chart? Who knows, but after another strong performance by the Liverpool defender, nobody would begrudge Sermanni if Engen has become the default choice.
2. Crystal Dunn and a glimpse of left back depth – Remember that post a while ago? You know that one, national team fans. We talked about Kelley O'Hara's NWSL struggles and the lack of depth at left back. Just a little thought experiment about the value of calling in new players in a world where a player like Rachel Quon trades in her bald eagles and happy meals for maple leafs and Tim Horton's.
Sunday gave us a glimpse of an O'Hara-less world (though defenders like Ali Krieger, Amy LePeilbet, or Heather Mitts never get hurt, right). With the first choice left back still recovering from an ankle injury, North Carolina's Crystal Dunn got her first start at left back. She'd previously playing on the right, but with no other left backs called into camp, the Tar Heel beat out Kristie Mewis for the start.
The results were mixed. Going forward, Dunn showed a lot of composure, contributed to a passing game in a way the more dynamic (read: fly forward and scare the crap out of the other team) O'Hara doesn't. She led the teamin passing efficiency, but in the end, her contributions were a six of one half, half-dozen of the other debate: the wide threat O'Hara can offer versus the help a player like Dunn could give in support of the midfield. It's interesting to think what a different style of player could offer.
But interesting is where it stopped. With left midfielder Tobin Heath becoming more accustomed to cutting in from the left, contributing in the space behind the strikers, a presence like O'Hara's is really needed. There were so many times you'd look at the U.S.'s build up, particularly in the first half, and imagine O'Hara bursting down that left side, drawing defenders with her. In that regard, she was missed.
There was also a thankfully not-so-key moment where O'Hara's absence was apparent at the back. In the 42nd minute, Sinclair burst from the right flank, catching Dunn (and to a certain extent, Rampone) flat-footed as she raced onto a ball sent past the defense. A quick read from Nicole Barnhart defused the situation, but "slow to react to Christine Sinclair" isn't something that should appear on one of your scouting reports.
Add in a second half instance where she kept Sinclair onside (though the linesperson saw it differently) and Dunn was a little shaky in defense. Give her some credit, though. It was only her first start there for the U.S. – a decent jumping off point, especially for a prospective number two. But the lapses still reminded you how far O'Hara's come.
3. So that's the number three goalkeeper, huh? – Without any shots to stop, it's hard to be too effusive about Nicole Barnhart, yet "Barnie" was as advertised: Solid. Her highlight was the read to come out quickly on Sinclair in the 42nd minute, but in claiming crosses before they could reach their targets, she played he part in keeping that shot total down.
Much like the situation in central defense, the performance prompts a question about Sermanni's depth chart. Who's the No. 2? Presumably, Hope Solo is still the No. 1, but until Jill Loyden broke her hand, it was thought the Sky Blue goalkeeper had asserted herself as Solo's understudy. But with Barnhart getting the call today, doing well over 90 minutes, is she poised to reclaim the backup's role?
The tea leaves are still too murky on this one. And ultimately, it probably doesn't matter too much.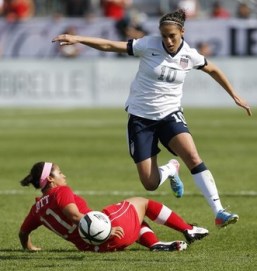 4. Not bad, Carli Lloyd. Welcome back – Maybe the time off charged Carli Lloyd's batteries, because ever since she was cleared to play in mid-May, she's looked very good. In her first start, playing behind Abby Wambach in Western New York's 4-2-3-1, Lloyd showed promise in a role she's never had the opportunity to play with the national team. And today, given a place in the starting XI despite only one full NWSL game, Lloyd was nearly as impressive, showing little of the rust you'd expect from somebody who spent most of the spring on the sidelines.
One of the big questions ahead of Tom Sermanni's arrival centered around midfield, with many asking how long the Lloyd-Shannon Boxx partnership would remain viable. With questions regarding both the personnel and the tactics (the pair often deployed as an old school, stoic 4-4-2 duo), the U.S. looked ill-equipped to match up against the Germanys and Frances of the world.
But perhaps the original question, one of tactics and talent, is less complicated than originally thought. With the tweaks Sermanni's making to Pia Sundhage's team, Lloyd may end up more than an opportunistic goal scorer often left outmatched against teams capable of contesting the midfield. Maybe a player teammates and coaches quickly label as a highly skilled playmaker will have more chances to show those talents.
Like so many in these early days of Sermanni, the potential evolution of Carli Lloyd is something to note, file away, and potentially ignore. She may just have a spring in her step, enthused by returning after a long layoff.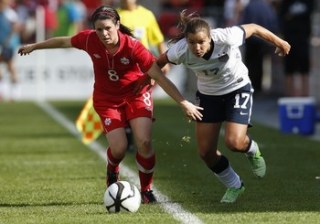 5. Tobin Heath – on the left; Tobin Heath – through the middle – Go back in time a year and buy 2012 Richard a second beer and he'll talk for an hour about how the U.S. needs to move Tobin Heath to the middle. The diatribe will likely espouse the virtues of the 4-3-3, the idea of Lauren Cheney as a ideal regista, and a blurry-eyed justification of Becky Sauerbrunn as a potential Sergio Busquets. I'm not proud of what I was.
The basic justification for Tobin Heath in the middle was getting her on the ball. She's the team's most skilled player. She's its best playmaker, and getting her out of a role where she's constantly taking on right backs would leverage her creativity. Why not get your best players on the ball?
Nowadays, Heath's seeing enough of the ball, albeit still starting as a left-ish midfielder. But whereas over the last couple of years she was still settling into that role, now she's become so comfortable that she's begun cutting in with regularity, her flank left open in the attacking phase, the fullback expected to provide the width.
In the second half on Sunday, Heath spent much of her time within the width of the penalty area, a position that paid dividends in two distinct moments. In the 53rd minute, Heath was closer to the right side of the field while playing a defense-splitting ball for Alex Morgan, with only a last-ditch lunge from Kadeisha Buchanan preventing a chance on Erin McLeod. Twenty minutes later, Heath forced a turnover in the middle of the park and immediately played a long ball that led to the second goal.
The biggest complaint about Tobin Heath as a left midfielder is the time she spends on the ball, but that's a function of position as well as tactics. At left mid, she's asked to break down the opposing right back, something that both utilizes and limits her talents.
Through the middle, all of Heath's skill, quick decision making, and scoring talent can be utilized. We got another glimpse of that in the second half.