The geniuses over in CNN's international sports department should probably steer clear of sports they don't know in the future, or at least do their homework in the fact-checking department.
Their recap of yesterday's UEFA World Cup qualifiers added a touch of breaking news to it – declaring that Belgium's Kevin de Bruyne is "being linked with" Chelsea.
What they failed to realize is that de Bruyne is already on Chelsea, and he has been for over a year – since January of 2012 as a matter of fact.  The 21-year-old moved from Belgium's Genk to the Premier League for a reported £7 million ($10.9 million), heading right back to Genk on loan for the rest of that season, and he spent last season on loan at Werder Bremen in Germany.
The article says "De Bruyne…could be the next Belgian to move to the Premier League – he's being linked with Chelsea.  The majority of players Belgium used on Friday ply their trade in England's top divison."
In fact, they're also partially wrong by declaring that the "majority" of players in the Belgian squad played in England, too.  Of the 11 players Belgium started in yesterday's qualifiers, 5 of them played a match in the Premier League last season – Vincent Kompany, Jan Vertonghen, Marouane Fellaini, Kevin Mirallas, and Christian Benteke.  Two others, Thibault Courtois and de Bruyne, are both owned by Chelsea but spent the entire last season out on loan.  I'm no math major, but I'm pretty sure if they took a majority vote, "not Premier League" would win that one.
CNN's saving grace was that all three substitutes used were from the Premier League (Romelu Lukaku, Eden Hazard, and Mouasa Dembele).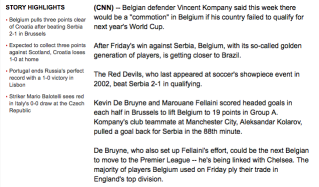 Next up, we're all excited to see CNN's recap of the U.S. Men's National Team qualifiers, where they'll declare Landon Donovan a "shock absentee" from the matches, in addition to praising Jurgen Klinsmann for his "fantastic capture of Graham Zusi on a free transfer from Sporting KC."
Thanks to Brooks Peck of Yahoo! Sports for finding this little gold nugget.