With every game Juan Agudelo plays for the New England Revolution, it's becoming more and more evident that despite the cliff-dive his career's taken in the last year and a half, the young striker may just need the right environment to thrive.
It's been a while since Agudelo became the youngest player ever to score for the United States in a senior national competition.  He's played in just two USMNT matches since the start of the 2012 calendar year.
Now, healthy and in a brand new environment after his move to Gillette Stadium in early May, Agudelo has given the Revolution a huge boost both up front and down the left flank as they push for a playoff spot in the East.
According to a graphic put together by WhoScored.com, Agudelo's presence in the Revs attack has added to both their passing accuracy as well as shooting.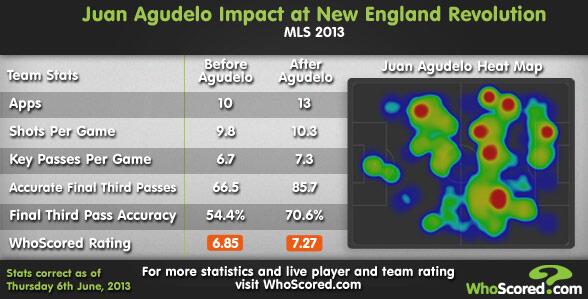 Revs broadcaster Brad Feldman said during Saturday's match against D.C. United that New England's acquisition of Agudelo could be the best trade of the season.  While Mike Magee may disagree, it's certainly in the conversation.
Still just 20 years of age, Agudelo has plenty of time to work his way back into the national side.  The question is, can he do it soon?
If he stays healthy and continues to play well for New England, will he be able to break back into the squad by Brazil next year?
Jurgen Klinsmann himself has said he values heavily a player's form with his club team. It's still early, but since moving to New England, he's scored a goal in three matches and has generally impressed many with his revival.
The U.S. squad is very thin at the striker position, and Agudelo could provide a wonderful boost off the bench as a pacey injection after Jozy Altidore tires in the Brazilian heat.
The kid still has a lot to prove.  Not only has he been away from the USMNT for most of their preparations for the World Cup, but he has to prove he's a better option than both Chris Wondolowski and Herculez Gomez.  But with both of those men having very up and down seasons, it shouldn't be terribly hard for Agudelo to show Klinsmann there's a spot for youth on the squad, and soon.