TUKWILA, Wash. – Good luck predicting how Seattle will lose their next game. The first-year club, whose combination of poor play and continual misfortunate leaves them winless at the bottom of the NWSL, lost another heartbreaker on Sunday. Two weeks after a penalty call, later judged to be erroneous, gave Portland a 1-0 win at Starfire Sports, a Hope Solo own goal left Reign FC on the wrong end of a 1-0 result against FC Kansas City.
The play was a combination of brilliant and bizarre. Mid-way through the second half, Kansas City's Lauren Cheney danced on the ball above the Seattle penalty area, a sublime display of light touches and subtle turns creating time to play a ball behind right back Kiersten Dallstream. Erika Tymrak's overlapping run tracked the ball down near the byline, where she fired a ball toward the six-yard box.
What resulted was a rare exhibition of the paradox that is Hope Solo. Her success is based on her unmatched athleticism, a trait that's allowed her to overcome technical faults. On Sunday, however, when she came off her near post to overplay the cross, the technical side got the best of her. She mishandled a ball fired right at her, directed it over her own line, and cost her team a point.
Technical faults or not, it was an error you never see Solo (or many goalkeepers) commit. After the game, she took responsibility for her mistake, before sprinting off, stopping to sign a handful of autographs for fans prescient enough to claim an early spot on the path toward the Reign's dressing room.
NWSL Results
| Date | Home | Score | Road |
| --- | --- | --- | --- |
| Wed., June 5 | Boston | 2-2 | W. New York |
| Thu., June 6 | Portland | 4-3 | FC Kansas City |
| Sat., June 8 | Sky Blue | 0-3 | W. New York |
| Sun., June 9 | Chicago | 1-0 | Boston |
| Sun. June 9 | Seattle | 0-1 | FC Kansas City |
"There'll be no one hurting more than Hope," Reign head coach Laura Harvey said after the game. "The good thing about her and the professionalism that she has and the type of character that she is, she comes straight off the field and takes responsibility and is accountable.
"I don't really believe [the result was] her fault. I think we have to flip it and say we have far too much possession to score (no) goals."
Her fault or not, there is an undeniable irony to Solo, of all people, being the one to cost the Reign points, especially given how influential she's been at the back since her late-May return. And with Solo being vocal, public presence trying to rally support for an under-attended team, there was a feeling of unfairness as she was left to stand alone, bent at the waist in a time-killing stretch, knowing she had probably cost her team the game.
In front of 1,377 in Tukwila, Seattle fell to 0-8-1. Even with the resurgence of former cellar dwellers Chicago providing reason for optimism, Reign FC's prayers are looking increasingly futile. They're 12 points out of a playoff spot.
TEAM THAT STOOD OUT
Road games at Boston and Sky Blue would present significant challenges for any team, but crammed into a week where the team would have little first-team preparation coming off the international break, Western New York were facing significant challenges.
Aaran Lines' team responded. Against a team that had beat them earlier this season at Sahlen Stadium, the Flash went into Somersville Wednesday and got a 2-2 result from the Boston Breakers. Three days later, Western New York handed first place Sky Blue their worst loss of the season, beating the league leaders 3-0 at in Piscataway.
With Kansas City's dip in form, Portland's uneven play, and the week's results from Boston and Sky Blue, Western New York are now the form team in the league. We bumped them up to number two in our power rankings last week, an evaluation that ultimately understated their quality.
As of Saturday, the Flash are the league standard. We'll see how long it lasts.
MVP …. OF THE WEEK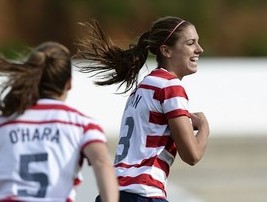 If you were waiting for Alex Morgan to have an NWSL breakout, congratulations. On Thursday, it arrived, Morgan giving the best performance of her club career in Portland's 4-3 victory over FC Kansas City.
The U.S. international was at her relentless best, carrying over the international form that saw her score twice last week in Toronto. Taking advantage of an early Becky Sauerbrunn slip, Morgan blasted a first half shot into Nicole Barnhart's upper 90, tying her with Sophie Schmidt for the league lead in goals. In the second half, conjuring nightmares for Kansas City right back Merritt Mathias, Morgan created Danielle Foxhoven's goal. And the mid-way through the period, Morgan nearly got completed a brace, but her shot's deflection off Allie Long leaving the Thorns star with a one-goal, two-assist night at JELD-WEN.
In a week where others play twice, it takes a special showing to claim Player of the Week honors in 90 minutes. But on Thursday, Morgan was undeniably special, almost single-handed collapsing one of the league's better defenses.
ALSO STOOD OUT
NWSL Standings
Pos.
PST
Rank
Team
GP
Pts.
+/-
1
2
Sky Blue
10
22
+9
2
3
Portland
10
22
+7
3
1
W. New York
8
14
+4
4
4
Kansas City
8
13
+3
5
5
Boston
9
12
+0
6
6
Chicago
8
8
-5
7
7
Washington
8
6
-5
8
8
Seattle
9
1
-13
Chicago continues their rise – The Red Stars' first win of the season came against an international break-depleted Portland. There was nothing shorthanded about Boston on Saturday, with the Sonja Fuss-led Chicago defense holding the high-powered Breakers scoreless in a 1-0 victory. Now 2-4-2, Chicago's only five points back of fourth.
Portland's adjustments show through – We've been hard on Portland in recent weeks, the Thorns looking unimaginative as they had trouble creating chances. Against Kansas City, everything changed, with three of Portland's four goals the result of Thorns FC working wide-to-in. It's a tactic the team's rarely shown throughout the season, but as coach Cindy Parlow Cone explained post-game, it's one she's implored her team to use for some time. On Thursday, something finally clicked. And the Thorns exploded.
Sydney Leroux back in Boston team – It was definitely a message-sending move. Before the international break, Boston coach Lisa Cole benched her best attacker, alluding to a "bazillion" reasons for doing so. Among those bazillion may have been dwindling form and lack of intensity in training. This weekend, Leroux was back in the XI, nearly scoring a goal after putting a ball off the bottom of Chicago's crossbar.
FC Kansas City just doesn't look right – Break out the milk carton, because the possession-hogging Kansas City team that consistently dictated their first months' matches? They've gone missing. They lost at home to Sky Blue (while playing with 10), were outgunned in Portland, and as head coach Vlatko Andonovksi conceded after Sunday's match, were outplayed in Seattle. Blame losing Renae Cuellar, who left in the first half against Portland. Without her, Lauren Cheney has moved to forward, with Kansas City losing their midfield focal point.
Don't read too much into Sky Blue's loss – Give credit to Western New York, but if you're looking for hints Saturday's 3-0 loss is the beginning of a Sky Blue slide, you're probably looking in the wrong place. The first goal allowed was aided by a blown offside call. The second was caused by an aberrational Manya Makoski error. The Flash's final goal came after Jim Gabarra had pulled defender Coco Goodson in an attempt to chase the game. Sky Blue may not be better than Western New York at the moment, but they're not three goals worse.
LINGERING QUESTIONS
Will the lopsided loss have a lasting effect for Sky Blue? … How long will Kansas City be without Renae Cuellar? … Will the Washington Spirit ever play again? … What nefarious demon is contriving new ways for Seattle to lose games? … How will teams like Portland, Kansas City survive the latest international distraction? … Is this season really almost halfway over? … And is it too late to add more games?
LOOKING FORWARD
With one mid-week kickoff, the NWSL has a five-game set in Week 10, with Kansas City and Chicago pulling a home-and-home between Thursday and Sunday. Portland and Seattle play their third derby of the season, while Boston and Sky Blue will try to bounce back from disappointing losses at Dilboy Stadium.
Thursday, June 13
Chicago Red Stars vs. FC Kansas City
Saturday, June 15
Washington Spirit vs. Western New York Flash
Sunday, June 16
Portland Thorns FC vs. Seattle Reign FC
FC Kansas City vs. Chicago Red Stars
Boston Breakers vs. Sky Blue FC