SEATTLE — Five hours before kickoff, and the grey skies that had imposed themselves over CenturyLink Field have broken, casting tonight's venue in the much-reputed beauty of the Pacific Northwest's summers.
But wait 10 minutes. The clouds could very well comeback.
Most Monday forecasts put Tuesday's chance of rain at over 50 percent, and with showers reported in the northern portion of downtown (CenturyLink's located in "SoDo"), there's still a chance Mother Nature will wreak havoc with the sod trays covering Seattle's FieldTurf surface.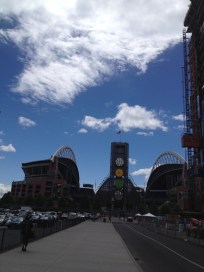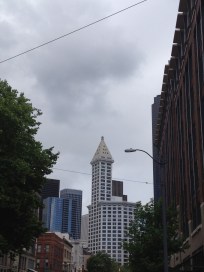 Top: View from the north of CenturyLink Field. Bottom: View looking north, away from CenturyLink Field.
Whether that happens remains a coin-flip in the hours before kickoff. Looking south on the stadium from Jackson Street, two blocks north of "the CLink," serene puffs of white clouds were all that broke up steel blue skies. Turn 180 degrees, and a small swarm of stratus hovered like star destroyers around Hoth. They're either waiting for the deflector shield to fall, or their attack could be timed for kickoff.
Final word about the turf: Don't trust anything players and coaches are saying about the surface. Nobody's going to openly court controversy before the match. Even afterward, it might not be worth the trouble.
The field, however, was terrible on Saturday despite many's insistence it was better than previous temporary surfaces at CenturyLink. Seams were evidence before kickoff. The turf started coming up during warmups. Teams started slowly before realizing they had to overhit passes to get them to their targets. Sigi Schmid conceded he told his team to take it easy until they acclimated to the challenge.
Come Monday, the field looked better, but long seams that spanned the distance of multiple trays could be see running the length of the pitch.
As Michael Bradley noted, the conditions are certainly lacking:
It's far from ideal. When you talk about playing home games in World Cup qualifying, especially for us, you'd like to be playing on a field were it's cut real short and you're able to get some water on the field before the game. That creates a fast, wet surface that's really conducive to how we want to play.

Clearly, there are a lot of things that go into these decisions. Seattle certainly deserves a game. But the field leaves a lot to be desired.
Fabian Johnson offered an interesting perspective on the issue. Playing in a league (the German Bundesliga) renown for the overall quality of their venues, the Hoffenheim player answered a quick "yes" when asked if he finds the pitch conversation a strange one:
In Germany, nobody talks about the pitch. Nowhere in Germany do we play on this kind of grass, like here … I've never seen something like this before. It's strange that we're talking about the pitch.
Seattle's contribution to qualifying atmosphere: As with most U.S. men's national team games, the American Outlaws are in town, U.S. soccer's most renown fan group throwing a party in association with Golazo last night. Today, "AO" will host a prematch party at Fuel, a downtown bar that serves as a focal point for fan activity ahead of Sounders' games.
A few blocks from there, fans will replicate one of Seattle's unique traditions: the March to the Match. Gathering at Occidental Square, four blocks north of the stadium, fans will sing and chant through downtown Seattle, hundreds of supporters making their way south an hour before kickoff.
For visitors taking in Sounder games, it's a must-see event, but today, the march will likely be made up of a disproportionate number of fans from outside Seattle – people who not only get to witness the tradition but take part. For all the negativity that's surrounded the buildup, the march is one of many small, positive contributions Seattle's made to the game day experience.