SEATTLE, Wash. – Before Monday afternoon's practice, U.S. men's national players fulfilled their last public commitment ahead of Tuesday's game, appearing in front the media before their final training session at CenturyLink Field. Among the day's favorite topics – aside from the suspect turf, Seattle's crowd, Panama – were subtle attempts to get players to reveal parts of Tuesday's starting lineup.
On Friday in Jamaica, the U.S. carried over the XI who started five days earlier against Germany, the first time in Jurgen Klinsmann's tenure the same lineup was used in consecutive games. But with midfielders Jermaine Jones (concussion recovery) and Graham Zusi (suspension) set to miss Tuesday's match, that streak stops at two, and after nobody gave away any secrets at Monday's practice, we're left to our usual educated guesses as to who will take the field against Panama: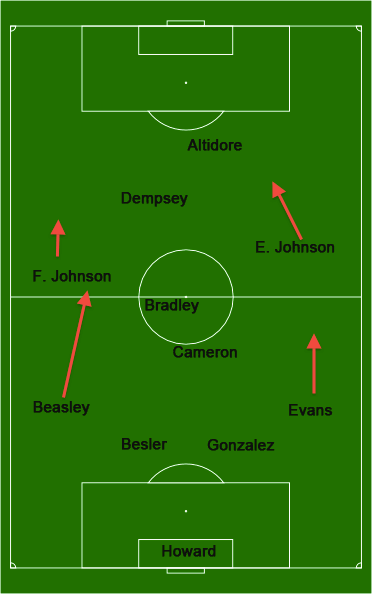 Goalkeeper: Tim Howard's firmly entrenched in the No. 1's role, and while there was some constructive conversation this winter about the virtues of Brad Guzan, there's been little desire to revisit that debate. The Everton-man will start on Tuesday.
Defense: With central midfield looking thin, Brad Evans would normally be considered as a potential partner for Michael Bradley. Not surprisingly, there's been no discussion of that possibility, conventional wisdom holding the back line that started in Kingston will be kept in tact. That means central midfielder Brad Evans at right back, left midfielder DaMarcus Beasley at left back, with Omar Gonzalez partnering Matt Besler in the middle.
Midfield: Michael Bradley will start in the middle, with Geoff Cameron likely to get the call as Jones's replacement. Klinsmann has been very complimentary of Cameron's performance in Jamaica, with teammates echoing the coach's praise. Sacha Kljestan may also be an option, but having started in the middle in the team's disappointing performance against Belgium, the Anderlecht midfielder may miss out to the more stalwart option.
Fabian Johnson will start wide, but it's unclear if he'll be on his customary left side or on the right. Johnson acknowledged a switch is possible.
If that happens, the left side opens up for Eddie Johnson or Brad Davis. Johnson, who started on wide in the previous qualifying round, seems the more likely option, though if Fabian Johnson stays on the left, Tijuana's Joe Corona could get the call on the right.
Forwards: With Jozy Altidore scoring in consecutive games, there's little doubt the formerly drought-ridden striker will start up top. Clint Dempsey, a selection as guaranteed as Howard's or Bradley's, will wear the armband in support of Altidore.