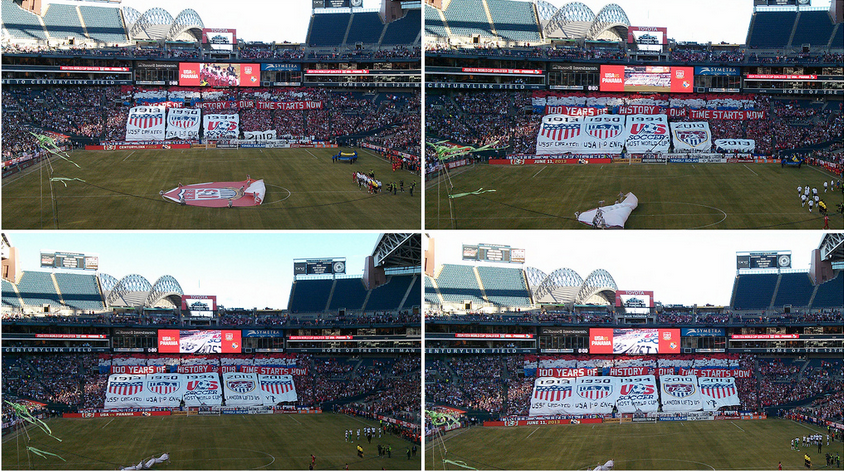 A 13-story towers stands at the north end of Seattle's CenturyLink field. Looking away from the stadium, a large clock rests at the tower's top, greeting fans as they walk toward the Sounders and Seahawks' home. Back toward the field, a large scoreboard and a 3,000-seat bleacher section (the Hawks' Nest), from which we get this image.
Twitter user @LikkitP posted these images this morning, the length of stadium giving you a great sense of scope surrounding Tuesday's prematch tifo. A five-panelled timeline of U.S. Soccer's crests, the display highlights distinct moments in each emblem's history: U.S.S.F.'s creation; defeating England in the World Cup; hosting the 1994 World Cup; Landon Donovan's goal in South Africa; up to the present day.
It's another example of what the Pacific Northwest teams have contributed to the nation's broader soccer culture. Fan displays certainly existed before Seattle and Portland came into the league (and they definitely existed in other leagues before MLS was even born), but the U.S.'s two northwest clubs have taken it to a new level, annually engaging in a battle beyond the battle that accompanies their Cascadia Cup matches.
On Tuesday, Seattle channeled that energy into the men's national team. Has there every been a display that rivals this in U.S. qualifying history?