Raúl Gonzalez played his last international match in 2006, something more people would talk about if Spain didn't immediately ascend to their current international preeminence. With 102 caps and 44 goals, the Real Madrid icon remains one of the most decorated players in Spain's history, but on the wrong side of history, the iconic attacker missed out on a world championship, two European titles, and his country's discarding of a reputation as one of world soccer's persistent underachievers.
"I didn't call Raul to let him know he wasn't selected," head coach Luis Aragones, four-time coach of Real rival Atlético, told an undoubtedly incredulous media upon dropping the icon. "He is not an exceptional case."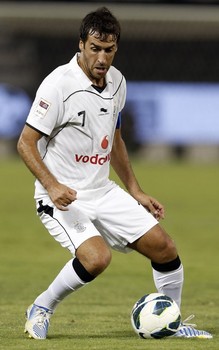 Perhaps that statement served Aragones's purposes, but it's not true. Players like Raúl are exceptional cases, and rightfully so. Few players have the talent to make their country's national team, let alone make over 100 appearances, let alone prove so inspirational that even after their former team wins three major titles, people debate whether his exclusion was justified. Capable of creating and scoring, as a focal point on and off the field, Raúl's significance was difficult to understate, even if a dip in form meant his production wasn't matching his reputation. Still, there will always be loyalists who feel Raúl deserved to share in Spain's glories.
Raúl's story, however, is not singular. It's a logical one. Soccer players have professional lifespans. For the truly special ones, those lifespans coincide with teams and microcultures being built around them. For Raúl, talent plus iconography plus circumstance derived from his place of birth and club team's prestige coalesced to create a type of world a player can define, both by his presence and his absence. For all their successes, Spain's modern story begins where one of Raúl's ends.
Other instances are less dramatic, but in the United States, we're going through one of our own icon's transitions – that of Landon Donovan, a type of American Raúl in significance if not style. But whereas Spain's depth of talent partially justified Aragones's decision, Donovan's quality is viewed as singular. How, many U.S. soccer fans would ask, can Jurgen Klinsmann justify excluding a Landon Donovan?
---
It isn't always about talent. Argentina's discovered that many times with Juan Román Riquelme, whose unparalleled combination of clairvoyant's vision and magician's skill came with a sensitive nature that collapsed many relationships between star and manager. So it was no true surprise when, in March 2009, Riquelme abruptly announced his retirement from international soccer, unable to meet his new coach eye-to-eye.
"We don't think the same way," Riquelme said of Diego Maradona, the Argentine playing legend who replaced the resigned Alfio Basile. "We don't share the same codes of ethics. While he is the coach of the national team, we can't work together."
Maradona took over an Argentina team that was struggling to qualify for World Cup 2010 and, after incredible inconsistency over his first qualifiers, stabilized the team. The Albiceleste secured a place in South Africa and, despite numerous criticisms, made the tournament's quarterfinals. It wasn't classic Argentina, with the team eventually playing with four central defenders across the back, but given what he'd inherited, Maradona's results vindicated his experiments.
He wanted Riquelme, though. Like most Argentines, Maradona revered Román's skill, and as a icon for Diego's beloved Boca Juniors, Riquelme was unlikely to be shown the door.
But for a man that, for all his faults, has inspired such loyalty from the generation that's followed, Maradona saw none from Riquelme. When he insisted his trequarista adapt his game amid the country's faltering results, Riquelme walked.
"All I said was that I wanted him to play 15 meters further up the pitch," Maradona said, when asked about Riquelme's decision. "What have I done for him to be scared of me? If I can't say how I want my players to play, then I'm in the oven."
With "only" 51 international caps, Riquelme is no Raúl or Donovan. His erratic temperament also mitigated his preternatural ability, making him more an object of impassioned debate than blind loyalty. At least, when juxtaposed against potential qualifying disappointment and the legend that is Diego Maradona, Riquelme's stance was never going to move the masses.
So it was that an iconic player's career ended amid a personality conflict. Lionel Messi was moved into the middle and, despite fan expectations that he'd score more goals, had an effective World Cup. Though they did not having a clear replacement, Argentina moved on without Riquelme. even if it was unclear how they'd replace him. Ultimately, Argentina was fine without Riquelme.
Out of the team for much of the Klinsmann era, Donovan's absence no longer carries the uncertainties of Riquelme's departure. Without the man they saw as their best player, United States fans have seen a capable if more limited U.S. squad navigate its obstacles. If there was a time when the exclusion of a Donovan-like talent would inspire questions and doubts, questions are all the remain.
---
"I beg the Brazilian fans that they support us," were Dunga's words, an incredible plea considering the man's own playing résumé. A World Cup-winner with 91 caps, the midfield stalwart would garner the benefit of the doubt under most circumstances, but after omitting Ronaldinho from his 2010 World Cup squad, the Brazil boss was forced into a more emotional appeal.
"If they don't like me or any other thing, that's fine, but I want [the Brazilian fan] to support us, to be a patriot."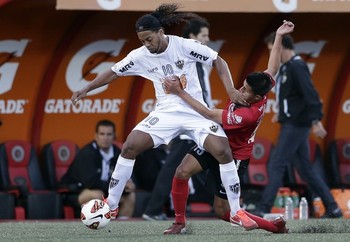 Even at that point, in May 2010, Ronaldinho's fading skill was obvious. And given the focal point he'd been in previous squads, it wasn't surprising Dunga wished to move on from Gaucho's era. Having built a team that would rely on robust defending and counterattacking prowess, the world's number one team was no place for a floating icon who, while still being one of the world's most skilled players, didn't fit the scheme.
Tell that to a Brazilian public who'd created the icon. Pele may have been the country's best overall player, and by 2010 Messi had ascended to his global pedestal, but to those loyal to the style Ronaldinho brought, Gaucho was the counterpoint to each. Numbers are nice, and everybody loves goals, but who nobody could match Ronaldinho's skill on the ball? Chasing a goal late, needing something that transcends tactics, that had to be worth something. Right?
It's the type of appeal you'll hear about the Algeria game – Donovan's transcendant moment. Beyond explanation, beyond anything you can draw up on a white board, when you need a goal late, who would you rather have on the field? Most U.S. fans would rather have Donovan.
Brazil's quarterfinal exit in South Africa left Ronaldinho's supporters with a level of vindication, as did his recall under Dunga's successor, Mano Menezes. But Dunga had long thrived without the former Ballon d'Or winner. The Seleçao were the reigning South American champions and had won the Confederations Cup the year before. They went into South Africa as the world's number one team. While Brazil's fans missed their idol, it's unclear their team actually did.
---
It would be a mistake to draw direct parallels. Raúl is distinct, as is Riquelme, Ronaldinho and Donovan. It's what makes their exclusions noteworthy. If we were talking about players easily compared to others, we wouldn't be talking at all.
But there is something in each scenario that can be drawn on when thinking of Landon Donovan. Raúl's iconography and importance within the Spanish team made his exclusion seem impossible, form be damned. Riquelme's unlikely retirement came as expectations of his role changed – amid his inability (or, unwillingness) to accept his new world. And with Ronaldinho, fans passionate about a singular player were unable to see the bigger picture.
With all these players there was a bigger picture. Spain went on to unparalleled success. Argentina salvaged their qualifying campaign. Brazil stayed the top-ranked team in the world. Each team had a future after their icons.
The United States may be a ways away from embracing that future, and with Donovan set to take part in this summer's Gold Cup, he's got an obvious route back into the full national team. But if that route ends up being blocked, U.S. fans need only look to recent history and see a series of iconic players for more successful teams whose indispensability was dispelled.