Sepp Blatter may not like the Confederations Cup used as a platform for social unrest, but if you're going to call attention to the utter waste that is spending money on sporting venues in the face of more general public needs, this is how you do it: coordinated protests; executed peacefully; spanning the nation's biggest cities; taking advantage of international attention.
On Monday, an estimated 100,000 demonstrators executed that plan, with Brazilians taking to their country's streets in protest. Using the Confederations Cup as a focal point to extend demonstrations that began last week, Brazil's public organized in eight cities to highlight high taxes and a lack of support for education, health, security and transportation.
Those demonstrations began last week after a 10-cent hike in bus and subway fares and extended through the weekend when the Confederations Cup began in Brasilia. Today, outside the Estadio Mineirao in Belo Horizonte, an estimated 20,000 people protested while Nigeria and Tahiti played the fourth match of FIFA's quadrennial competition.
In the face of public needs that often come at the expensive of high-priced glamor projects, Brazilians did what, if we detached ourselves from our sports-loving souls, we would rationally expect most others to do. They put the games in perspective and, though their demonstrations, implicitly asked their leaders: Are stadia more important than schools? Is Olympic prestige worth compromising health care? Does playing ball with organization like FIFA justify tax and fee increases?
By evening in Brazil, the people asking those questions were getting international attention. Images such as this one in Rio de Janeiro being shared across the world …
… while the Brazilian Confederations Cup website had been hacked to show looping video of police response that purportedly wasn't being aired by local media (screenshot):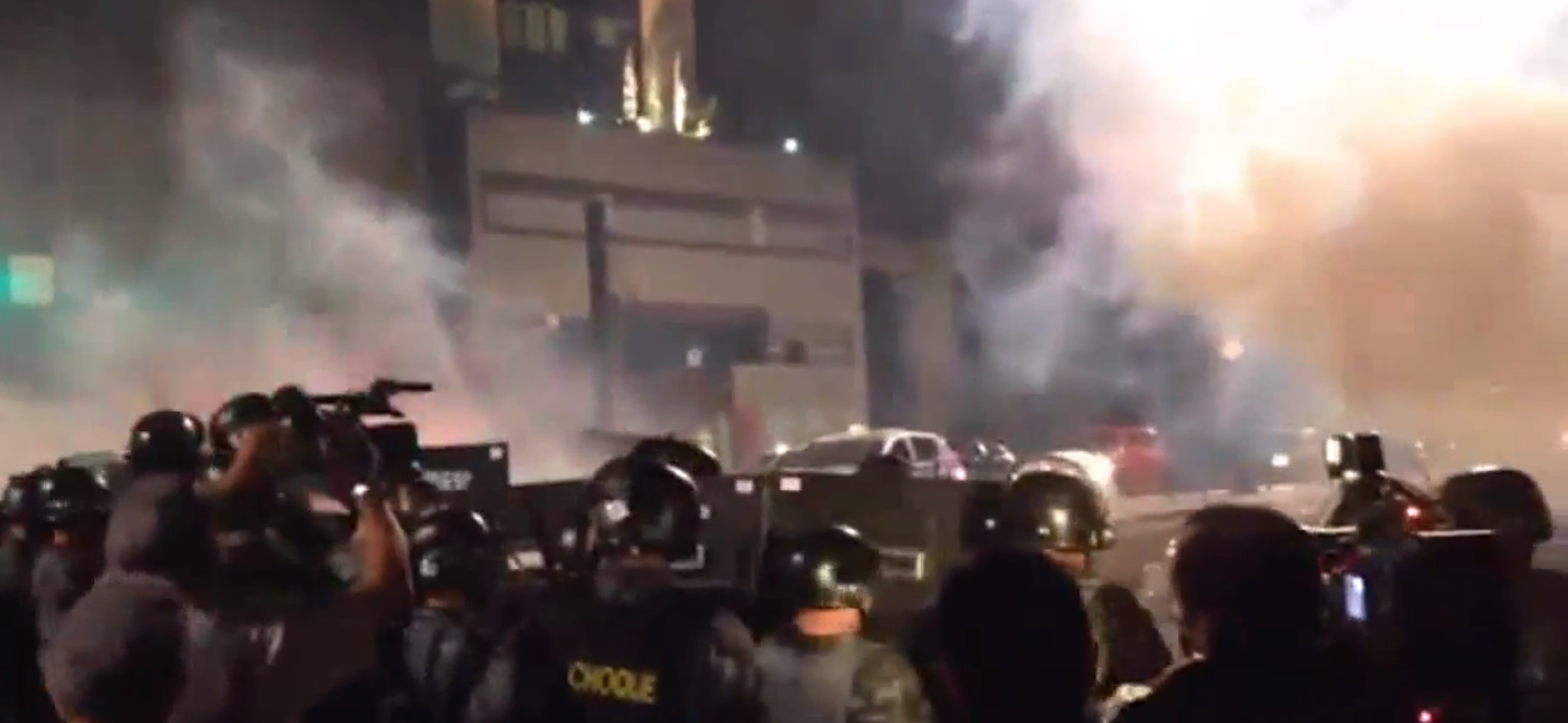 From USA Today's report on the demonstrations:
"This is a communal cry saying: 'We're not satisfied,'" Maria Claudia Cardoso said on a Sao Paulo avenue, taking turns waving a sign reading "#revolution" with her 16-year-old son, Fernando, as protesters streamed by.

"We're massacred by the government's taxes — yet when we leave home in the morning to go to work, we don't know if we'll make it home alive because of the violence," she added. "We don't have good schools for our kids. Our hospitals are in awful shape. Corruption is rife. These protests will make history and wake our politicians up to the fact that we're not taking it anymore!"
Though Brazil's soccer-based expenditures are central to the public's complaints, the demonstrations clearly transcend anything to do with Confederation Cup results. They also go beyond anything an organization like FIFA might contribute to the dialog, though in Brazil to attend the competition, president Sepp Blatter was going to be obliged to speak on the issue:
"Football is there to bring people together," Blatter said today in an interview in Rio de Janeiro. "This is clear and I know a little bit about the protests that are here."

Blatter added that "people are using the platform of football and the international media presence to make certain demonstrations. You will see today is the third day of the competition this will calm down. It will be a wonderful competition."
Blatter's comments will always be dissected to an undo degree, but there's little more (or less) he should say. That, however, doesn't mean sports' link to these protests should be overlooked.
Events like the World Cup are expensive impositions. More often than not, they're solicited by people in positions of power (political, financial, social) who are detached from their country's day-to-day concerns.
You ever hear of that grassroots collective petitioning their government to bring international sporting events to their city? No, because it doesn't happen. Those groups are too busy asking for better roads, trying to improve their local elementary school, and worrying about how to keep their tap water clean. Most of the time, those goals are offset against other programs, leaving vanity projects impossible to justify.  Allocating huge sums to create white elephant stadia in South Africa, stage a Winter Olympics on the Black Sea (as they'll do in Sochi, Russia) or bring both a World Cup and a summer games to a country with infrastructure concerns is never a good idea (and it's a bit insane there's a context in which that needs to be explained).
Perhaps there's a country where meeting FIFA's huge expectations makes sense when measured against the public's greater good. But I don't live in that country. I don't know anybody who does. If you take inventory of all the good $3.3 billion can do, "huge soccer stadia" shouldn't even be on the list.
The current protests in Brazil are merely pointing that out.