(Update 6:10 p.m. MT: Lineups are out … nailed it)
SANDY, Utah — The lineups have become much more predictable lately for Jurgen Klinsmann, who has a settled central core now that an apparent first-choice center back tandem has been identified.
But there are a few choices to be made ahead of Tuesday's match in Utah, where the temperatures may still be in the 90s for the 6:30 p.m. kickoff locally. Three choices specifically: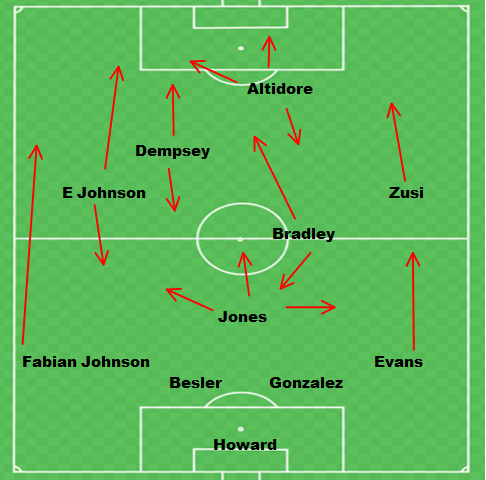 Jermaine Jones or Geoff Cameron in the holding midfield spot?
Jones has successfully completed the concussion recovery protocol, so he's available – and I expect him to play. Cameron was outstanding last week, but Panama's midfield was generally positioned so far back that the versatile Stoke City man wasn't really pressed. Honduras, although seriously dented by injury, is likely to press its midfield a little higher. Jones has the experience and mentality to handle it.
The choice at left back:
Best guess here – and it is just a guess, because Klinsmann has proven quite unpredictable in the past – is that Fabian Johnson will retreat back into his former position. Johnson has played as a left-sided midfielder lately, forming quite a useful partnership with left back DaMarcus Beasley, who will serve a one-game suspension for yellow card build-up.
Lately, Klinsmann has elected to keep as many men in place as possible. In that case, Edgar Castillo or even Cameron would fill in at left back. But Castillo is a real risk as his defending is splotchy at best.
Graham Zusi's return:
This one is a no-brainer. The Sporting KC man will regain his spot along the right after serving a yellow card suspension. His ability to supply in-form striker Jozy Altidore is among the best elements going for the United States at the moment. Eddie Johnson was certainly adequate last week in replacement duty along the right, but his skill set is more suited to cutting inside rather than stretching defenses horizontally. Zusi is also one of the top U.S. men on restarts.
What Johnson did do last week with reasonable work against Panama was give Klinsmann the confidence to keep him in the lineup, but along the left if Fabian Johnson plays in defense. Eddie Johnson was in that very spot for two qualifiers of the semifinal round.
(MORE: U.S.-Honduras match preview)