It's get a bit strange when an American writer tries too hard to force an U.S. angle into an international story, but this year's Confederations Cup knockout rounds sure seem to be missing that U.S.-factor. They also missing that South Africa-factor, but few people remember the Bafana Bafana were the other underdog in 2009's final four. It was the U.S.'s shock win over Spain that gave the tournament its Cinderella story, albeit one that was squashed in the final.
This year, Brazil and Spain are back (shocking, I know), though 2009's Rudys have replaced by two relative titans. Though think of Uruguay as a top shelf option, a résumé that includes two World Cups, a pair of fully open Olympic titles, and 15 South American championships casts La Celeste as more than plucky underdogs. And Italy? The fourth semifinalists? Less than two cycles removed from a world title, nobody's going to buy them as a South Africa or U.S.
So in lieu of contrast, we'll have to lean on quality, something that's been in no short supply during this year's tournament. Whereas we came into the Confederations Cup with continued questions about a competition that's seen as a pre-World Cup dress rehearsal, Italy's trio of matches (especially their 4-3 win over Japan) reminded us world-class talents always justify soccer for soccer's sake. Spain's opened showed their unprecedented dominance will always be worth two hours of our time, while Brazil's surprisingly strong performances give the home crowd reason to discard pessimism and embrace hopes for 2014.
Along with Uruguay, those three create a quartet to rival 2005's as tournament's strongest semifinal field. That year, Germany and Argentina came out of one group, facing Mexico and Brazil from the other. The two South American teams navigated close semifinals before the Selecao blitzed their rivals in a 4-1 final.
How long ago was that? Adriano, on his way to a career as the Michelin man's Brazilian stunt double, won both the Golden Boot and Golden Ball. That so few people remember (or care) about that may be a testament to this tournament's historical insignificance, but that doesn't mean we shouldn't expect a few more amazing performances.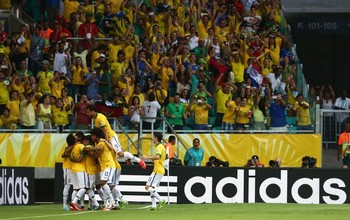 Brazil vs. Uruguay, Wednesday, 3:00 p.m. Eastern, Belo Horizonte
Context: Uruguay won the 2011 Copa America to qualify for this tournament, a campaign that saw them avoid the Selecao. And unless you count the Olympics (a weird U-23 hybrid tournament), it's also the last time Brazil played a competitive match before this tournament.
With the re-hiring of Luiz Felipe Scolari, Brazil seem to have moved on from that strange, ineffectual side that lacked an identity under Mano Menezes. Though you could apply the same description to Scolari's team before this tournament, group stage hinted his team has turned the corner. Brazil's three games, three wins, and a +7 goal difference in what was expected to be a tough group? No one should have expected such a convincing run.
Uruguay hasn't been as convincing, but there's reason to think they're improved over the team that's struggled though World Cup Qualifying. With Diego Forlán re-emerging, Óscar Tabarez could go back to using the broken formation that served them so well in South Africa, a setup that can look like a 4-3-3 or a 3-4-3 (depending on how high Maxi Pereira's played on the right).
Matchup: With that approach, expect Uruguay to willingly cede possession to Brazil, using three midfielders deep with the hopes they can hold their hosts at arm's length while trying to hit them on the counter. It will be up to Oscar to create, Fred to find space, and Paulinho (if healthy) to surge forward, all with the hope they'll either create a threat to complement Neymar, who has scored in every game.
For Tabarez's team, it will be up to that midfield three — Árvaro Gonzalez, Arévalo Rios, and Christian Rodriguez — to hit those forwards. Forlán will do most of the connecting, but if needed, Edinson Cavani can win a ball anywhere across the width of the pitch. All of which, when working, should lead to chances for Luis Suárez, one of the world's most dangerous goal scorers.
Outlook: A Brazil loss would be considered a mild upset, yet had you predicted the same result before the tournament started, you wouldn't have gotten any crazy looks. If Uruguay can justify those picks, they'll merely show Brazil, for all the potential they've shown in group stage, has a couple of important steps remaining before next year's World Cup.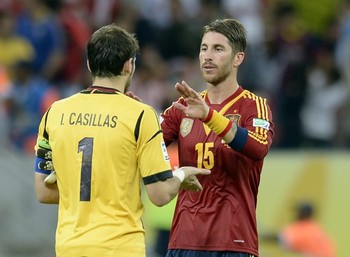 Spain vs. Italy, Thursday, 3:00 p.m. Eastern, Fortaleza
Context: Spain continues to be the world's best team. If anything, this tournament's only enhanced that stature. Their dominance of Uruguay in match one (attempting nearly 1,000 passes) reminded us of their potential. They galloped to a 10-0 win over Tahiti. While a strong performance from the Nigerians provided an unexpected test, there was never a sense Spain were going to be upset. It may not have been the toughest route, but in its hard to imagine another team cutting through Group B with the same ease as Spain.
In contrast, Italy's run to the knockout round was more entertaining than assured, their eight goals shredding defenses at the same rate the Azzurri were conceding at their own end. After giving up only a penalty kick goal in their opener against Mexico, Italy's allowed seven in their last two games, including four in their final 46 minutes against Brazil.
The quartet allowed to the hosts was only the second time in Gianluigi Buffon's career the Juventus icon's been beaten four times. The other came last year, when Spain routed Italy in Ukraine to claim La Furia Roja's second consecutive European title. Unfortunately, while Italian fans will hope that embarrassment was a one-off, little appears to have chanced since last year's agony.
Matchup: Under Cesare Prandelli, Italy's often eschewed the stereotype of possession-shunning opportunists, yet against teams whose on-the-ball skills match the Azzurri's, even Prandelli's teams have played to type. While Italy may now be more willing to retain the ball, shunning quick, dramatic movements for sustained-if-direct attacks, they're not afraid to sit back, allow their opponents to dictate the game, and wait for cracks to emerge.
Part of that shift against better opponents is due to the personnel at Prandelli's disposal. Italy are an older side, and with few exceptions, their team lacks speed. Asking them to pursue younger, quicker challengers would see them to play to their weaknesses. Against the world's best, Italy has to recognize their limitations.
Unfortunately for them, those limitations play right into Spain's hands. Their midfield and defense lacks the speed to keep up with a Spanish game that offers unparalleled quickness and movement. Players like Xavi Hernandez, Andres Iniesta, and Sergio Busquets move the ball too quickly and too often, their experience picking apart defenses sure to create opportunities for Roberto Soldado and Pedro Rodríguez.
When Italy do win the ball, they're ill-equipped to possess it against Spain's maniacal pressure, their squad lacking quickness from the players between deep midfielder Andrea Pirlo and striker Mario Balotelli. Those players who do have the foot speed lack the quality to best the Spaniards.
As with most teams, Italy will left hoping their individual talents can do something to transcend the vortex Spain's talent and style create for each opponent.
Outlook: It's not difficult to see why Italy lost 4-0 last summer, but even by Spain's standards, that's an aberrational result. The Italians should hope that patient, stalwart defending will keep them close enough for a couple of moments of brilliance to matter. But make no mistake about it: It's going to take something special for the Italians to redeem last summer's result.